Cash For Cars and Junk Cars in Goodyear, AZ: Sell Any Vehicle
Get top cash for cars and junk vehicles in Goodyear in any condition. Experience hassle-free selling with our free towing and immediate on-the-spot payment. Secure your best offer in minutes – online or by phone. With Junk Car Medics, selling your car in Goodyear has never been more rewarding.
Get your best offer now
Helpful Tip:
Starting with your VIN will get you the most accurate offer.
Helpful Tip:
Starting with your VIN will get you the most accurate offer.
We Buy Junk Cars for Cash in Goodyear
We're Junk Car Medics. We buy cars in Goodyear, emphasizing junk cars (scrap cars) and end-of-life vehicles. Get paid $100 - $15,000 cash for cars in Goodyear, in any condition. Typical autos we purchase include:
Damaged Cars
Wrecked Cars
Old, Unwanted Cars
Vehicles with Mechanical Issues
Vehicles Missing Parts
Salvage Vehicles
Clunkers & Beaters
Junk Vehicles - Cars, Trucks, SUVs, Minivans
The average junk car in Goodyear looks like this:
is 18 years old (2006)
2006 Model Year
has a value of $846
may or may not start
Are you located in Estrella Mountain Ranch, Palm Valley, PebbleCreek, Estrella, Litchfield Park or anywhere in Maricopa County? We have junk car buyers ready to offer instant cash for your vehicle.
Start with your Vehicle Identification Number (VIN) or the Year Make and Model. You can sell any car for cash nearby as soon as today.
Or continue to learn more about how to sell your car for cash.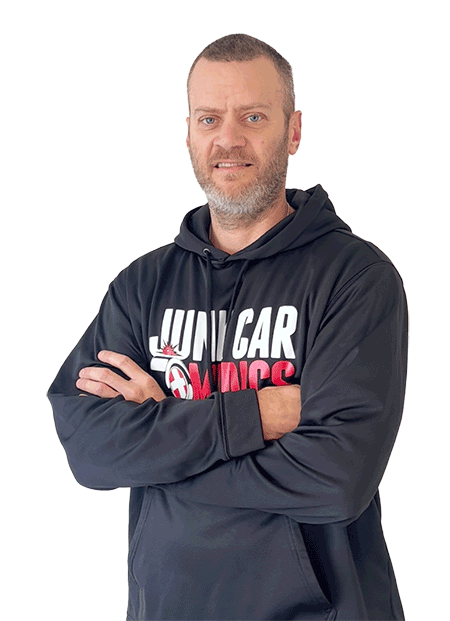 ---
Junk Car Medics
Phone Number: +1-855-587-0227
Hours
Monday - Friday: 8 am - 5 pm, et.
Saturday:  8am - 3 pm, et.
Sunday: Closed
Get Online Offers 24/7/365
How It Works
Imagine selling your car with ease. That's what Junk Car Medics has been offering since 2016, with over $75 million paid to customers like you! Why waste time haggling with auto salvage yards. We offer the best 3 step process to junk a car in Goodyear.
1. Get Your Best Offer

Share your car's VIN or year, make, model, and condition to get started. It's quick.

2. Schedule Your Free Removal

Take up to 5 days to accept your offer and schedule removal in Goodyear. There's no haggling. It's easy.

3. Get Paid Cash for Your Car

Our driver will arrive at the agreed-upon time and location with your payment. It's highly rewarding.
What items are needed to sell a car in Goodyear?
Selling and junking a car in Goodyear requires following Arizona state regulations and legal requirements.  You need to prove ownership of the vehicle and will need the following items:
Title of the vehicle
Valid identification
Lien release if applicable
All available keys and fobs
These items will be required upon junk car removal before we can tow your car and get you paid. After the sale, you will want to notify the Arizona Department of Transportation.
You must get a replacement title if you are missing the vehicle's title. If you cannot get a replacement, we would be happy to review your options for disposing of the car.
Once you have all the paperwork, use our online form to get an instant cash offer with no hidden fees.
Sell Your Junk Car For Cash in Goodyear Today
Experience a hassle-free way to get cash for junk cars in Goodyear. From quick quotes to guaranteed payment, say farewell to tedious haggling. Get fair prices, on-time pick-up, and no hassles.
Why Junk Car Medics in Goodyear
In addition to the millions of dollars paid for the thousands of junk vehicles we bought locally, here are six reasons we are your top choice to junk your car for cash Goodyear.
Fair and Competitive Pricing

Get the best offer for your vehicle - hundreds or even thousands of dollars.

100% Free to You

Our service is FREE to you. We make our money by salvaging your vehicle's valuable components or reselling it.

Experienced Recyclers

We satisfy our customers with the most money and the environment with an eco-friendly recycling process.
Customer Centric Approach

We listen to our customers. Whether it's accommodating specific pick-up times or addressing concerns, we're here for you.

Prompt & Reliable Pick-up

Our drivers show up on time and will communicate any delays. Your time is valuable and we won't waste it.

Trustworthy & Transparent

There are no hidden fees or surprises and you get paid what you were offered. It's a fully transparent operation.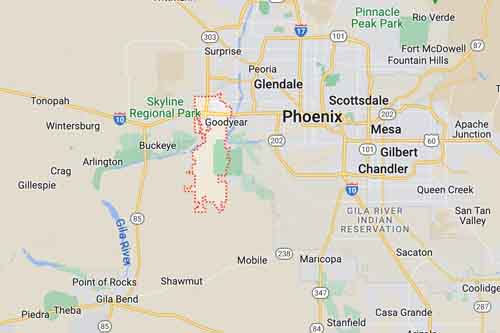 The Best Junk Car Buyers Near You
Wherever you are in Maricopa County, get your best offer from top junk car buyers. We offer statewide coverage to make getting money for your junk car in AZ a rewarding experience.
Popular cities nearby where we purchase vehicles include:
Frequently Asked Questions
You can get an offer in minutes and have your car sold in Goodyear as soon as today. The majority of transactions occur within 2-48 hours.
We buy cars Goodyear residents want to get rid of. Over the years, we've bought all vehicles - used cars, trucks, vans, and SUVs, in any condition.
On average, junk cars (scrap cars) are valued at $846 in Goodyear. The value of these cars varies by the vehicle and its condition. Most are worth between $100 - $1,000. 
Whether or not you can get $500 for a scrap car depends on the vehicle and its condition. If the vehicle is heavier and has salvageable parts, it makes a difference.
The place to sell your car online in Goodyear and get the most money will vary based on the vehicle and its condition. We make you our best offer every time, no matter the vehicle.
No. We tow every vehicle we buy for free.
Your vehicle does not need to be complete to sell. However, your offer may change significantly if it is missing valuable parts such as the catalytic converter, engine, or other components.
The most common junk vehicles in Goodyear are:
2001 Honda Civic
2009 Dodge Journey
2006 Nissan Pathfinder
2006 Audi A6
2010 Chrysler Sebring
2006 Chevrolet Impala
2006 Mitsubishi Galant
Your car will be resold at a car auction or stripped of its salvageable parts and recycled for its value in scrap metal.
View Recently Junked Vehicles in Goodyear
2006 Toyota Corolla
Zip Code: 85395
Cash Paid For Car: $619
2007 Hyundai Sonata
Zip Code: 85340
Cash Paid For Car: $735