Get More Cash for Cars and Junk Cars in Phoenix, AZ
Junk your car to Phoenix's #1 cash for cars service that gets you up to $500 more.
Get a fast offer with our best price now:
We Buy Junk Cars for Cash in Phoenix
Getting around is essential in exploring Phoenix's best parts, so why waste time with a broken-down or junk car? We buy junk cars in Phoenix and If you need to junk a car, you can get the best price with Junk Car Medics. We'll get you an online quote, no obligations. 
We work with local salvage yards, auctioneers, and junk car buyers in Phoenix to get you an instant offer for your clunker. Let's do the work so you can start cruising down I-17 without worrying whether your used car will make it. 
Wherever you are in Maricopa County, Junk Car Medics is available to help you get the best offer for your totaled car. Stop worrying about whether your '97 Honda Civic will get you from Central City to Deer Valley, and contact Junk Car Medics today.
Junk Car Medics Phoenix
Phoenix, AZ 85038
(855) 437-9728
Calling Hours:
Call For Quote 24/7
Business Hours:
Mon-Fri: 8 am – 7 pm
Sat: 8 am – 2 pm
Sun: Closed
How to Junk a Car in Phoenix, AZ
Junk Car Medics makes selling a junk car for cash in Phoenix, AZ quick, easy, and painless. Get up to $1,500 to junk cars and up to $5,000 for used cars.
Here's how it works:
Step 1: Get an Instant Offer Online or by Phone
We'll ask you a few basic questions about your car's condition, mileage, and whether you have the title.  It's a quick process that'll take less than 2 minutes to complete, and you'll get a fair market offer to junk your car.
Step 2: Accept Your Offer and Make Arrangements
After you accept your offer a representative will contact you to make arrangements for the removal of your junk car.  Towing and removal are free of charge.
Step 3: Get Paid More For Using Junk Car Medics in Phoenix
Upon pick up, sign over the title, hand over the keys, and you'll get paid on the spot with a check for your car.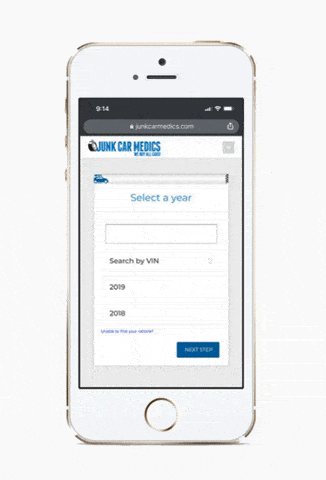 Why Junk Your Car to Junk Car Medics Cash for Junk Car Service in Phoenix?
Jon S. - Junk Car Medics Customer
I was trying to get rid of my 2008 GMC 1500 that needed a new transmission. Out of 8 different company's not only was there online quote fast and simple but they offered the best and highest price. When accepting the offer they made it easy with no complications. I scheduled my appointment and the driver came by the next day to remove it and pay me. If you are trying to get rid of your junk car they are the ones I recommend!
Recent Purchases By Our Junk Car Buyers in Phoenix, AZ
2012 Chevrolet Malibu

Zip: 85015
Offer Price: $690
Offer Date: 10-15-2021
2003 KIA Sorento

Zip: 85014
Offer Price: $745
Offer Date: 10-12-2021
2002 Honda Accord

Zip: 85006
Offer Price: $740
Offer Date: 10-08-2021
2001 Jaguar S type 3~0

Zip: 85016
Offer Price: $535
Offer Date: 10-03-2021
2007 Saturn Aura

Zip: 85004
Offer Price: $535
Offer Date: 10-01-2021
2006 Nissan Pathfinder

Zip: 85017
Offer Price: $855
Offer Date: 09-30-2021
2006 Nissan Pathfinder

Zip: 85017
Offer Price: $920
Offer Date: 09-25-2021
2001 Ford F-150

Zip: 85016
Offer Price: $550
Offer Date: 09-18-2021
2009 Chrysler 300

Zip: 85009
Offer Price: $965
Offer Date: 08-15-2021
2005 Mazda MAZDA6 Sport Wagon

Zip: 85009
Offer Price: $560
Offer Date: 08-14-2021
2008 Ford Escape

Zip: 85003
Offer Price: $790
Offer Date: 08-14-2021
2002 Ford Windstar

Zip: 85015
Offer Price: $505
Offer Date: 08-04-2021
2003 Lincoln Aviator

Zip: 85015
Offer Price: $500
Offer Date: 08-03-2021
2007 Acura RL

Zip: 85013
Offer Price: $760
Offer Date: 07-22-2021
2006 Ford Taurus

Zip: 85007
Offer Price: $630
Offer Date: 07-19-2021
Phoenix, AZ October 17, 2021
Phoenix Junk Car Prices
Top 7 Used Cars in Phoenix, AZ
Land-Rover LR4 - $5,610.00
Subaru Forester - $1,095.00
Toyota Tundra - $1,955.00
Volvo S60 - $1,720.00
Toyota Prius - $800.00
Nissan Versa Note - $810.00
BMW 750 - $855.00
Top 7 Junk Cars in Phoenix, AZ
Ford Taurus - 2.50
Nissan Maxima - $265.00
Chevrolet Cobalt - $231.67
Pontiac Bonneville - $255.00
Chrysler Pacifica - $177.50
Ford Fusion - $80.00
Nissan Maximum - $80.00
The #1 Junk Car Removal Service in Phoenix
Phoenix is a place of adventure, Western living, and, of course, heat. The Arizona capital calls the Sonoran Desert, home to one of the hottest places on Earth. Despite the sweltering summers, Phoenix is a bustling city full of adventure. 
Visit the Desert Botanical Garden and discover the abundant flora that thrives in a desert environment. From brightly colored flowers to towering cacti, the garden winds through various hiking trails full of natural splendor. 
At 2,700 feet above sea level, Camelback Mountain is the highest peak in the city. Climb a mile-and-a-half up a challenging incline. At the summit, you'll find breathtaking panoramic views of Phoenix, making the challenging hike worth the effort. 
Avid hikers spend a lot of their time in Papago Park, a haven for trailblazers ranging in skill level. Located just north of Tempe, the sandstone landscape offers hiking, mountain biking, golfing, and more. 
You can't miss a game at Chase Field, either. The Arizona Diamondbacks is Phoenix's beloved baseball team. Love other sports? The NFL Cardinals, NBA Suns, and NHL Coyotes all call Phoenix home. Catching a game at the local stadium or arena is a popular weekend activity for visitors and locals alike. 
If music is more your avenue, the Musical Instrument Museum is just 20 miles north of downtown Phoenix. More than 6,000 instruments from around the globe are on display. Visitors will also find concert footage and famous musicians' artifacts. The Phoenix Art Museum is a place for art enthusiasts looking to take in some of the world's greatest masterpieces. 
Want to see both museums in one day? You'll have to drive your '87 GMC about 18 miles to do so. If it's time for an upgrade, Junk Car Medics can help you sell your car. 
There are ample opportunities to explore this desert oasis, from the Phoenix Zoo to the city's greenest golf courses. The city continues to grow, expanding farther into the desert, and driving and owning a car is more of an essential part of living here. 
Call Junk Car Medics Cash for Junk Cars Service in Phoenix, AZ Now!
---
We buy cars in the areas of: North Phoenix, Deer Valley, Maryvale Village, Scottsdale, Glendale, Peoria, Tempe.
And zip codes of: 85001, 85002, 85003, 85004, 85005, 85006, 85007, 85008, 85009, 85010, 85011, 85012, 85013, 85014, 85015, 85016, 85017, 85018, 85019, 85020.