AUTO JUNK YARDS GUIDE - EVERYTHING YOU NEED TO KNOW ABOUT SALVAGE AND WRECKING YARDS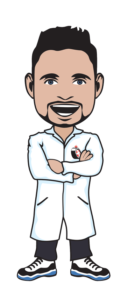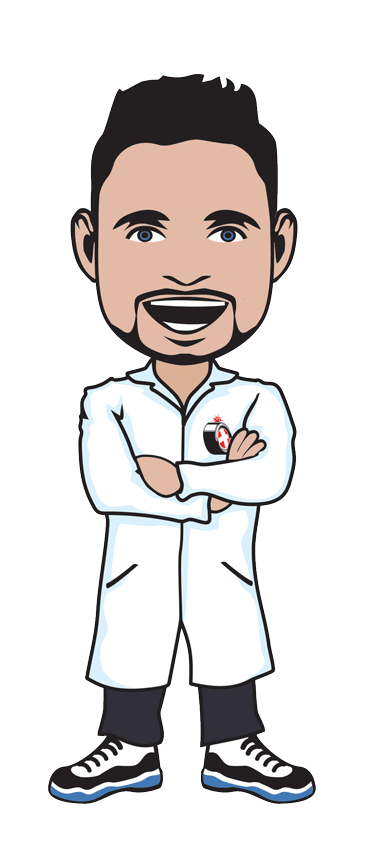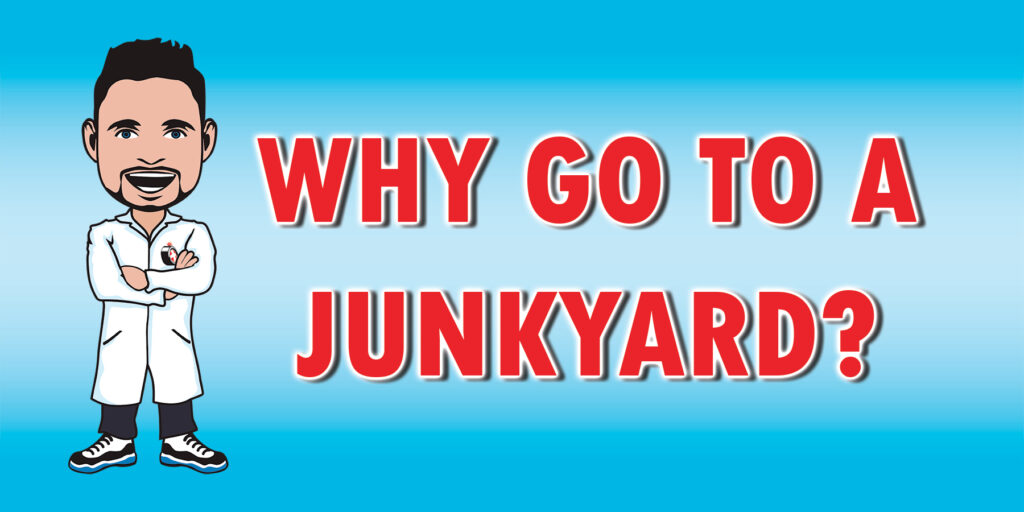 You may be interested in junkyards because you have a junk car that you need to get rid of, or you may be looking for an affordable source of car parts or fixer-uppers. Junk yards are perfect for all of these things. They're amazing resources for car hobbyists or DIY mechanics, but they're also useful for the average savvy car owner.
If you're looking for car parts, you can find everything from engine components to wheels to door handles at salvage yards.
If you need to sell an old car, junk yards are the perfect place to do it -- as long as your car is truly a junk car. If your car is no longer worth fixing up and won't be worth anything on the used car market, a junkyard is your best bet. You can make a reasonable sum of cash if you know what you're doing.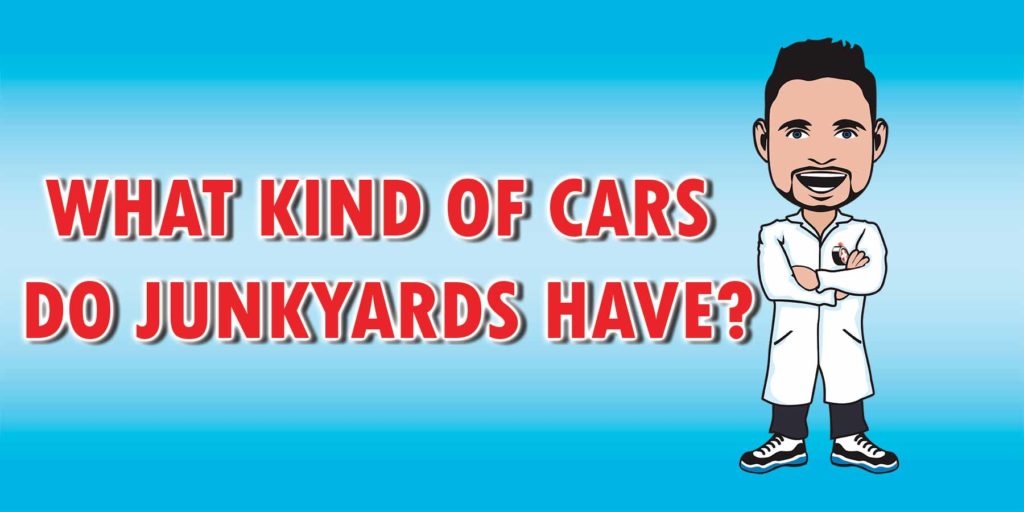 What Kind of Cars Do Junkyards Have?
Auto junkyards deal only with "junk cars" -- that much is probably obvious. But what exactly qualifies as a junk car? Some places have specific definitions of a junk car, but in general, any vehicle that is at the end of its life span is considered to be a junk car. Some common characteristics of a junk car include age, low value, damage, and inoperability, but not all junk cars are the same.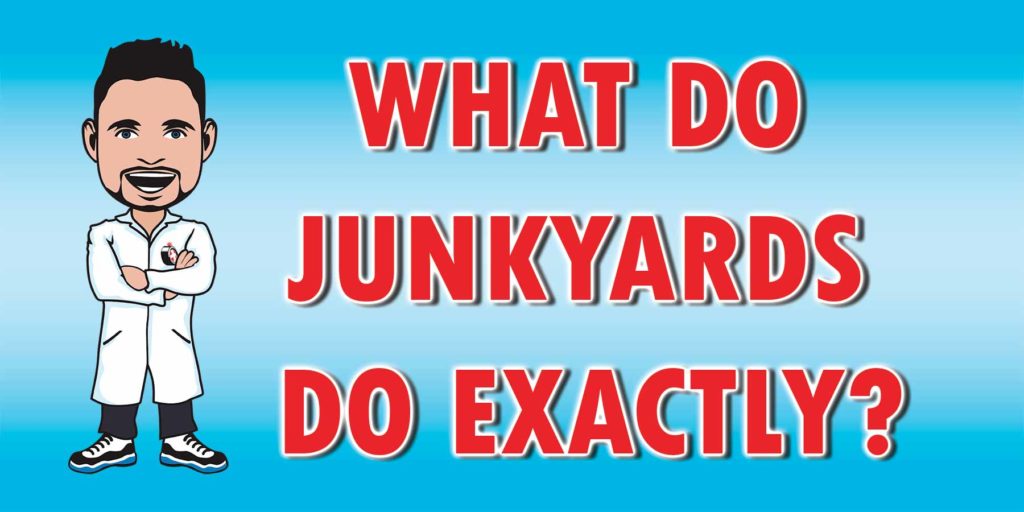 What Do Junkyards Do Exactly?
The reason that junk yards have several different names is because they do a few different things, all of which can be useful to a car owner.
Remove parts from junk cars. When salvage yards receive an end-of-life vehicle, they'll first strip the car of all its useful parts. Most junk cars have at least some components that could still be used for something.
Salvage scrap metal from junk cars. Next, wrecking yards will crush the rest of the car and sell it for the weight of the scrap metal.
Resell car parts to consumers. Most junkyards also sell these salvaged parts to other car owners. You can get usable car parts for a good bargain at salvage yards.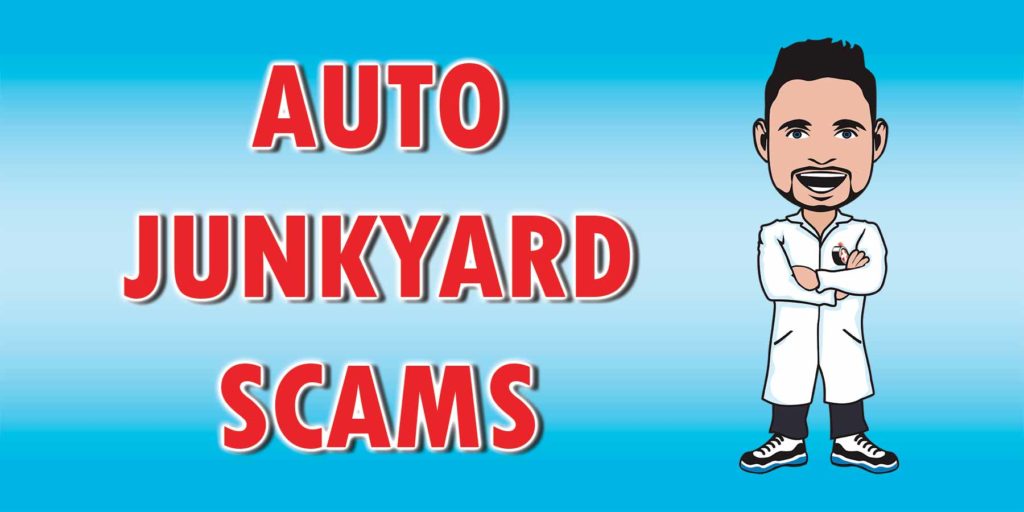 It's unfortunate but it happens all too often. Auto junkyards have a bad reputation for scamming their customers.  It's not all but the bad bunch is all that's ever remembered. We've put together a article on the top 10 auto junkyard scams and how to avoid them.
There are a ton of auto junkyards, wrecking yards, salvage yards and scrap yards in every city, but how do you know which ones are worth going to? Which junkyards give fair prices and work ethically? Finding a reputable junkyard doesn't necessarily have to be difficult. At Junk Car Medics, we're working to provide an easy go-to resource that anyone can use to find auto junkyards nearby. Sounds amazing, right? When you're ready to start your search, check out our Auto Junkyards list.
When you do your own research, you have to comb through dozens of reviews, look up certifications, and even talk to the employees yourself to determine whether it's a worthy establishment. Online resources like ours do all of the vetting for you, and we're continually working to clean up our list and screen the yards for good practices.
Our list has all of the information you need, including contact information and websites. That means you can reach out to the junkyards directly to ask any questions. We do recommend shopping around when possible, so if there's more than one junkyard available in your area, try calling a few.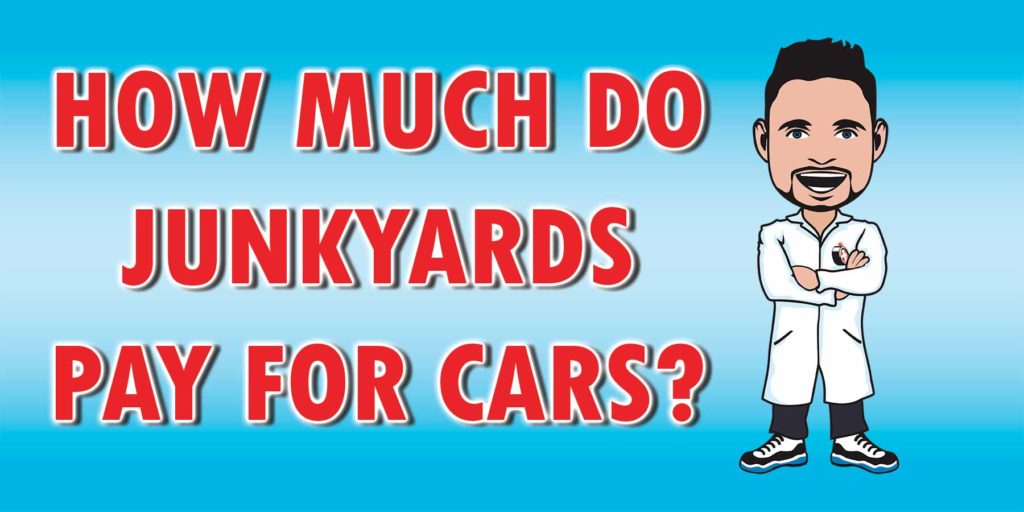 How Much Do JunkYards Pay for Cars?
Getting a junk car off of your property is great, but getting cash in the deal is even better. Auto salvage yards will pay cash for cars in almost any condition, but the amount of cash that you're offered will depend on a few different factors. It's important to be aware of all of these factors so that you're not taken advantage of by junkyards. There are no hard and fast rules, so shopping around at a few different junkyards to find the best offer is always a good bet.
How Much Can I Get For My Car At a JunkYard?
There's no straightforward answer to this question, because the value of a junk car changes from region to region, from year to year, and even from day to day. There are so many different factors that come into play that it's hard to give a generic estimate. Instead, you should look at the factors below to familiarize yourself with how junkyards come up with an estimate. You can also refer to our complete junk car guide for more information. That way, you'll know when you're getting a crappy deal.
For example, if your car is so derelict that it will only be used for scrap metal, you can usually expect to get around $300 from a junkyard for the average car -- keeping in mind that it depends upon the weight of the car. So, if you're being offered a figure that low for a car that could be refurbished or sold for parts, you're being low-balled and should renegotiate or look elsewhere.
Estimating the Price of Your Junk Car
The price of a junk car depends on a few specific variables, including:
Scrap metal price. Many junk cars end up being recycled for their steel and aluminum. The metal is then made into new products. The current price of scrap metal determines how much a junk car's metal is worth, and it goes up or down depending on the market. It can change from day to day or year to year, and in recent years, it's gone down for a variety of reasons. It also varies from city to city.
Weight. If a junk car will be scrapped for metal, then the weight of the car also determines how much scrap metal there is. The average car, for example, contains 2,400 pounds of steel and 300 pounds of aluminum. If your car is heavier or lighter, that will affect how much it's worth.
Condition. Some junk cars are in good enough condition that they could be restored to running condition and resold. As you might imagine, those cars are worth more than those that will be scrapped for metal. However, if the cost of the necessary repairs is quite high, that'll lower the price that a junk yard can offer you for your vehicle.
Year/Make/Model. This may seem obvious, but the type of car is also very important. If it's a common car and isn't too old, it can likely be used for parts or restored to running condition, thus commanding a higher price. If it's a rare car that could be very valuable but doesn't work anymore, that's also worth more.
Demand of Parts. Junk cars with working, usable parts are worth more than those that will just be scrapped for metal. You may think your car is worthless, but you'd be surprised how junkers can identify parts that will still work in other cars -- from tires to radios! Similar to scrap metal, the market determines how high of a demand there is for certain parts. For example, if your car's make/model is rarely brought into shops for repairs, there likely isn't a high demand for those parts and they won't be worth as much.
JunkYards That Buy Cars Without Titles
If your junk car has been sitting on your property for a long time, you may not even have all of the paperwork that you would normally need to sell a car anymore. In that case, you might be desperately wondering -- "do junkyards buy cars without titles?" "Where can I find a junkyard that buys cars without paperwork?" If you're missing your car's title and want to get rid of it for some cash, let's look at your options in depth.
Getting Your Hands on a Title
Before you go through the process of selling your car with no title, it's worth exhausting all the possibilities of getting your hands on one. Check the following places to see if they can help:
Your bank. If your car still has any debt on it, it's technically owned by the bank, so they may have the car title there. You can transfer the title from the bank to the person buying your car.
The local DMV. All states have a process for declaring your title lost and applying for a duplicate title.
Selling a Junk Car Without A Title
Still no luck? Lucky for you, selling a junk car is different than selling a regular used car. In most states, you would need a title to sell your used car. You'd also need a title to sell your junk car to a private party or to a licensed dealer. However, some auto junkyards are willing to buy cars without titles if you can prove that you own the vehicle. You may simply have to do a bit more digging to find a junkyard that will work with you and to make sure that you have the other necessary documents.
How to Find a JunkYard That Buys Cars With No Title
Selling your junk car with no title is totally possible. Here's what to do:
Find reputable junkyards near you. We have a great list of local junkyards to get you started. You'll need to call a reputable junkyard near you and ask them whether they pay cash for cars without a title. If the first one says no, don't give up -- auto junkyards that buy cars without a title are definitely out there.
Ask about the process for selling a car with no title. Every junkyard will have its own process for buying a car without a title. They may ask for other documents to prove that you own the car.
Follow the process carefully. Selling a junk car without a title can be a bit tricky, so make sure you follow the junkyard's process carefully to make sure there are no snags and the buying process goes smoothly.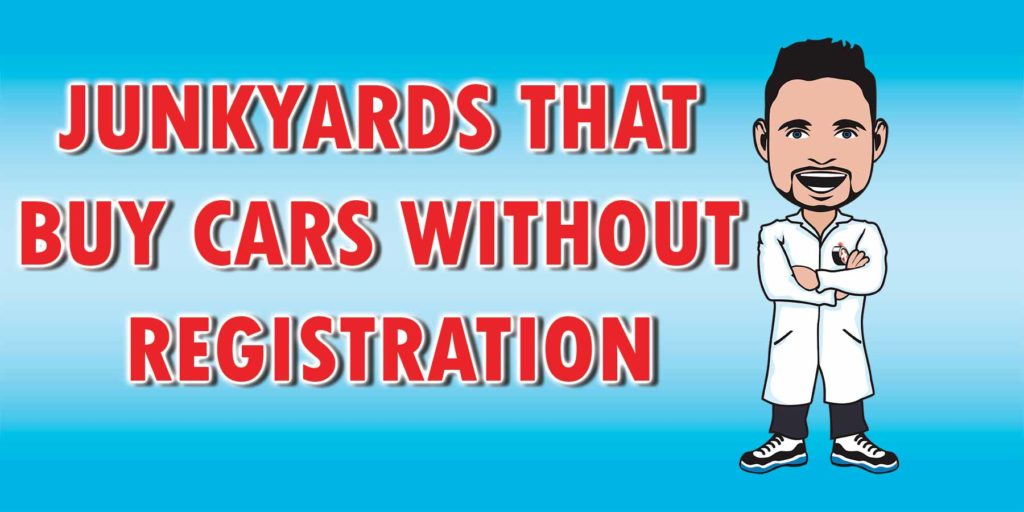 JunkYards That Buy Cars Without Registration
Selling a junk car without an up-to-date registration can be a bit simpler than selling a car with no title, but it's not always straightforward. Fortunately, there are plenty of junkyards that will pay cash for a car with no registration -- you'll just need to do your homework first.
The Problem With Unregistered Cars
First, you should be aware that in many municipalities, there are strict laws about vehicle registrations. Regulations often stipulate that any car on your property must be registered, and if you're caught with an unregistered vehicle on your property, you could be hit with a hefty fine. That's right -- even a junk car could incur a fine for being unregistered on your property. So if you were uncertain about selling your unregistered junk car, that's one more reason to do it as soon as possible.
Can I Get a Replacement Registration?
If you're missing your car's registration, you can first check with the local DMV to see if you can get a replacement. Losing your car's registration certificate or tags is more common than you might think! Depending on your local DMV, you may need other information already on file with the office, such as your current address and proof of ownership.
How to Find a Car That Buys Cars With No Registration
If, for whatever reason, you're not able to get a replacement certificate or tag, you can likely still find someone to pay cash for your junk car. Finding a junkyard that pays cash for unregistered cars is completely doable.
Follow these steps to get an unregistered junk car off your hands:
Research your local laws and ordinances. You may be violating a law by simply having an unregistered junk car on your property, and it's worth checking it out so that you can act accordingly. These laws vary by state and by city.
Find a reputable junkyard. Not all junkyards will be willing to buy your car without registration, especially if you're missing other important documents. However, many junkyards will. It's just a matter of speaking to a few local junkyards to see what they say. Make sure that you're only going to reputable junkyards and avoiding scams.
Follow the junkyard's instructions carefully. Once you tell the junkyard about your missing documents, they'll tell you how to proceed so that you can still transfer the car to them. Follow the instructions carefully to avoid any issues.
What If I'm Missing the Title and Registration?
If you're unlucky enough to be missing both of these crucial documents and still want to sell your junk car, you may still be able to do it. If you have an old tag and card, without a current registration, that may be sufficient. You'll simply need to find a junkyard that can cooperate with you, and let them know about your missing paperwork.
What If the Junk Car Isn't Mine?
If you have a junk car on your property that isn't yours, you probably can't sell it to a junkyard, unfortunately. The vehicle is considered abandoned, so it should be surrendered to the police. Call your local police station and let them know that a vehicle was abandoned on your property.
JunkYards Near Me That Sell Parts
Junkyards are an excellent source of affordable car parts. If you have a discerning eye and you're a bit handy, learn to make use of your local junkyard and save a ton of money on expensive car parts and repairs. While we don't deal parts, the majority of auto junkyards across the country do. It's just a matter of finding the right one, being selective, and negotiating a fair price.
Finding JunkYards That Sell Car Parts
You can find plenty of junkyards near you by searching on Google, Yellow Pages, Yelp or another directory. Our list of local auto junkyards is also a great resource. The junkyard that you choose should have reasonably good reviews and be professional and reputable. Give them a call and ask them if they deal with parts before you head over.
Junkyards that do sell parts to consumers may either be "you-pick" or full-service outlets. At you-picks, you'll be responsible for finding and removing the parts you need. Full-service yards will pull the parts for you and bring them to the front desk. You-picks are, understandably, cheaper than full-service yards, so if you're a bit handy, they're a pretty attractive option.
There are also some national salvage yards, like Pick Your Part or Pull A Part, that have store locations in different states and specialize in selling used car parts to consumers.
Finding the Car Parts You Need
Some you-pick junkyards will simply hand you a paper map of the junkyard and let you figure it out from there. You'll need to locate the make of the car and see if you can find any parts you need, and you'll also need to remove the parts yourself. Other junkyards, though, make it a bit easier by offering parts locators through Car-Part.com. This website allows you to search a directory of millions of car parts.
Choose Parts Carefully
As this handy visual guide explains, you'll want to bring a few tools with you if you're going to a you-pick junkyard, since you'll be on your own searching the junkyard for the relevant parts and removing them from the car. They might be quite rusted into place, so be prepared to use some elbow grease!
If you take a minute to imagine the typical junk car -- lots of rust and other damage -- then you'll understand why you need to be careful when choosing parts. In most cases, these are not gently used car parts. You need to make sure that the part is in good enough shape to work for your needs. In some cases, though, you may find some absolute gems for a good bargain.
Keep in mind that most auto junkyards don't offer a refund for car parts, so what you choose is what you get. Save yourself some stress by being picky in the first place.
Negotiating a Fair Price
Once you find the part you need, you can head to the check out center. Depending on the junkyard, you may be stuck with whatever price the clerk gives you. Some junkyards have standard pricing for parts with no room for negotiation. Most junkyards, however, will allow you to haggle for a lower price. It's worth asking -- but be reasonable, of course. The whole point of buying parts from a junkyard is to save some cash, so make sure the price seems fair before you hand over your money. Remember, you likely won't get a refund.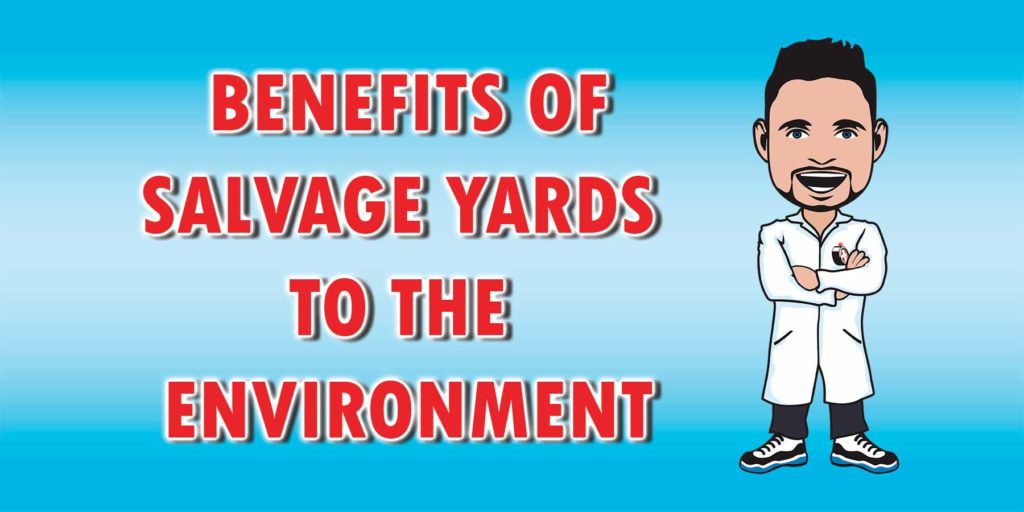 Benefits of Auto Salvage Yards to the Environment
Though "environmentally friendly" might not be the first thing that pops into your mind when you think of junkyards, the truth is that junkyards are incredibly helpful for the environment. "Reduce, reuse, recycle" is a slogan that salvage yards definitely live by!
We all know how important it is to recycle to reduce the amount of waste going into the environment. There are a seemingly unlimited number of cars around the country that are sitting in driveways or empty lots, going unused and degrading. These cars can pollute the environment and they're a valuable source of metal and spare parts that could have been recycled.
The only way to turn a junk car from a piece of unsightly trash into a source of recycled material is to go through a salvage yard. Junkyards recycle cars that are past their expiration date, either by fixing them up or by stripping them for scrap metal and spare parts.
JunkYards Reduce Waste
It would be a huge waste to simply throw away a junk car. These machines may not be of much use to a driver anymore, but even the most broken-down junker is a source of valuable scrap metal that can be recycled into a huge range of new products. Rather than letting these materials go to waste, it gets a second life.
Many junk cars are also chock full of parts that still work and can be put to use in other vehicles. To throw these parts away or let them sit in a landfill would not only be wasteful, but it would also be terrible for the environment. Auto salvage yards know how to get the most out of every junk car so that nothing useful gets left behind.
JunkYards Reduce The Amount of Metal That Must Be Produced
If you care about the environment, you know that mining isn't exactly the most Earth-friendly activity. It uses fossil fuels and releases harmful toxins into the water, soil and air. Yet, between cars, phones, computers and other products, we humans sure use a lot of metal in our daily lives.
Salvage yards are a source of common and important metals, like steel. The more metal that is recycled through salvage yards, the more we can reduce the amount of mining.
JunkYards Prevent Pollution
Cars contain a long list of chemicals that aren't great for the environment, like antifreeze, power steering fluid, and battery acid. The average junk car contains between 5 and 10 gallons of these chemicals. If these substances aren't handled properly, they can damage the soil, water, and wildlife of the surrounding area -- not to mention that they can cause discomfort or even health problems to humans.
Similarly, car batteries should never simply be thrown away. They can release lead into the environment, and they can be put to much better use even if they're dead. Salvage yards know how to handle this properly.