We Buy Junk Cars for Cash in Bethlehem, PA
The Quick, Easy, Painless Way to
Sell Your Car for Cash in Bethlehem, PA
Get top dollar when you sell your car for cash in Bethlehem with JunkCarMedics.com' trusted network
of auto salvage yards, car auction, and car buyers.
Get a free quote in 1-2 minutes online or over the phone to junk a car.
We Pay Cash for Cars in Bethlehem, PA
View Recent Junk Car Prices in Bethlehem
You bought a used car because it seemed economically wise. Yet a few years into owning it, it starts to give you trouble – expensive trouble. Either you're going to go bankrupt trying to fix it or you're going to minimize your losses by selling your junk car for cash in Bethlehem, PA. It's a story many of our customers have told us before. Though they realize it's time to sell their junk car, it's a headache trying to get someone to buy it.
It can be difficult trying to convince individual buyers, dealerships, or junkyards to buy a car with issues. Our Bethlehem customers tried selling their car themselves, only to be bogged down with frequent meetups and incessant haggling. Some have even encountered scams in which an interested party agrees to a certain amount but tries to pay less upon arrival.
JunkCarMedics.com has the solution. We'll take your junk car off your hands and give you cash upon pickup. No cons, no long waits, and no haggling frustrations.
We Buy Junk Cars All Over Bethlehem
Owning a junk cars is a pain. They break down a lot and are expensive to repair and maintain. Among a host of other things, they can be unsafe to drive and difficult or not worth insuring. Yes, investing in a new car is a huge investment. But when you consider the amount of money you're dumping into your junk car, selling it proves the better option.
JunkCarMedics.com has been in the junk car removal business for years. We have bought junk cars, cars without titles, cars with accident damage, transmission trouble, engine trouble, rust and water damage, as well as cars that just won't start. We serve the greater Philadelphia, PA area, as well as all neighborhoods in Bethlehem including Sayre Park, South Side Historic District, Allen Junction, West Side, and Altonah. Just give us a call and we'll give you a quote on your junk car.
Have Cash in Your Hand Today for Your Junk Car in Bethlehem
When you need cash or a new car, you don't want to wait weeks or even months to receive payment. You want it now. JunkCarMedics.com' junk car removal process is fast, getting you the cash you need in as little as 24 hours from your call. We'll take down some information about your junk car to determine its weight in metal. Based on that, we make an offer, schedule a day for pickup, and provide you with cash on the spot. If you call us soon, we may even be able to get your junk car removed in Bethlehem and cash in your hands today.
Frequently Asked Questions About Junk Car Removal in Bethlehem
1. What information do you need on my junk car?
We need information such as the make, model, and year of the car to determine its weight in metal. We also need you to provide us with proof of ownership. If you've lost your title or registration, contact your local DMV office to retrieve copies.
2. Do you provide guarantees?
Yes, we do. We guarantee that we will provide fast and top-notch customer service.
3. My junk car doesn't have a title. What else can I provide?
We can still buy your junk car without a title. We will just need your registration.
Ready to let go of that clunker? Give JunkCarMedics.com a call for your quote today and receive cash in as little as 24 hours.
Call us now: (855) 437-9728.
JunkCarMedics.com
Bethlehem, PA 18015
(855) 437-9728
Calling Hours:
Call For Quote 24/7
Business Hours:
Mon-Fri: 8 am – 7 pm
Sat: 8 am – 2 pm
Sun: Closed
Recent Junk Car Offers in Bethlehem, PA
| | | | |
| --- | --- | --- | --- |
| Vehicle | ZipCode | Offer Date | Offer Price |
| 2005 Ford Mustang | 18018 | 02-26-2019 | $505 |
| 2005 Ford Five Hundred | 18015 | 01-13-2019 | $70 |
| 2000 Honda Odyssey | 18015 | 12-31-2018 | $70 |
| 2006 Chevrolet Equinox | 18017 | 12-11-2018 | $520 |
| 2007 Honda Civic | 18018 | 11-19-2018 | $500 |
| 2008 Honda Fit | 18017 | 11-13-2018 | $505 |
| 2010 Subaru Forester | 18018 | 09-29-2018 | $715 |
| 2009 Nissan Altima | 18015 | 08-08-2018 | $780 |
| 2011 Dodge Grand Caravan | 18015 | 07-31-2018 | $715 |
| 2005 Ford Escape | 18017 | 07-27-2018 | $555 |
| 2005 Honda Odyssey | 18015 | 06-07-2018 | $785 |
| 2004 Mercedes-benz C | 18015 | 05-25-2018 | $805 |
| 2004 Toyota Camry | 18015 | 03-25-2018 | $775 |
Reasons People Junk Cars for Cash in Bethlehem, PA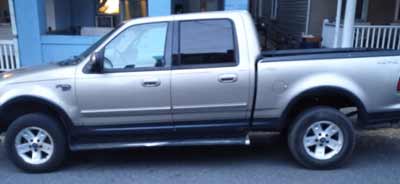 We asked James Jones from Bethlehem, PA about his 2001 Ford F-150:
I'm junking my 2001 Ford F-150 because it gave out on me and I don't have the money to fix it.
Our Price For The 2001 Ford F-150: $445
Call or Text for your FREE offer! 1-855-437-9728
We Service Bethlehem & Surrounding
We also buy junk cars in nearby cities such as: Allentown, Easton, and Phillipsburg.
We buy cars in the following zip codes in Bethlehem: 18015, 18016, 18017, 18018, 18020, 18055.