Cash For Cars In Moreno Valley, CA: Instant Offer To Sell Junk Cars
Junk your car to Moreno Valley's #1 cash for cars service that gets you up to $500 more.
Get a fast offer with our best price now:
We Buy Junk Cars in
Moreno Valley
We know that your junk car is causing you a headache. Whether it's the fact that it's sitting in your garage taking up space, old and unattractive, or the fact that you keep having to pay for repairs, you've had enough and simply want to move on. Junk Car Medics is the best junk car buyer in Moreno Valley.
While dealerships and private buyers might be interested in putting in an offer on a car that is still operational, we buy junk cars in Moreno Valley and will make you an offer no matter how old the car is, what it looks like, what it sounds like, or how it runs. We've bought cars in accidents, cars with dents, cars with transmission trouble, and even cars that stopped running. As long as you have the appropriate proof of ownership, and a car comprised of recyclable materials, we have an offer for you.
Junk Car Medics Moreno Valley
Moreno Valley, CA 92551
(855) 587-0227
Calling Hours:
Call For Quote 24/7
Business Hours:
Mon-Fri: 8 am – 7 pm
Sat: 8 am – 2 pm
Sun: Closed
Top rated junk car buyers.
How to Sell Junk Cars in
Moreno Valley, CA
Sell junk cars in Moreno Valley, CA with our quick, easy, painless process. Get up to $300, $500, even $1,500 cash for junk cars, old cars, damaged cars, and used cars.
Here's how it works:
Step 1: Get an Instant Offer to Sell Junk Cars in Moreno Valley
We'll ask you a few basic questions about your car's condition, mileage, and whether you have the title.  It's a quick process that'll take less than 2 minutes to complete, and you'll get a fair market offer to junk your car.
Step 2: Accept Offer and Arrange Junk Car Removal in Moreno Valley
After you accept your offer a representative will contact you to make arrangements for the removal of your junk car.  Towing and removal are free of charge.
Step 3: Get Paid Cash for Junk Cars in Moreno Valley
Upon pick up, sign over the title, hand over the keys, and you'll get paid on the spot with a check for your car.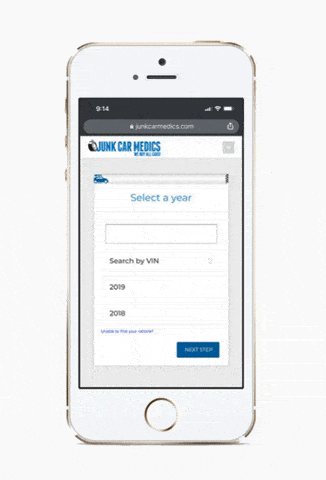 Why Junk Your Car In Moreno Valley To Junk Car Medics?
Jon S. - Junk Car Medics Customer
I was trying to get rid of my 2008 GMC 1500 that needed a new transmission. Out of 8 different company's not only was there online quote fast and simple but they offered the best and highest price. When accepting the offer they made it easy with no complications. I scheduled my appointment and the driver came by the next day to remove it and pay me. If you are trying to get rid of your junk car they are the ones I recommend!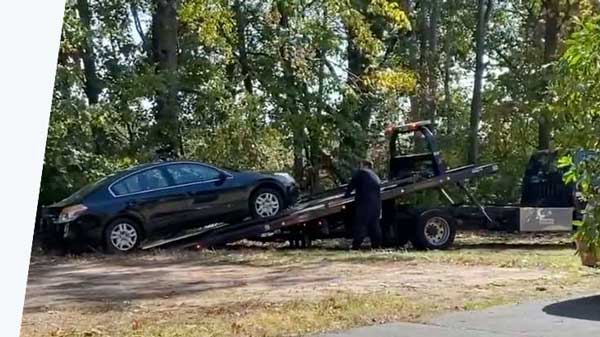 Recent Junk Car Offers in
Moreno Valley, CA
2004 Chevrolet Suburban

92553
$625
09-23-2022
2004 Chevrolet Suburban

92553
$540
09-23-2022
2002 Ford F-150

92557
$675
08-13-2022
2007 Honda Civic

92553
$515
08-07-2022
2011 Ford Fusion

92553
$590
08-01-2022
2004 Honda Accord

92551
$560
07-26-2022
2001 Chevrolet Tahoe

92557
$725
07-15-2022
2003 Honda Civic

92553
$540
07-15-2022
2001 Chevrolet Tahoe

92557
$610
07-07-2022
2001 Chevrolet Tahoe

92557
$715
07-05-2022
2008 Mercedes-Benz S-Class

92555
$645
06-17-2022
2009 Nissan Sentra

92553
$520
06-05-2022
2011 Audi A4

92557
$845
06-01-2022
2019 BMW Z4

92557
$9075
06-01-2022
2001 Audi A8

92553
$665
05-28-2022
Moreno Valley, CA September 25, 2022
Junk Car Prices and Resources for
Moreno Valley, CA
Top 7 Used Cars in
Moreno Valley, CA
Coming soon
Top 7 Junk Cars in
Moreno Valley, CA
Coming soon
You've gotten thousands of miles out of it and likely just as many memories, but you've finally concluded that you need to sell your car in Moreno Valley, CA. It wasn't an easy decision to make. You may have tried salvaging it by investing in costly repairs, but try as you may, your car is running through your emergency funds and becoming increasingly unreliable.
Obviously, you don't just want to get rid of your junk car in Moreno Valley without seeing if you can make some sort of profit from it. While it may not have much more use to you, there might be buyers out there that would be interested in making you an offer… Right? It's true, there's a huge market out there for used cars and many owners have been successful in utilizing various methods to get top dollar for their car. There's just one thing, not as many people are interested in buying a car that needs a lot of work, or doesn't run at all.
We Buy Junk Cars All Over Moreno Valley
Getting around the city of Moreno Valley, CA is simplified with public transportation like the Riverside Transportation System. This bus service will take locals anywhere in the city limits. However, if you want to travel further distances, you'll need to travel at least 30 minutes outside of Moreno Valley to the nearest train station.
You want to be able to commute where you want when you want, which is why you need a more reliable car. Getting rid of your junk car in Moreno Valley frees up some money that you can use to get a new car. Junk Car Medics would like to help you get that new car by taking your old one off your hands and supplying you with a nice payment.
How can I get a copy of my car title if I lost it?
The best way to retrieve a copy of your vehicle's title is to contact your local DMV office.
How do you determine the value of my junk car in Moreno Valley?
We consider the car's weight in metal as the steel used can be recycled which is of value to us.
How soon can I schedule junk car removal in Moreno Valley, CA?
Once we've provided you with a quote, you can set up an appointment which is usually within 24 hours.
---
We service all surrounding cities including Loma Linda, Grand Terrace, Redlands, Riverside, Colton, Perris, Rubidoux, San Bernardino, Yucaipa, Bloomington, Highland, Rialto, Pedley, Beaumont, Glen Avon.
We buy cars in the following zip codes in Moreno Valley: 92551, 92552, 92553, 92554, 92555, 92556, 92557.