Sell My Junk Mazda Protege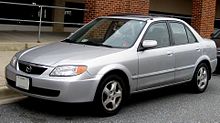 What Is My Damaged Mazda Protege Worth to a Scrap Dealer?
Your Mazda has a curb weight of 2,634 pounds, which is enough weight to tip the scales slightly in its favor when dealing with scrap metal merchants. However, the bulk of its value will be in any parts, pieces and accessories that can be salvaged from the vehicle and resold. Overall, you can expect to make anywhere between $250 and $2000 for your junk Mazda Protege.
Junk car dealers like us tend to look at a few different factors when deciding how much to pay for a junk vehicle. For instance, when you describe your car to us, one of our specialist appraisers is likely to ask about:
• The car's weight;
• The car's age;
• The condition the vehicle is in;
• The location of the car.
These questions give us the minimum amount of information we need to make an appraisal. Thev alue we arrive at can then be adjusted to account for the presence of useful parts or components. The Mazda Protege is known to develop engine problems that can cause a no-start condition or consistent stalling—if your car doesn't suffer from these problems, you may have parts that are in demand on the salvaged parts market.
Some History on the Mazda Protege:
The very first generation of Mazda Protege vehicles were released in Japan in the mid-1960s. These were prominently marketed under the Mazda Familia nameplate. These cars were popular because they were reliable and affordable, causing the Mazda name to grow alongside the Japanese economy. The cars made their entrance into the American market in the 80s, eventually becoming very popular with middle-class families in the early 90s.
The redesigned eigth-generation Mazda Protege offered consumers a number of body styles, including 3-door hatchback, 4-door sedan, 5-door wagon and 5-door hatchback styles. This was the most successful version of the Protege, but it was replaced by the Mazda 3 series in early 2004 following a merger with Ford.
Recent Offers Made for Mazda Protege Cars:
2000 Mazda Protege

Zip: 19152
Offer Price: $640
Offer Date: 06-09-2021
1997 Mazda Protege

Zip: 89029
Offer Price: $65
Offer Date: 06-01-2021
1997 Mazda Protege

Zip: 33135
Offer Price: $580
Offer Date: 05-24-2021
1996 Mazda Protege

Zip: 92583
Offer Price: $65
Offer Date: 05-11-2021
1999 Mazda Protege

Zip: 17603
Offer Price: $550
Offer Date: 04-21-2021
2000 Mazda Protege

Zip: 32812
Offer Price: $545
Offer Date: 04-13-2021
2000 Mazda Protege

Zip: 44113
Offer Price: $535
Offer Date: 04-06-2021
2002 Mazda protege

Zip: 65233
Offer Price: $80
Offer Date: 03-02-2021
2000 Mazda Protege

Zip: 07305
Offer Price: $550
Offer Date: 02-23-2021
2000 Mazda Protege

Zip: 72143
Offer Price: $70
Offer Date: 01-06-2021
Is Selling My Junk Mazda Protege Worth It?
You might be wondering exactly how much you can get for your junk Mazda Protege, and whether it is a better idea to fix the car up and sell it on the used market. To find out whether that's the case, call us up and get a quote on the value of your car. Compare that quote with a mechanic's estimate for performing full repairs.
Once you have these two figures ready, determine if the value of the car is lesser or greater than the cost of repair. You might find that the best economic choice is to sell your car online to a highly reputable junk car buyer like JunkCarMedics.com. Call today and find out how much your car is worth!
Call (855) 437-9728 or request a quote online to sell your Mazda Protege.