The Cash for Junk Cars Service That Works For You
You may be thinking junking your car for cash is going to be a nightmare and stressful experience.  After all, junkyards don't have the best reputation and this may be your first time dealing with them.
But that's why Junk Car Medics Cash for Junk Cars Service started. So you can junk cars for more cash and have a great experience!
Whether you want to learn how to junk a car or you are ready to use Junk Car Medics Cash for Junk Cars Service you are in the right place.
At Junk Car Medics, we work with car buyers and auto junkyards that buy junk cars for cash with no haggling or hassles.  Use our instant valuation technology to get your car in front of a number of junk car buyers in your area that are ready to pay you more cash for your junk car.
We have also published countless resources on our vehicle recycling blog as well as our YouTube channel, helping millions of people get more out of their experience junking a car.  But this guide on junking your car takes the cake and has what you need to know to get started.
Learn the ins and outs of the cash for junk cars industry and how to junk your car and then get your instant offer.  Let's get to it.
What is a Junk Car?
"Junk Car Medics definition of a junk car, also known as a scrap car, is a vehicle that no longer runs, is damageable beyond repair, or is not worth fixing because it has no resale value and is best sold for parts or scrap"
- Todd, CEO @ Junk Car Medics
How to Turn Junk Cars Into Cash
These 5 chapters cover all you need to junk your car for cash no matter where you live in the United States, what condition it is in, or whether it runs or not.  If you want to keep digging, each chapter has links to additional resources on the topic.
BONUS
Vehicle Recycling Industry Stats & News
William V - Sold a 2005 Nissan Altima for $385
"Great to deal with. The online tool provided a quick, reasonable quote. Once I accepted the quote, I received a call promptly to go over the details and set up a pickup time. The driver called to confirm the time and again when he was about 10 minutes away. All of the staff was very courteous and made the process painless. I will be using them again if I need to dispose of another vehicle!"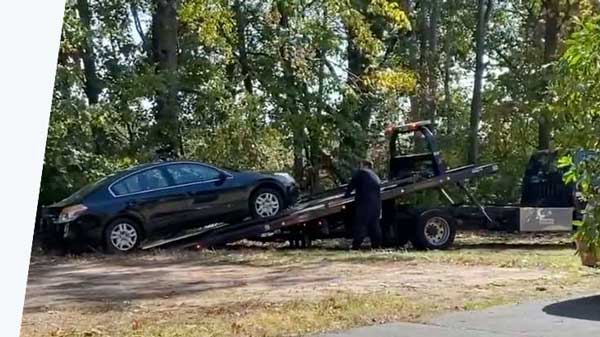 FAQ's About Our Cash for Junk Cars Program
Get basic answers to the most common questions about junk cars.  Each question is linked through to a more in-depth answer on the topic if warranted.
You still may be able to junk your car if you do not have the title as long as you are able to verify your identity and have a valid registration.
HOWEVER, it varies by state so please let your junk car buyer know that you do not have the title upfront.
Generally speaking, junk car removal is usually free however the cost may be factored into the offer depending on the buyer.
With Junk Car Medics the offer you receive is the amount you will be paid for your junk car.
When Junk Car Medics determines how much your junk car is worth we do so based on these factors:
The vehicle year, make, and model.
The vehicle's condition.
The vehicle's location.
The value in recyclable car parts.
The local scrap metal prices.
The easiest way to determine how much your junk car is worth is to use our junk car value calculator.
The junk car market is hot right now and prices are up.  It may be possible to sell a junk car for $500 when it otherwise wouldn't be.  
It depends on the specific car though, so get your instant offer to see what your clunker is worth.
Most cash for junk car services, including Junk Car Medics, actually pay by check which you can cash instantly.  Learn more about how to get rid of junk cars.
We can certainly try. The weather, availability, and location will all have something to do with your answer. The good news is that we will do our best to get your car picked up as soon as possible.
Yes. Our carriers are across the US, and we're pretty crafty when it comes to getting cars from even the most rural locations. Keep in mind that plenty of people will sell to us simply because it means they don't have to lift a finger to get the money.
We invite you to fill out a request for a quote. Our offer comes instantaneously after you give us the details, which only takes a minute to begin with.
United States: October 16, 2021
20 Junk Cars Worth The Most Money
2012 Hyundai Elantra - $2,254.17
2008 Toyota Prius - $1,757.50
2010 Toyota Corolla - $1,741.43
2007 Bmw 3-Series - $1,715.71
2012 Chevrolet Cruze - $1,691.67
2012 Chevrolet Equinox - $1,636.67
2011 Hyundai Sonata - $1,588.75
2013 Chevrolet Equinox - $1,550.00
2007 Toyota Camry - $1,436.92
2007 Toyota Prius - $1,426.67
2009 Toyota Corolla - $1,361.67
2012 Ford Focus - $1,357.14
2011 Toyota Camry - $1,350.00
2009 Toyota Camry - $1,341.00
2008 Honda Accord - $1,313.57
2014 Nissan Altima - $1,272.00
2010 Chevrolet Equinox - $1,233.00
2012 Nissan Altima - $1,230.00
2004 Ford F-150 - $1,225.00
2009 Chevrolet Traverse - $1,218.00
Popular Cities With Average Offer