How to Junk Your Car to Junk Car Medics
Step 1: Enter your car's details and get your FREE, fast offer in 1 -2 minutes.
Step 2: Accept the offer by entering your VIN and scheduling the pickup
Step 3: Get paid fair market value and sell your car within 2 - 48 hours from receiving your offer!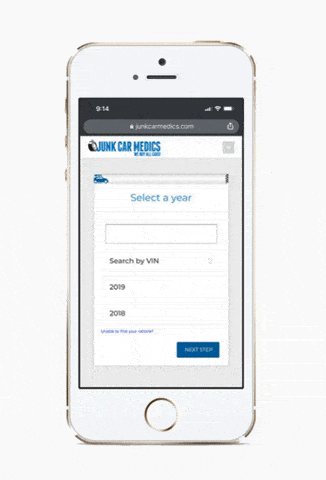 Everything You Need to Know to Junk Your Car to Junk Car Medics
Realizing you have to junk a car for the first time and unsure where to start?  Maybe you've been down this road before but just want to find the best  junk car service around?
Either way, we get it. Junking a car can be a stressful experience.
The Guide to Junk Cars for Cash has everything you need to sell a junk car for cash whether it's your first time or not.
Junk Car Values
How much is my junk car worth?
Find out how the scrap value of your car is determined and how different conditions impact current junk car prices.
When you junk your car Junk Car Medics determines the value we can pay based on various factors such as:
Year Make Model -

The age and type of the vehicle impact the price.

Current Scrap Prices - The scrap metal market impacts the price of end of life and older vehicles as they will be cleaned up and crushed for the metal.
Vehicle Weight - If a car is considered a scrap car and has reached the end of it's life it will mostly be bought for it's weight in scrap metal.
Vehicle Condition - The condition and mileage of your car matters if it's going to be bought for resale or it's parts.
Demand For Parts - If it's a popular car the offers will be higher because there will be a demand for the car parts.
Location - Scrap metal prices and vehicles on the road vary by market so your location will impact the offer.
Learn more here about scrap car prices.
Learn more here about how the value of a junk car is determined.
It depends.
Tires and rims don't carry much value as auto salvage yards are pretty stocked with those already. If your car was recently damaged and the engine is still intact it may have more value but it would depend on other factors as well such as the ones above.
If you just received an oil change, have a full tank of gas, have a new windshield, or something along those lines it won't increase the value.
Junk Car Medics' Junk Car Buyers
Finding reliable junk car buyers can be tough. You need to watch out for scams and try to find an honest place that buys junk cars. Ask any person that has been down this road before and they will tell you that junk car buyers can be just as shady as used car salesman, if not more. Learn about your options for who buys junk cars and the things to be cautious about.
Title, Registration, and Legal Questions When Junking a Car
A title and registration is what you need.
Get answers to touch questions like can i junk my car with no title or if theirs a lien as well as how to transfer the car title when you sell your car.
Learn all about what to do with your title, registration, and plates when you junk a car.
We need to verify that you are the actual owner of the car. We'll need:
Vehicle Title -

In most cases, we'll need the vehicle's title.

Keys - i

n most cases we'll need the keys to the vehicle.

Vehicle Registration -

In most cases, you'll need the vehicle's registration.

Valid ID -

Valid ID to match the title and for verification.
Yes, the title will need to be with the vehicle upon pick up. As well as the keys for the vehicle and we will need to see your license for verification.
You need to sign the back of your title.  For specific details for your state learn more about transferring a car title.
Each state has different laws.  Your best bet is to call us at 1-888-205-8652 to find out your options.
We can not purchase abandoned vehicles or vehicles that are not in your name. If the title was signed over to you you will need to get a clean title stating your name on it.
If you have the title for your car we can purchase it. We need to verify ownership of your vehicle.
Normally, yes. Since most junk cars have reached the end of their life and won't be driven again we don't need the keys as long as you have the proper documents to prove ownership of the vehicle. We need to make sure the vehicle you are selling is yours. Not your exs.
You would have to pay off the balance of your car before we are able to purchase it from you.
Your best bet is to contact the local authorities.
To get a new copy of the title of your vehicle you will need to go through your local DMV.
You will need to remove the license plates from your vehicle and turn them into the DMV or setup to transfer them to a new vehicle.  Our agents can assist you with that process in your area and our junk car buyers can assist you with your license plates as well.
Getting and Accepting Your Offer to Junk Your Car
Getting an offer to junk a car is fast, free, and simple.
Accepting your junk car offer is the same.  You'll find our whole process is quick, easy, and painless.
You can get an offer to junk your car with Junk Car Medics by
Calling 1 (855) 437-9728 and answering a handful of questions about your vehicle. 
Using our instant quote form to answer those questions.  
To get the best offer have your VIN handy.
We'll ask you a few basic questions about your car.
It's a quick process that'll take less than 2 minutes to complete, and you'll get a fair market offer for your car.
Here is a complete list of the information you'll need on your vehicle:
Make, model, and year (Ie, 2009 Toyota Camry)

Vehicle condition – include problems and damaged areas

Mileage, or odometer reading

Exterior, interior description

Mechanical condition

Title status – clean titles preferred

Does the car run?

Can the car be towed?

Are the tires flat?

Overall condition of all four tires and wheels

Damaged glass, mirrors, or lights

Do you have the keys?

Zip code for the car's location
Simply enter your VIN and a representative will contact you to make arrangements to remove your vehicle and get you paid.
Want to shop around? No problem. We'll share your offer with you by email so you can take a moment to decide if you prefer.
Does it start means can you physically put a key in the ignition and fully turn it over starting the engine.  This does not mean inserting the key and starting the battery to turn on your lights and dashboard items.
Does it drive means can you insert the key, turn the ignition over, and physically drive the vehicle at the time of when we will pick it up.
If the car has damage larger than a baseball in any region that will be considered body damage and should be noted when receiving an instant online offer or a phone offer.
After accepting an offer from JunkCarMedics.com for cash for junk cars, a local dispatcher will contact you to schedule a pickup time for your car. JunkCarMedics.com works with local towing providers that will pick up your vehicle.
Junk Car Removal and Towing
Junk car removal is simply having your old car towed or removed on a flatbed when you sell your car.
Almost all junk car buyers will claim to offer free junk car removal.
But not all of them really follow through with it or define it a different way.
So how do you know if you are being charged to have your vehicle towed away? Or if that flat-bed that your car (that's missing a tire or two) has to go on actually costs you money?
Are there free services out there that will pick a car from your small town (population: 100)? And of those that advertise they're free, can you really trust the company to keep its word when it comes down to it?
At JunkCarMedics.com the offer you receive is what you are paid.
We don't charge in addition for junk car removal. 
We make the removal of your vehicle quick, easy, and painless.
The process of removing your junk car is pretty simple and straightforward. Once you accept your offer you will be contacted by one of our carriers to make arrangements to pick up your vehicle at a time that is convenient for you.
Upon arrival, our carrier will inspect your vehicle to make sure everything matches up with what you inputted on your offer.
They will get your vehicle hooked up to a tow-truck or flatbed for removal and get the vehicle taken away.  The whole process generally takes about 5 - 15 minutes and is done in a safe, socially distanced manner.  The only thing you need to do is hand over the keys and the title and you'll be given a check that matches your offer amount.
Junk car removal is free with our cash for cars and cash for junk car services.  The offer you are given is what you will be paid upon haul away.
JunkCarMedics.com provides no hidden fees and up-front pricing with our car buying service.
Generally speaking, once you agree to sell us your old car we will remove it with a flat-bed or tow truck within 2-48 hours.
Some cases may take a bit longer, however we strive to keep it within this time frame.
Once we arrive the process should be pretty simple. As long as your vehicle is accessible the junk car removal process should only take 5 - 20 minutes and we will pay you then.
You do not need to be with your car at the time of pickup.
As long as the proper paperwork is there and the title is signed, we can pick up junk cars for removal from anywhere. The paperwork and title need to be with the vehicle though.
After accepting your offer you will be contacted by our team to schedule the removal of your vehicle.  You will be emailed all of the information you will need to contact them such as their phone and email address.  If you need to reschedule your removal simply give them a call.  We do ask that you do so at least an hour in advance if possible so that they aren't already on their way to pick up your vehicle when you call.
It depends on where you are located. We cannot and do not buy cars without titles in states that don't allow it or that have a very strict process. We must obey the law. But in states that allow it as long as a certain process is followed, then yes we do.
Yes. As long as the proper paperwork is there and the title is signed, we can pick up junk cars for removal from anywhere. The paperwork and title need to be with the vehicle though.
Make sure to hand in your plates or contact the DMV if you are going to use them on another vehicle.  We'll get all the other paperwork done for you on our end. 
Yes!
When you hand over the signed title we'll give you your payment in the form of a guaranteed check.  We'll then hook up your car to the tow truck or flat-bed and be on our way.
By now you know what it takes to get cash for junk cars and should have a good idea of what price you can expect.  But JunkCarMedics.com makes it easy to get an exact offer in 1-2 minutes with no obligations.  Get your instant offer now and you can have your car sold in 1-2 days!