We Buy Junk Cars for Cash in San Antonio, TX
Sell Your Car for Cash in San Antonio, TX
We pay the most cash for junk cars in San Antonio, TX.
Get an offer in 1-2 minutes
to sell your car now.
We Pay Cash for Cars in San Antonio, TX
View Recent Junk Car Prices in San Antonio
JunkCarMedics.com pays cash for cars in San Antonio, TX.
You've seen them in people's yards as you drive down the road. Your neighbor may even have one in his or her yard. You may even have one in your yard. We're talking about junk cars.
They sit around wasting space. They're of no use. You've probably sunk more money into them than they're worth.
Pay Us to Haul of your junk car in San Antonio, TX
Here's the deal, you have an automobile that is causing you all kinds of woes in San Antonio. Here's the solution: JunkCarMedics.com will buy junk cars in san antonio from you. That's right, we will pay you to heal your junk car woes. We'll pay you more then any other auto salvage yard in San Antonio, TX will.
How Much Will We Pay?
Not only will we pay you for your junk car in San Antonio, we will pay you top dollar prices in cash. Who can offer you a better deal than that?
It's Simple
If you have a clunker that you want to get rid of in San Antonio, give us a call or visit us on the internet. During the call, you provide information about your clunker, and we give you a quote. If you like the quote, we'll schedule a time for us to come out and collect your car. You sign a few papers, and we give you cash for your car.
Have The Title Handy
Having the title handy protects you from liability. JunkCarMedics.com cares about you, our customer. We're not out to rip you off like some of the other auto recyclers in the San Antonio area. We don't want to swindle you, we want to engage you in a business deal. We want to buy your junk car.
Along with the title, you might want to have the registration handy. If you have a car with no title, you can get a replacement for a small fee at your local DMV office. You'll also want to remove the license plates from the car and take them to your local DMV office. Taking these steps protects you, the customer.
How Much Money Will We Pay You?
JunkCarMedics.com wants to give you the best value for your automobile. The cars we buy are scrapped for the metal. That is why the amount that you'll be paid is usually based upon the weight of the vehicle.
The Bottom Line
If you are thinking "it's time to sell my car in San Antonio" then we want to buy it. If you want to schedule an appointment or you want more information, give us a call or visit our website.
What Are You Waiting For?
Don't let that junk car sit around another day. Sell your junk car to us for cash. Our tow trucks are waiting for your call. Contact us, a trained car salvage associate is ready for your call.
Frequently Asked Questions When Selling a Junk Car in San Antonio, TX
Do I Bring My Junk Car to You? What If It Doesn't Run?
No, we come to you. At the time of your appointment, we will send a driver out to your residence. If it doesn't run, that's OK. We are still paying you cash on the spot.
Do I Have to Pay for Towing?
No, Towing is free. There are also no hidden fees that other junkyards charge because we pay you for your vehicle. Instead of paying for someone to haul off your junk car, we give you cash for it. The only cost to you is the short time it takes to complete the transaction.
How Fast Can I Get Paid After You Pick Up My Junk Car?
You don't get paid after we collect the car you want to sell to us; you get paid before we leave with your junk car. Yes, you read that right, our driver will have you sign over the car, and then we put cash in your hands immediately. There is no waiting. The whole process is quick, easy, and profitable.
Do You Guarantee Your Service?
Yes, JunkCarMedics.com offers a 100% Satisfaction Guarantee to you in San Antonio. If you're not happy with our service, then we will take care of the situation so that the process runs smoothly and effectively for everyone involved.
Call us now: (855) 437-9728.
JunkCarMedics.com
San Antonio, TX 78217
(855) 437-9728
Calling Hours:
Call For Quote 24/7
Business Hours:
Mon-Fri: 8 am – 7 pm
Sat: 8 am – 2 pm
Sun: Closed
San Antonio Auto Salvage Yards
Recent Junk Car Offers in San Antonio, TX
| | | | |
| --- | --- | --- | --- |
| Vehicle | ZipCode | Offer Date | Offer Price |
| 2005 Chevrolet Equinox | 78213 | 05-09-2021 | $635 |
| 2008 Chevrolet Uplander | 78233 | 05-08-2021 | $720 |
| 1982 GMC C/K 1500 | 78223 | 05-05-2021 | $645 |
| 2005 Mazda Tribute | 78245 | 05-04-2021 | $560 |
| 2001 Toyota Corolla | 78239 | 04-27-2021 | $545 |
| 2009 Honda Accord | 78254 | 04-26-2021 | $830 |
| 1999 Lexus LS 400 | 78258 | 04-19-2021 | $645 |
| 2003 Chevrolet Tahoe | 78233 | 04-16-2021 | $975 |
| 2017 Volkswagen Jetta | 78245 | 04-14-2021 | $5030 |
| 2014 Chevrolet Silverado 1500 | 78242 | 04-12-2021 | $5865 |
| 2010 Ford Fusion | 78248 | 04-07-2021 | $685 |
| 2009 Ford Focus | 78216 | 04-06-2021 | $550 |
| 2009 Dodge Journey | 78228 | 04-06-2021 | $825 |
| 2010 Scion tC | 78233 | 04-01-2021 | $935 |
| 2005 Chevrolet TrailBlazer | 78221 | 03-31-2021 | $550 |
Reasons People Junk Cars for Cash in San Antonio, TX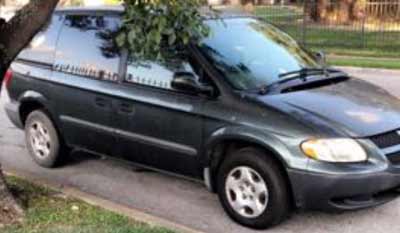 We asked Dontay Jones from San Antonio, TX about his 2003 Dodge Caravan:
My 2003 Dodge Caravan is having to many mechanical issues and that's why I decided to junk it.
Our Price For The 2003 Dodge Caravan: $275.00
Call or Text for your FREE offer! 1-855-437-9728
We Service San Antonio & Surrounding
We buy cars in Fort Worth, Corpus Christi, and all the following zip codes in and near San Antonio: 78201, 78202, 78203, 78204, 78205, 78206, 78207, 78208, 78209, 78210, 78211, 78212, 78213, 78214, 78215, 78216, 78217, 78218, 78219, 78220.