Sell My Junk Audi A4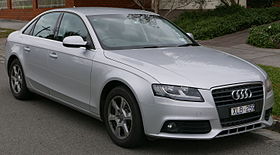 How Much Will I Get For Selling my Junk Audi A4?
Your Audi A4 weighs 2910 pounds, which makes it heavier than most compact executive sedans in its class. This also gives it some heft for the metal recycling yard, so you can expect to get anywhere between $400 and $4000 for yours. There are a few other factors that go into determining how much you can get selling your Junk Audi A4 for cash, though.
To get an idea of the factors we're talking about, our appraisers look at the following details when considering how much we can afford to pay out for a junk car:
• The car's weight;
• The car's age;
• The condition of the vehicle;
• Local scrap metal prices
All of these combine to give us an idea of how much we can pay out for the car while still being able to make a profit recycling its parts and components. When it comes to junk Audi A4 vehicles, we're also looking for specifics. This model of car has been known to have defective ignition coils and occasionally failed high pressure fuel pumps. If your junk car has these parts in working condition, they may be salvageable, which increases the price we'll pay you for it.
We're willing to pay up to ,000 for a running Audi A4 in good condition, so feel free to call us up and ask for a quote!
More Information on the Audi A4
Originally released in 1994, the Audi A4 is a compact executive car based on a Volkswagen platform but given exclusive luxury features that serve to make the model stand out from a crowd. These cars are luxury vehicles that include some of the latest technology on the market—as a result, this model has seen nearly constand additions, facelifts and changes since its introduction to the market.
Cosmetic changes, in particular, have occurred very frequently, especially in the late 90s. By 2004, the Audi A4 took shape and enjoyed a new engine, navigation system and electronic stability program. This model was the Top Safety Pick for 2007 according to the Insurance Institute for Highway Safety.
Recent Offers Made for Audi A4 Cars:
1999 Audi A4

47167
$240
10-02-2023
2010 Audi A4

92116
$550
09-28-2023
2006 Audi A4

54303
$260
09-27-2023
2011 Audi A4

35216
$950
09-23-2023
2009 Audi A4

94015
$460
09-21-2023
2004 Audi A4

29556
$250
09-19-2023
2006 Audi A4

55102
$465
09-18-2023
2007 Audi A4

56308
$180
09-16-2023
2006 Audi A4

80215
$380
09-15-2023
2017 Audi A4

76107
$5010
09-15-2023
2005 Audi A4

95820
$380
09-13-2023
2006 Audi A4

76011
$350
09-11-2023
2004 Audi A4

54303
$255
09-09-2023
2010 Audi A4

53144
$690
09-08-2023
2007 Audi A4

32205
$240
09-07-2023
Should I Sell My Junk Audi A4?
If you want to sell your junk Audi A4, you've got two major options: Either get instant junk car quote to a junk car buyer like us or pay a mechanic to repair the vehicle and put it up for sale on the used market. While you might earn more money from selling it as a used car, you may end up spending more to get it sufficiently repaired—plus you have to wait until you find an interested buyer.
If the cost of repairs reaches the value of the car then you're much better off selling it as-is. Not only do you end up making more money this way, but you also get immediate cash-in-hand without having to wait. Call us today for a quote!
Call (855) 587-0227 or request a quote online to sell your Audi A4.