Sell My Junk Audi A6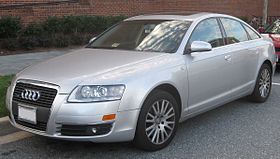 How Much Cash Will My Junk Audi A6 Get Me?
Would you like to get paid cash for your Audi A6 today? Well, Junk Car Medics wants to pay you cash for your Audi A6. Your Audi A6—which weighs in around roughly 3,500 pounds—could venture anywhere from $250 to $3,500 in cash resale.
How we determine our paramount scrap prices:
This friendly estimate on your Audi A6 is based upon several factors: the ability to salvage certain valuable parts versus the current market for your vehicle's scrap parts.
How we determine your quote:
The initial quote on your vehicle will be determined upon several factors, which are:
Weight. The heavier your vehicle is, generally speaking, the more the vehicle will be worth in terms of scrap parts. The vast majority of the vehicles that we purchase from private party owners are junk cars. Therefore, in order to offer you a fair market price for your vehicle, we will scrap the vehicle after purchasing it.
Condition of the car. Sometimes, if the car is new, and in superb condition, your fair market quote on your used vehicle will be higher. This is due to the fact that the sheer volume of salvage-ready parts is much higher than that of other cars. If the vehicle is in excellent condition, we can also sell salvaged parts to private dealers for higher dollar amounts.
The make, model, age, and mileage of the vehicle. This component of your quote is fairly obvious. The closer to new your car is, the more it is worth. Less miles on the odometer, paramount exterior/interior condition, etc-these factors will increase your quote amount.
For example, an Audi A6 will typically receive between $250 and $3,500 in scrap. If the condition of the vehicle is superb-the interior/exterior, engine parts-and the vehicle has low mileage, the net worth of the vehicle will be raised. Therefore, your quote will be higher.
Why sell your car to us?
It is only our honest intention to see you receive a fair market value on your used junk vehicle, and with Junk Car Medics, you are guaranteed just that.
You might be wondering about other methods of selling your used junk vehicle.
Here are a few:
Selling to a private party: The preferred option by most, selling to a private party can also be the most difficult, especially if the vehicle is a scrap car. Only a particular section of the car resale market is interested in salvaging car parts and performing the labor necessary to accrue a profit from their initial investment.
Craigslist: Another plausible option, selling your used junk vehicle on Craigslist is easy enough. However, the same problem arises: the used junk car market is a small niche, and is hard to infiltrate.
Trading you car in: Trading your car in to a dealership is always a plausible option, and the vast majority of the time, a dealership will show interest in purchasing your junk vehicle from you, although this cannot be guaranteed. Also, the price that will typically be offered on your used junk vehicle will be significantly below fair market value.
All in all, there are options . . . but Junk Car Medics takes away the hassle and the stress associated with the process.
Recent Offers Made for Audi A6 Cars:
2008 Audi A6

54452
$315
10-02-2023
2000 Audi A6

64050
$245
09-25-2023
2007 Audi A6

37917
$380
09-18-2023
2011 Audi A6

14623
$505
09-12-2023
1999 Audi A6

80904
$410
09-12-2023
2003 Audi A6

32824
$510
09-08-2023
2013 Audi A6

06896
$1410
09-05-2023
2014 Audi A6

95076
$2095
08-23-2023
2001 Audi A6

02136
$325
08-19-2023
2010 Audi A6

11208
$585
08-15-2023
2008 Audi A6

40031
$265
08-14-2023
2001 Audi A6

14225
$440
08-05-2023
2006 Audi A6

87123
$315
08-04-2023
2008 Audi A6

90011
$415
07-30-2023
2005 Audi A6

73129
$365
07-25-2023
Why wait?
We will come to your doorstep and tow your junk Audi A6 from the property, and at no charge to you.
Use the cash for a down payment on a new vehicle. Or, treat yourself.
Either way . . . with Junk Car Medics you'll be getting a fair market price for your Audi A6, instantly!
Call (855) 587-0227 or request a quote online to sell your Audi A6.