Sell My Junk BMW 530i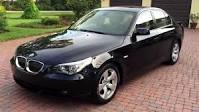 How Much Cash Will My Junk BMW 530i Get Me?
The BMW 530i is a gorgeous vehicle to own, but it can also be severely difficult to fix. Search no more if you are looking for someone to take the model off your hands. We are professional car buyers who will buy this vehicle from you in the blink of an eye. We will come to your home or office and freely tow the vehicle away for you, as well. We want to accommodate you any way we can. Your BMW 530i can be running or not running. We will buy it from you no matter what condition it is in.
Our Unique Appraisal System
We don't use the same system that other providers use when it comes to giving quotes and estimates. While other companies may consider the condition or the year of the vehicle the most, we use the weight of the item as the primary appraisal factor. We take the weight of the car and match it up with current scrap metal prices, and then we review all other aspects of the vehicle and provide you with a quote based on that information. The 530i is approximately 3538 pounds.
Why You Should Choose Us
Why should I sell my car to Junk Car Medics? Your thoughts may be leaning toward using some other methods of unloading your car. You may be thinking about writing the price on the windshield and hoping for the best. You may have gotten the idea to take the vehicle to the dealership and use it to lower the price of the car you want to buy. You may have had the notion to place your car on a classified site. While all those ideas do have a small percentage of positivity, your experience with us will be nothing but positivity. We will process your request and give you a quote quickly. You can decide whether or not you want us to come and take your car after that. We hope your answer is yes. If so, we will come to your home or office and hand you cash. We will then take your vehicle away. You will then spend the cash.
Recent Offers Made for BMW 530i Cars:
2002 Bmw 530i

79762
$330
08-11-2022
2002 Bmw 530I

37818
$295
04-29-2022
2002 Bmw 530i

27614
$495
09-08-2021
2004 BMW 530i

33135
$545
02-13-2021
Sell Your Car to Us Today
Sell your BMW 530i to us today. Complete a short form and tell us a little bit about yourself and you vehicle. Call us if you prefer to communicate with us like that. The phone number you will call is 855-587-0227. You will be glad that you chose us as your buyer.
Call (855) 587-0227 or request a quote online to sell your BMW 530i.