Sell My Junk Buick LeSabre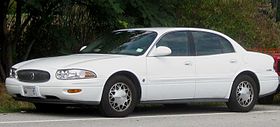 How Much Cash Will My Junk Buick LeSabre Get Me?
The Buick LeSabre is one of Buick's oldest and longest lasting vehicles. It is a fine automobile, but perhaps you are ready to sell your Buick LeSabre and get something different. We're in the business of taking junk cars and hard sells off the hands of consumers who want to start over. Consider calling us if you've been trying to sell your car for cash to no avail. Consider calling us if you need cash for an emergency, down payment, bill or shopping spree. We can help you no matter what kind of car you have. We formulate our calculations on the weight of your car, and the LeSabre is pretty heavy. Some models are almost 4,000 pounds, which can bring you a significant amount of cash.
Car Doesn't Start? No Problem
We don't base our offers on the way your car looks or even the way it runs. It's quite possible to get a wad of cash from us even if you your car does not function. Your car's weight is the most important factor to us. We do weigh things like mileage and condition, but not as much as we weigh the weight.
Stay Safe and Sane by Using Us
There are many benefits to using us over some of the alternative solutions. Trading your car in may seem easy and effortless, but it can rob you out of a fair offer. Trying to sell your car by sitting outside with a sign in it may take months. Classified ads can get you a quick sale, but only if the other party shows up and pays you for the car. Online classified sites and resources have a habit of being unreliable because of the people who frequent them. When you call Junk Car Medics, there is no wonder work. Everything is going to be wonderful because you are going to lose an old LeSabre and gain cash without hassle or issue.
Recent Offers Made for Buick LeSabre Cars:
1997 Buick LeSabre

44312
$310
09-30-2023
1998 Buick LeSabre

37924
$380
09-28-2023
1997 Buick LeSabre

93505
$130
09-26-2023
2005 Buick LeSabre

61080
$275
09-22-2023
2000 Buick LeSabre

32254
$240
09-22-2023
1995 Buick LeSabre

54301
$255
09-18-2023
1994 Buick LeSabre

95122
$210
09-18-2023
2004 Buick Lesabre

75115
$330
09-17-2023
2003 Buick LeSabre

92557
$225
09-14-2023
2004 Buick LeSabre

53818
$75
09-11-2023
2002 Buick LeSabre

33607
$460
09-11-2023
2004 Buick Lesabre

21201
$305
09-11-2023
2000 Buick LeSabre

63116
$340
09-10-2023
2005 Buick LeSabre

80623
$365
09-09-2023
1991 Buick LeSabre

92128
$360
09-06-2023
Start the Process
We can't buy your car without your help. You have to make the first move to sell your Buick LeSabre by contacting us either by phone number or short form. The phone number that we use is 855-587-0227. You can even send us a text message if you like. We buy all cars.
Call (855) 587-0227 or request a quote online to sell your Buick LeSabre.