Sell My Junk Cadillac Seville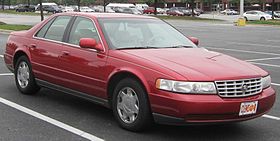 Should I Sell My Junk Cadillac Seville For Cash Today?

Considering that your junk Cadillac Seville has a curb weight of 3,892 pounds, you can make a fair sum of money with it on the junk car market. Reputable auto recyclers like us are always happy to buy this car model, and we offer great rates for them regularly. You can expect to get between $300 and $4000 for your Cadillac Seville with us.
Whenever we buy Cadillac Seville's we rely on our knowledgeable appraisal specialists to take careful account of the car's value. To do this, we look at a few important details:
• The car's age;
• The weight of the vehicle;
• Local scrap metal prices;
• The condition the car is in.
These all combine to give us an idea of the car's base value. After this, additional concerns such as the presence of useful accessories or components can be taken into account. These cars can occasionally develop problems with their transmissions, meaning that you can earn a better rate on your junk Cadillac Seville if it has a working transmission. Junk Car Medics will pay up to $10,000 for used cars in good condition, so give us a call and get a quote to find out how much yours is worth.
What Should You Know About the Cadillac Seville?
Cadillac released the Seville in 1975 as a response to the growing popularity of European luxury cars in the United States. Cadillac had been the premier luxury car brand during the 50s and 60s, but had slowly waned in prestige, especially with younger demographics. This marked an important turning point in Cadillac's approach, which traditionally meant making luxury vehicles as big and as heavy as possible. The Cadillac Seville was both the smallest and most expensive car in Cadillac's lineup at the time of release.
Later versions of the Seville carried over this design approach by continually getting smaller and more nimble as time went on. The fourth generation models, manufactured in the 1990s, were distinctly European in character as well; this generation earned Motor Trend magazine's Car of the Year designation for 1992. The Cadillac Seville went on strong until it was replaced by the Cadillac STS in 2004.
Recent Offers Made for Cadillac Seville Cars:
2004 Cadillac Seville

30083
$595
09-29-2023
1995 Cadillac Seville

91324
$95
09-07-2023
2002 Cadillac Seville

62471
$105
08-25-2023
1999 Cadillac Seville

55108
$415
08-21-2023
2003 Cadillac Seville

33706
$380
09-13-2023
2001 Cadillac Seville

49505
$410
08-02-2023
1992 Cadillac Seville

89107
$245
07-31-2023
1988 Cadillac Seville

92337
$190
07-19-2023
1999 Cadillac Seville

55108
$415
06-28-2023
1990 Cadillac Seville

80909
$200
06-26-2023
2000 Cadillac Seville

19067
$560
06-23-2023
1994 Cadillac Seville

48066
$485
06-21-2023
2001 Cadillac Seville

68104
$540
06-12-2023
2000 Cadillac Seville

98404
$365
05-14-2023
2000 Cadillac Seville

55411
$340
05-03-2023
Should I Sell My Car? It's a Damaged Cadillac Seville!
If you own a damaged, worn or wrecked Cadillac Seville, you can earn cash for it on the spot. Our team of reputable junk car buyers are ready to purchase your car. If you are not sure whether you want to sell your car or not, consider the cost of repairing it to full functionality. Compare that cost with the sum you'd get for selling the car as-is to Junk Car Medics.
If your junk Cadillac Seville costs more to repair than what the car is worth on its own, you will earn the greatest value out of selling the car quickly. Call us today and schedule a pick up time!
Call (855) 587-0227 or request a quote online to sell your Cadillac Seville.