Sell My Junk Chevrolet Blazer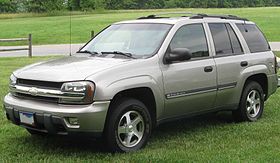 How Much Can I Earn Selling A Junk Chevrolet Blazer?
We know the curb weight of the Chevrolet Blazer is 3,612 pounds, which offers a good amount of metal for local scrap yards. However, this is only the beginning—if your junk Blazer has useful, functional components that are in high demand, you can earn more even if the car itself won't start. In most conditions, you can expect anywhere between $250 and $1200 for your Blazer.
To learn how much cash you can get for your junk Chevrolet Blazer, first look at the factors junk car buyers look at when appraising cars:
• The car's age;
• Its mileage;
• Its condition;
• Its curb weight;
• Local scrap metal prices
At Junk Car Medics, you can get up to $10,000 in cash for a used Chevrolet Blazer in decent condition. If the vehicle isn't missing any critical components and still runs reliably, you can actually get a hefty sum if you sell your car to us. We regularly purchase cars like these and always offer up-front cash for them.
A Little About the Chevrolet Blazer
The Chevrolet Blazer is a mid-size SUV designed to offer a more compact alternative to the larger GMC Jimmy and Chevrolet Suburban models. The Blazer comes in both two- and four-door variants throughout most of its production history. Production of this model ended in 2005, when new models like the Chevrolet Trailblazer and GMC Envoy rendered it obsolete.
This model, like many Chevrolet SUVs, is a very solid and well-built car. Nevertheless, it has been known to suffer from mechanical defects over time, and this may convince you that it's time to junk it.
Recent Offers Made for Chevrolet Blazer Trucks:
2003 Chevrolet Blazer

43207
$150
10-01-2023
2000 Chevrolet Blazer

93703
$355
09-29-2023
2002 Chevrolet Blazer

64157
$350
09-22-2023
1999 Chevrolet Blazer

27306
$285
09-21-2023
1998 Chevrolet Blazer

15228
$310
09-15-2023
2004 Chevrolet Blazer

29223
$255
09-12-2023
1998 Chevrolet Blazer

43235
$315
09-11-2023
2003 Chevrolet Blazer

13601
$290
09-08-2023
1996 Chevrolet Blazer

21851
$240
09-06-2023
1996 Chevrolet Blazer

41017
$240
09-04-2023
2002 Chevrolet Blazer

28311
$375
09-01-2023
1994 Chevrolet Blazer

90028
$290
08-31-2023
1999 Chevrolet Blazer

85302
$240
08-28-2023
1999 Chevrolet Blazer

84302
$135
08-23-2023
2000 Chevrolet Blazer

80136
$325
08-23-2023
Should I Sell my Junk Chevrolet Blazer?
No matter how reliable a car is, there comes a time to lay it to rest—the Blazer is no different. If you have a car that is worn out or damaged, you should determine whether repairs cost more than the value of the car. If the answer is yes, give us a call and get a quote on selling it for immediate cash.
Many of these cars develop problems over time, such as fuel level sensor failure and engine oil leaks due to a faulty intake manifold gasket. In some models, the brake system control unit is prone to failure, as well. This means that if your car has functional versions of these parts, you may be able to attract a higher price than you would otherwise. Contact us and get a quote on your junk Chevrolet Blazer today to find out more.
Call (855) 587-0227 or request a quote online to sell your Chevrolet Blazer.