Sell My Junk Chevrolet Uplander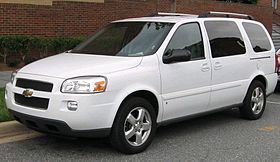 How Much Cash Will My Junk Chevrolet Uplander Get Me?
If you thought, "I can't possibly sell my car for cash. No one would want this junk!"...think again. You most certainly can sell your Chevrolet Uplander quickly if you sell it to us. We're car buyers who feel like every car has a unique quality. We can find many things to do with the vehicle that you no longer wish to own. The name of our company is Junk Car Medics, and we are here to write you a prescription for cash. We can come and buy your Uplander from you in a heartbeat and tow it away from your home free of charge.
We Take Cars in All Conditions
We do not discriminate here at Junk Car Medics. We have an offer for anything you have. We take cars from all manufacturers, native and foreign. We accept vehicles that have blemishes, dents, chips, rust, and other cosmetic issues. We take cars whether they are running or not running. Do not hesitate to call us because you may be missing out on the best deal of your life. Take a chance and contact us. You may be surprised by what you hear from us.
Here's Our Secret
We don't operate like other car buyers do. We calculate our quotes based upon the current scrap metal prices as well as other factors but you mostly get paid by the pound. The Uplander is about 4,233 pounds, which means that you can get roughly about $3,800 if you are selling it today. We consider other factors such as the age, mileage, and overall condition when we make our offer. Dealing with us is much better than dealing with other types of buyers because the pounds take precedence over other qualities. That means more money for you so that you can do what you need to do.
We're Honest and True
You'll get a great offer from us because we want you to have what you deserve. We'll save you a lot of trouble and aggravation that you may have gone through if you had decided to sell your Uplander a different way. For example, you don't have to spend money to put your Uplander in the newspaper or wait for anyone to contact you. Your buyers are already here and the answer is yes. Free classifieds are sometimes a waste of time because people can be extremely unreliable. With us there is no guessing game. If we say we are coming to buy your car, you can rest assured that we are coming to buy your car.
Recent Offers Made for Chevrolet Uplander SUV's:
2008 Chevrolet Uplander

33467
$365
09-22-2023
2007 Chevrolet Uplander

56401
$140
09-09-2023
2005 Chevrolet Uplander

60649
$465
08-22-2023
2008 Chevrolet Uplander

44109
$450
08-14-2023
2007 Chevrolet Uplander

02909
$380
08-06-2023
2008 Chevrolet Uplander

07033
$485
08-02-2023
2008 Chevrolet Uplander

76126
$440
07-31-2023
2008 Chevrolet Uplander

78222
$645
08-02-2023
2008 Chevrolet Uplander

49009
$380
07-17-2023
2008 Chevrolet Uplander

52302
$240
07-16-2023
2008 Chevrolet Uplander

53704
$340
07-09-2023
2007 Chevrolet Uplander

02909
$425
07-07-2023
2008 Chevrolet Uplander

53120
$480
07-05-2023
2008 Chevrolet Uplander

14218
$445
06-22-2023
2006 Chevrolet Uplander

02895
$425
06-21-2023
The Process Is Easy as 1-2-3
We simplify our process and make it as painless as possible for all of our clients. The first step toward getting some cash for your car is contacting us. The dedicated phone number that we have is 855-587-0227. Alternatively, you can request a quote online by clicking "price your car now." You'll need to give us some crucial information such as the make, model, year, and title type of your vehicle. Once you do that, we can proceed to calculating the best possible price for you. We can guarantee that our quote will be reasonable and quite appealing to you. Don't run around like crazy trying to get someone to buy your car. Just call us and we will buy your car. Sell your Chevrolet Uplander today.
Call (855) 587-0227 or request a quote online to sell your Chevrolet Uplander.