Sell My Junk Dodge Avenger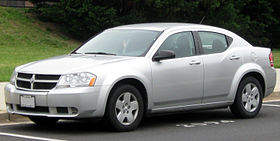 How Much Is My Junk Dodge Avenger Worth?
Featuring a curb weight of between 3,400 and 3,607 pounds, the Dodge Avenger can make a great sale with a reputable junk car dealer on hand. We regularly buy Dodge Avengers of all types, in all conditions, and are willing to pay top-dollar for them. You can expect to get anywhere between $250 and $2800 for your Dodge Avenger.
If you own a damaged, worn or otherwise unwanted Dodge Avenger, you can make fast cash reliably by selling it to Junk Car Medics. We usually look at these factors when determining how much we are willing to pay for a new junk car:
• The car's condition;
• The car's age;
• Its mileage;
• Local scrap metal prices.
All of these factors contribute to the overall value of the car on the junk market, but another important consideration is whether the vehicle has salvageable parts and accessories. For instance, Dodge Avengers with automatic transmission tend to develop shifting problems that can make costly transmission replacement necessary. If your car has a working automatic transmission, however, you can have us salvage it and make a steady profit.
Information About The Dodge Avenger
The Dodge Avenger is a mid-size sedan that was produced during two periods of time. First, between the years 1995 and 2000, and then once again between 2008 and 2014. The earlier versions were two-door coupes that received generous upgrades with every production year up until their discontinuation.
In 2008, Dodge reintroduced the Avenger nameplate and applied it to a new four-door sedan. This car replaced the Charger as Dodge's NASCAR vehicle and obtained a significant win, bringing national attention to the model. In 2011, Dodge upgraded the model inside and out, giving it a new look and a more powerful engine.
Recent Offers Made for Dodge Avenger Cars:
2008 Dodge Avenger

31525
$165
10-02-2023
2011 Dodge Avenger

28806
$385
09-30-2023
2013 Dodge Avenger

85305
$1065
09-22-2023
2008 Dodge Avenger

49519
$430
09-20-2023
2009 Dodge Avenger

60411
$470
09-17-2023
2013 Dodge Avenger

45207
$365
09-16-2023
2010 Dodge Avenger

32254
$365
09-15-2023
2008 Dodge Avenger

27260
$305
09-12-2023
2008 Dodge Avenger

55075
$375
09-11-2023
2012 Dodge Avenger

47303
$410
09-10-2023
2010 Dodge Avenger

48439
$350
09-07-2023
2008 Dodge Avenger

72107
$155
09-03-2023
2014 Dodge Avenger

77373
$525
08-29-2023
2008 Dodge Avenger

47601
$55
08-26-2023
2014 Dodge Avenger

60619
$390
08-26-2023
Should I Sell My Junk Dodge Avenger?
Generally, finding out whether to sell your car for cash is a matter of simple arithmetic. First, you need to determine the cost of repairing your car to get it in good enough condition to sell on the used car market. Next, compare that price with the offer one of our appraisal experts provides you. Compare the two and determine whether selling the car today is better for your bankroll than investing in its repair. We'll pay up to $10,000 for used cars in decent condition, so get in touch with us today and get an estimate!
Call (855) 587-0227 or request a quote online to sell your Dodge Avenger.