Sell My Junk Dodge Stratus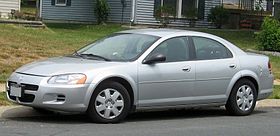 You Can Get Cash For Your Junk Dodge Stratus Today—How Much?
If you have a damaged, worn or otherwise undriveable Dodge Stratus on your hands, you can get between $200 and $2200 if you get instant junk car quote today. The Stratus has a curb weight of between 2,911 and 3,181 pounds. This, combined with local price of scrap metal and the presence of salvageable accessories or components makes it a good choice to sell to auto scrap dealers like us.
When we make appraisals of junk vehicles, we usually look at a number of factors to determine the best price. These factors include:
• The age of the vehicle;
• The car's mileage;
• Its condition;
• Its location;
• Scrap metal prices in that area.
These factors all come together to give us an idea of how much that vehicle would be worth on the scrap market. We combine this base price with the value of any important or in-demand parts the car may have. For instance, many Dodge Stratus vehicles have a defective cam/crankshaft mechanism, causing ignition problems. If your car doesn't suffer from this particular problem, it might be more valuable on the local salvaged component market.
The History of the Dodge Stratus: Why Do We Buy This Vehicle?
The Dodge Stratus is a mid-size sedan released in Feburary 1995. It was highly acclaimed at its launch, receiving praise across the board and even arriving on Car and Driver's Ten Best list for 1996 and 1997. These great ratings didn't last forever, however. The car's popularity slowly waned overtime and not even a significant 2001 upgrade and facelift couldn't prevent it from eventually being discontinued. In 2008 it was replaced by the newer Dodge Avenger.
Despite receiving great ratings, the first-generation Dodge Stratus vehicles received poor marks for safety in frontal crash tests. This was quickly remedied, with second-generation versions of the vehicle achieving a score of "Acceptable"
Recent Offers Made for Dodge Stratus Cars:
2004 Dodge Stratus

63050
$295
10-01-2023
2005 Dodge Stratus

50317
$290
09-28-2023
2002 Dodge Stratus

46208
$380
09-22-2023
2005 Dodge Stratus

47866
$125
09-21-2023
2006 Dodge Stratus

84120
$380
09-19-2023
2005 Dodge Stratus

84121
$380
09-15-2023
2003 Dodge Stratus

53129
$245
09-14-2023
2005 Dodge Stratus

32818
$415
09-11-2023
2006 Dodge Stratus

89015
$330
09-11-2023
2004 Dodge Stratus

85746
$310
08-24-2023
2002 Dodge Stratus

63124
$340
08-09-2023
1999 Dodge Stratus

43207
$310
08-08-2023
2005 Dodge Stratus

40508
$265
08-03-2023
2002 Dodge Stratus

54868
$115
08-01-2023
2005 Dodge Stratus

64075
$305
08-01-2023
Should I Junk My Dodge Stratus?
If you have a damaged Dodge Stratus that you'd like to sell, you may be torn between selling it as-is or repairing it and putting it on the used market. Besides going through the trouble of meeting prospective buyers and trying to get your car sold, you'll have to invest in its repair.
To find out whether selling your junk Dodge Stratus is best for you, compare a quote from one of our expert auto appraisers with a repair estimate from an authorized mechanic. If the cost of repair is larger than the car's actual value, you're better off selling it to us as-is. We're happy to buy your car in any condition, so call today!
Call (855) 587-0227 or request a quote online to sell your Dodge Stratus.