Sell My Junk Ford Mustang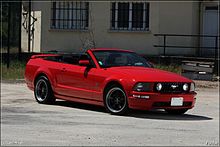 How Much Cash Will My Junk Ford Mustang Get Me?
If you've ever felt indecisive about which tactic of selling your used Ford Mustang is best, you are not alone. There are a variety of different options for the used vehicle owner who is looking to quickly get rid of their junk cars, but none are as fast and as competitive as Junk Car Medics. Sell your Ford Mustang today.
The primary determining factor of the quote on your junk motor vehicle derives from the curb weight of the vehicle. Considering that the Ford Mustang has a curb weight of roughly 3,500-pounds, you could receive anywhere from $200-$3,500 for it. Bear in mind that these figures are not exact; other factors-which we will reveal shortly-have the potential to greatly influence your quote.
It seems easy enough: you call us, we give you a quote, and then . . . what?
It's that simple. Junk Car medics, after offering you a fair market quote on your junk Ford Mustang-will physically arrive at the specified property and remove the vehicle for you without charge.
Wait what? Without charge?
That's right. If your junk Mustang is mechanically inept and no longer runs, no worries; Junk Car Medics will remove the vehicle from the property with no charge to you, and often on the same day that you call us for your original quote.
How do you determine the quote?
There are many factors which can greatly influence the overall net worth of your junk Mustang. Some of the primary factors which influence your quote are:
The general condition of the vehicle, i.e., excellent, good, mediocre, fair to poor, or junk. Obviously the better condition your vehicle is in, the more Junk Car Medics is willing to pay for it.
The curb weight of the vehicle. The heavier your junk motor vehicle is, the higher the scrap price, and the higher the scrap price, the higher quote you will receive.
The year, make, model, and style of motor vehicle you are selling. Automobiles of regarded quality have salvageable parts that are worth a significant amount more than your typical brands. Junk Car Medics will analyze your car based on brand and determine then if-and how many-of the parts on your junk car are salvageable. Given that we have a network of vendors who purchase our parts, a Mustang with pristine paint on its body that isn't blistering-the most commonly complained about problem with the vehicle-will be worth an exceptional amount, as the products are in high demand and low supply.
If you are unsure about using Junk Car Medics to quickly get rid of your junk Ford Mustang at fair market value, there are other options available to you that allow you to sell your motor vehicle.
The most common of them are:
Trading it in: Save for using Junk Car Medics, trading your junk car into a dealership is usually your easiest option. Bear in mind, however, that some dealerships will not show a great deal of interest in a junk car, especially those who are in the used car buying and selling business. Also, beware of receiving an offer that is well below fair market value.
Craigslist: Selling your car to a private party through Craigslist is a completely legitimate alternative option. The benefits of this include reaching a particularly isolated niche of buyers who are specifically searching for certain criteria. On the flip-side, this niche is particularly small, and this process is oftentimes long-term.
Recent Offers Made for Ford Mustang Cars:
2003 Ford Mustang

35811
$240
10-02-2023
2004 Ford Mustang

32608
$455
09-27-2023
2002 Ford Mustang

19464
$450
09-22-2023
2009 Ford Mustang

79119
$545
09-22-2023
2002 Ford Mustang

92507
$385
09-19-2023
1984 Ford Mustang

32808
$340
09-13-2023
2009 Ford Mustang

73069
$395
09-11-2023
2002 Ford Mustang

93727
$330
09-07-2023
2006 Ford Mustang

90250
$505
09-03-2023
1998 Ford Mustang

37604
$155
08-31-2023
1996 Ford Mustang

37066
$180
08-29-2023
2002 Ford Mustang

45656
$250
08-28-2023
2000 Ford Mustang

75104
$375
08-28-2023
2007 Ford Mustang

68504
$495
08-24-2023
2002 Ford Mustang

27576
$770
08-23-2023
The bottom line? Let Junk Car Medics give you cash for your vehicle today! Sell your Ford Mustang at a fair market price. Use the money toward a down payment on a new car, or treat yourself to something you've been wanting to buy for a long time but just haven't had the funds for it. Get cash in your hands ASAP when you get instant junk car quote today.
Call (855) 587-0227 or request a quote online to sell your Ford Mustang.