Sell My Junk Ford Thunderbird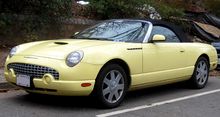 How Much Cash Will My Junk Ford Thunderbird Get Me?
The Ford Thunderbird is a classy car that has been manufactured since 1955 and was the first two-seater that Ford made since 1938. If you own one and are trying to part with it, let Junk Car Medics take it off of your hands for you. We will give you the best deal when you want to sell your Ford Thunderbird. You won't believe the next part- we pay CASH for all cars that we purchase! You read that right, we always bring cash when we come to buy your vehicle from you. Simply give us a call and set up a date and time for our employees to come out and take a look at your Thunderbird.
If you're thinking, "I want to sell my car, but it doesn't even run and it's in horrible shape," worry no more. We know that many of our customers own cars that no longer run, but we will still make a deal with you! Plus, we have our own truck drivers that come out and tow away your vehicle at no extra cost. If you are wondering how much we can pay for your car, we can give you an answer up-front. One of the biggest factors is how much the car itself weighs. The heavier it is, the more you will receive. Since a Ford Thunderbird has a curb weight of about 3,775 pounds, this means you will get a great deal for your car. We do everything that we can to ensure our customers are satisfied with the price we quote.
There are a few different factors that go into how much your Thunderbird is worth. Older Thunderbirds in good condition are considered a classic, so they will be worth more. But even if the car is in poor condition and doesn't run anymore, you'll still get cash for it from us. We look at how many miles are on it and consider the current scrap price if the vehicle will be sold for parts. We will always take care to give our valued customers the best price that we possibly can. We don't want anyone unhappy!
We have talked to many men and women who have told us the hassle they received when they tried to sell their car themselves. With all of the Internet websites and apps on your smartphone, it seems like it would be so easy to sell your car, old or new. You will probably get a good response, but the offers you get will more than likely be low and not worth the value of your Thunderbird at all. With Junk Car Medics, we always pay cash and we never turn down a vehicle because of the condition. Our goal is to get out to you as soon as possible and leave you with cash in hand.
The Ford Thunderbird was manufactured in the United States over eleven different model generations.
Recent Offers Made for Ford Thunderbird Cars:
1992 Ford Thunderbird

23693
$330
09-29-2023
1978 Ford Thunderbird

48111
$495
09-28-2023
1994 Ford Thunderbird

68788
$125
08-22-2023
1995 Ford Thunderbird

44505
$355
07-30-2023
1994 Ford Thunderbird

28560
$270
07-29-2023
1983 Ford Thunderbird

85749
$200
07-27-2023
1969 Ford Thunderbird

37211
$245
07-26-2023
1978 Ford Thunderbird

48111
$470
07-20-2023
1978 Ford Thunderbird

48111
$485
07-12-2023
1996 Ford Thunderbird

74112
$290
07-13-2023
1995 Ford Thunderbird

74127
$290
07-09-2023
1997 Ford Thunderbird

37853
$330
07-05-2023
1988 Ford Thunderbird

28216
$275
07-04-2023
1978 Ford Thunderbird

48111
$485
06-20-2023
1978 Ford Thunderbird

48111
$505
06-08-2023
Just give us a call today to get the cash you deserve for your old Thunderbird! We will buy your car so you have cash to put down on a new one. Don't try and trade your vehicle in towards a new car when the dealer won't give you a fair price. We'll send you off with cold hard cash in your hand today when you are trying to sell your Ford Thunderbird!
Call (855) 587-0227 or request a quote online to sell your Ford Thunderbird.