Sell My Junk Honda Odyssey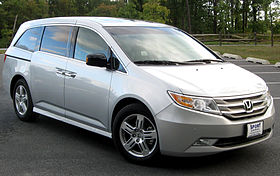 How Much Cash Will My Junk Honda Odyssey Get Me If I Sell My Car?
Are you tired of driving around in your outdated car and would love to trade it in for something that is newer, with better features, less mileage, and more safety features? You might be wondering if you could even get enough out of your current car to purchase or pay down on a better vehicle.
Here's the deal, it is possible to get a reasonable amount of cash for your vehicle no matter how old or damaged it may be. Your junk car could provide you with a significant amount of cash when it is sold to the auto recycling market.
You may think that this is crazy and no one in their right mind would want to buy the junk car that you have sitting in your garage right now. But it's true. When you sell your Honda Odyssey to an auto recycler, you will get paid based on the curb weight of your vehicle. The average curb weight for a Honda Odyssey is between 4,396 and 4,613 lbs.
Our company will buy your car and pay you based on the curb weight and our current recycling rates. We offer free removal from your place of residence, which means even if the car is no longer running, we will take care of it all. No matter what condition your vehicle may be in, good, bad, running or not, we can help you sell your Honda Odyssey.
We want to get you the very best deal for your car. Even though there are different options out there when it comes to selling your old car, we strive to make the process as simple and as easy as possible. You can attempt to sell the car on your own, trade it in, or place it in the newspaper's classified ads. But when it comes to the fastest and easiest way to make money off your junk car, we are the best choice in the industry.
Sell your Honda Odyssey no matter what model year you own.
Recent Offers Made for Honda Odyssey Vans:
2006 Honda Odyssey

91767
$625
10-02-2023
2003 Honda Odyssey

46819
$365
10-01-2023
2003 Honda Odyssey

37066
$380
09-30-2023
2002 Honda Odyssey

46819
$365
09-30-2023
2002 Honda Odyssey

78228
$475
09-28-2023
2007 Honda Odyssey

92346
$480
09-27-2023
2002 Honda Odyssey

13459
$265
09-27-2023
2005 Honda Odyssey

17111
$600
09-26-2023
2002 Honda Odyssey

19145
$440
09-25-2023
2011 Honda Odyssey

95818
$770
09-21-2023
2002 Honda Odyssey

44111
$450
09-21-2023
2001 Honda Odyssey

93725
$355
09-20-2023
1999 Honda Odyssey

48141
$560
09-20-2023
2003 Honda Odyssey

91744
$380
09-19-2023
2004 Honda Odyssey

54494
$220
09-18-2023
At Junk Car Medics we will take care of your needs as quickly as possible so that you can get paid for your junk car and be on your way. Use that money to help purchase a brand new car, or for other financial needs. Don't let that damaged, broken down car or truck take up space in your garage or backyard when it could be providing you with the cash you need. Get in touch with the best Auto Recycling Center today for more details.
Call (855) 587-0227 or request a quote online to sell your Honda Odyssey.