Sell My Junk Hyundai Genesis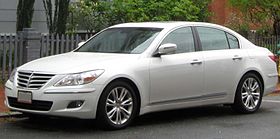 How Much Money Is My Junk Hyundai Genesis Worth?
With a curb weight of between 3,389 and 3,294 pounds, the Hyundai genesis is a full-size luxury car that can offer a good price on the junk car market. We've seen these cars go for anywhere between $350 and $4000, and they can make even more if they are in good condition and have parts or accessories that are in high demand.
We regularly purchase worn, damaged and junk Hyundai Genesis vehicles, offering top-dollar rates and free towing to anyone willing to sell us one. When we come across junk vehicles like this, we look at the following factors to come up with a price:
• The car's condition;
• The car's mileage;
• The vehicle's age;
• Local scrap metal prices.
All of these combine to give us a base rate for the car itself, which we can then add to if there are valuable parts or accessories that can be salvaged. In many cases, these are what can turn a junk car into a profitable payday for its owner. We're ready to pay up to $10,000 cash on the spot for a valuable car in decent condition, so give us a call today and find out how much yours is worth.
History of the Hyundai Genesis and Why We Buy Them
Hyundai named this model the Genesis because it was the company's first foray into the full-size luxury market. While the car's concept dates back to 2003, it was not released to the public until 2008. Development took years and cost over $500 million. These first models had standard features that included cruise control, automatic headlights, remote keyless entry and leather interiors.
The Hyundai Genesis was named North American Car of the Year at the North American International Auto Show in Detroit in 2009. After, the manufacturer updated the model in 2010 and again in 2012. In both cases, the Hyundai Genesis got a more powerful engine and a better transmission. In 2013, Hyundai made a wider range of engine and trim options available.
Recent Offers Made for Hyundai Genesis Cars:
2012 Hyundai Genesis

87111
$835
09-07-2023
2010 Hyundai Genesis

78229
$560
08-05-2023
2009 Hyundai Genesis

95054
$785
08-02-2023
2012 Hyundai Genesis

32257
$790
07-19-2023
2015 Hyundai Genesis

30126
$2415
07-12-2023
2013 Hyundai Genesis

92111
$1170
06-22-2023
2013 Hyundai Genesis

93292
$190
03-15-2023
2009 Hyundai Genesis

32222
$790
02-15-2023
2013 Hyundai Genesis

72114
$585
01-27-2023
2013 Hyundai Genesis

72114
$145
01-24-2023
2009 Hyundai Genesis

27834
$280
01-20-2023
2009 Hyundai Genesis

30043
$310
01-16-2023
2009 Hyundai Genesis

77048
$1035
12-30-2022
2009 Hyundai Genesis

23452
$640
12-07-2022
2009 Hyundai Genesis

32839
$685
12-06-2022
Should I Sell My Junk Hyundai Genesis?
If you own one of these cars and don't drive it because it has received damage or been otherwise tampered with, you might be able to receive a considerable payout by selling it to us. To find out whether that's the best deal for you, compare the price of repairing the car up to like-new condition with the quote one of our appraisal experts offers you.
Then if you feel confident enough to say "I can get a better deal if I sell my car online," you are better off selling your junk Hyundai Genesis to us. Contact our team today and get that quote to get started.
Call (855) 587-0227 or request a quote online to sell your Hyundai Genesis.