Sell My Junk Infiniti I30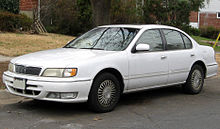 How Much Cash Will My Junk Infiniti I30 Get Me?
Have a junk Infiniti I30 that you want to sell for some cash?
Take that damaged sedan to the auto recycling market, and it could fetch a nice sum of money. We know that the curb weight of the Infiniti I30 varies a bit depending on the year and the trim, but that it ranges between 3,153 and 3,415 pounds. That means you could be looking at several hundred or even a few thousand dollars in cash.
This is the best part: you don't have to lift a finger throughout the sales process.
For every vehicle we buy, we include a free removal service, and that's regardless of how good or bad the car's condition is. It doesn't even have to be running (and if it's not, all the better that we're coming to pick it up from you).
As far as what you're going to get paid, we base that on a few key factors that determine what we can afford to spend on the car. We factor in the car's make, model, mileage, condition, weight, and age into our evaluation. Since a big part of a car's worth to us is the scrap metal, weight is typically the most important evaluation criteria, and we also look at local scrap metal prices when making our appraisal.
When it's a newer car, then we start to look at the condition more. Of course, if your car has plenty of working parts that are also in demand, we can pay you more for it because we have a network of buyers for used car parts.
You might be wondering why you should go with us instead of posting an ad, sticking a For Sale sign in your car, or trading it in to a dealer.
Honestly, any of those ideas can work. But they're time-consuming and far more difficult than working with us. Getting as much money as you want from prospective car buyers is never easy, and one of the few things more difficult is getting what you want when you trade in your car at the dealership. Those tasks get even tougher when it's a junk car that doesn't run. We make the sales process as quick and painless as possible, while ensuring that you get the best price for your car.
Recent Offers Made for Infiniti I30 Cars:
2001 Infiniti I30

92503
$375
08-31-2023
1998 Infiniti I30

92805
$280
08-28-2023
1997 Infiniti I30

37206
$385
08-02-2023
2000 Infiniti I30

91010
$335
07-31-2023
2000 Infiniti I30

75063
$415
06-18-2023
2000 Infiniti I30

33021
$520
04-19-2023
2000 Infiniti I30

75236
$390
03-18-2023
2001 Infiniti I30

30316
$340
02-21-2023
2001 Infiniti I30

95148
$380
01-10-2023
1998 Infiniti I30

80911
$400
12-18-2022
2000 Infiniti I30

38671
$270
12-13-2022
1999 Infiniti I30

08618
$560
11-26-2022
2000 Infiniti I30

84043
$445
11-06-2022
1999 Infiniti I30

37917
$465
11-01-2022
2001 Infiniti I30

89102
$350
10-16-2022
Is your Infiniti I30 on its last legs?
It may be time for you to contact an auto recycler like us about selling your Infiniti I30, especially if paying for necessary repairs is more expensive than the car's value. Don't waste your valuable time and money trying to keep a car around if it has been involved in a major accident or is suffering from serious mechanical issues. Sell the car as-is to get what you can from it. If you want, use the money you make for a down payment on a new car.
If you've decided to sell your junk car, Junk Car Medics is prepared to help you have an easy sales process. Contact us right away by phone, text message, or email. Don't wait around, because your car's value is only going to get lower. When you speak to one of our specialists, they can give you a quote today!
Are you telling yourself, "I'm ready to sell my car online"? Then go ahead and call (855) 587-0227 or request a quote online to sell your Infiniti I30.