Sell My Junk Isuzu Ascender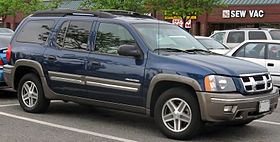 How Much Cash Will My Junk Isuzu Ascender Get Me?
I want to sell my car. Great! You are interested in getting cash for your junk Isuzu Ascender.
Take your damaged SUV to an auto recycling company like us, and you could sell it for a significant amount of money. While the exact curb weight of the Isuzu Ascender varies based on the year and the options, we know that it ranges from 4,132 to 4,785 pounds, which means it could be worth hundreds or thousands of dollars.
It gets better though: all you have to do is contact us to come get your car.
That means if it's not running, you don't have to find a way to bring it to us. We offer a removal service free of charge, and that's available no matter the condition of your car. We'll bring you a cash payment that same day.
At this point, you're likely wondering how much that cash payment will be.
We use a few factors in our appraisal process to see how much we can afford to pay for your car. We look at the make and model, age, mileage, weight, and condition. Then, we check the local scrap metal prices, since that determines how much we're going to be able to get for the car's scrap metal. The scrap metal is usually where the money is, which makes weight the most important factor, in most situations. If you have a newer vehicle, then its condition is very important.
We also have our own network of junk car part purchasers, so if your car has some parts that are working and currently in-demand, that can raise its value. All things considered, we're ready to pay up to $10,000 for the right used car.
Here's the deal: we know we're not the only option you have when it comes to selling your car. But we're confident that you'll have the best experience with us.
There's always ads, whether on Craigslist or in your local paper's classifieds section. You still have to find a buyer, though, which can take months. Trading your car into a dealership is another option, but you're probably not going to get much for a junk car. Any of these options are a hassle, especially when you compare them to calling us up to come get your car. Our goal is to get you the best price for your car, so it's a fair deal where both sides end up happy.
Recent Offers Made for Isuzu Ascender Vehicles:
2005 Isuzu Ascender

14714
$150
09-06-2023
2005 Isuzu Ascender

31903
$155
08-14-2023
2004 Isuzu Ascender

23237
$475
06-22-2023
2007 Isuzu Ascender

33064
$510
03-17-2023
2006 Isuzu Ascender

64132
$105
01-14-2023
2006 Isuzu Ascender

30044
$465
10-27-2022
2005 Isuzu Ascender

66106
$350
08-03-2022
2007 Isuzu Ascender

87106
$320
07-27-2022
2004 Isuzu Ascender

38401
$370
07-22-2022
2004 Isuzu Ascender

32222
$425
06-15-2022
2005 Isuzu Ascender

02302
$590
05-14-2022
2005 Isuzu Ascender

73505
$230
01-29-2022
2005 Isuzu Ascender

43344
$535
01-03-2022
2005 Isuzu Ascender

88001
$330
11-14-2021
2006 Isuzu Ascender

28306
$330
10-09-2021
Now, you have to take an honest look at your situation to know what the best decision is.
However, whether your car was recently in an accident or it has just been having serious mechanical issues, once the repair costs exceed the car's value, it makes the most sense to sell it as-is. And your best option for selling your damaged Isuzu Ascender is an auto recycler like us.
We have specialists available to provide you with a quote for your vehicle today, and you can contact us via phone, email, or text message. Once you confirm it with us, we can come pay you and remove your car. Your car's value is only going to decrease with time, so it's a smart decision to make the sale right away.
Call (855) 587-0227 or request a quote online to sell your Isuzu Ascender.