Sell My Junk Isuzu Axiom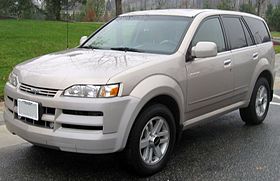 How Much Cash Will My Junk Isuzu Axiom Get Me?
If your old car is damaged or no longer running, you could still get a significant amount of money for it by selling it on the auto recycling market. Obviously the weight of a vehicle varies depending on the year and the options selected, but we know that the curb weight of the Isuzu Axiom ranges from 4,004 to 4,240 pounds.
Wondering about how you're going to get your car to us? We can handle that.
We'll come to you regardless of the condition your car is in and even whether it's running. We offer a free removal service, and we pay cash the same day we pick up your car.
As far as appraising your car goes, we have a simple process that focuses on a few key factors. We look at your car's age, make and model, mileage, condition, and weight. Then, we look at the current price of local scrap metal. Using all this information, we figure out how much we can afford to pay for your car. The most important factor is usually the car's weight, but condition also plays a part for more recent cars. Cars with parts that work and are in-demand can command a higher price, as we can sell those parts to our network of junk car buyers.
Here's the best part: if your car is worth it, we're prepared to pay out up to $10,000.
We want to make our customers happy, and that's why we're committed to getting you the best price for your car. We're sure you have other options, but we believe that selling your car to us is the way to go. You could start posting Craigslist or newspaper ads trying to sell your car, or take it to a dealership to trade it in. Those methods take time and require you to haggle, either with potential buyers or the salesman at the dealership.
We make the process of selling your car quick and easy. All you have to do is get in touch, and then we can come out, remove your car, and pay you for it.
Recent Offers Made for Isuzu Axiom SUV's:
2002 Isuzu Axiom

92285
$220
05-14-2023
2002 Isuzu Axiom

92285
$240
05-02-2023
2003 Isuzu Axiom

90003
$415
01-04-2023
2002 Isuzu Axiom

30316
$380
12-23-2022
2002 Isuzu Axiom

32583
$155
12-16-2022
2002 Isuzu Axiom

60618
$435
12-12-2022
2002 Isuzu Axiom

33060
$510
09-07-2022
2002 Isuzu Axiom

65712
$385
08-20-2022
2002 Isuzu Axiom

29170
$310
07-08-2022
2002 Isuzu Axiom

85024
$585
02-17-2022
2004 Isuzu Axiom

34744
$600
02-17-2022
2004 Isuzu Axiom

95946
$300
12-02-2021
2004 Isuzu Axiom

40208
$275
11-18-2021
2003 Isuzu Axiom

33409
$530
10-08-2021
2003 Isuzu Axiom

33409
$530
10-07-2021
It doesn't make sense to leave your damaged Isuzu Axiom sitting around gathering dust, and it makes even less sense to spend more than the car is worth on repairs. If it has been in an accident or frequent repairs are eating away at your pocket book, it may be time to pull the trigger on selling it.
The sooner you sell your car for cash to an auto recycler like us, the better, because the value is going to go down the longer you wait. Instead of pouring money into your car, get what you can out of it. You can put what you make towards a quality new or used car.
It's easy to get in touch with us and get a quote on your car. Give us a call, text, or email. One of our specialists will be able to give you an immediate quote. If you're happy with the offer, we can schedule your free removal and then come pay you for your car.
Call (855) 587-0227 or request a quote online to sell your Isuzu Axiom.