Sell My Junk Jeep Liberty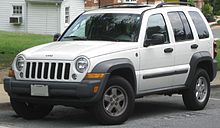 What Is Your Junk Jeep Liberty Worth?
You can earn quick cash for your worn, wrecked or damaged Jeep Liberty. To find out how much you can make, consider first that the car has a curb weight of between 3,508 and 4,312 pounds. This is enough to make it interesting for any junk car buyer, but you'll make even more money if your car has useful parts and accessories that can be salvaged and parted off for profit. You can expect to make anywhere between $400 and $5000 by selling yours to Junk Car Medics.
We offer great rates for junk SUVs, including Jeeps, because we pay close attention to the value of the vehicles we appraise. Our team looks at a few important details before making an offer on a vehicle. These details include:
• The age of the car;
• The condition of the vehicle;
• Local scrap metal prices;
• How many miles the car has.
With all of these factors in order, we can arrive at a base price for the car and model in question. Then, our team adds any extra value that may be obtained from parts, accessories or other useful, salvageable components. One example is the Jeep Liberty regulator assembly, which is known to fail. This makes the power window system inoperable. If your Jeep has working power windows, then it may be worth more just for having that single part.
What You Need to Know About the Jeep Liberty
Jeep released the Liberty in 2002, inserting it into its lineup at a price point between the Wrangler and the Grand Cherokee. As the smallest of the four-door Jeep SUVs at the time, it suited a specific market of buyers who wanted to enjoy Jeep ruggedness without the additional difficult and expense of a larger, more cumbersome vehicle.
The first generation of the Jeep Liberty sold particularly well, with annual sales averages reaching over 150,000 units. Following a 2008 upgrade, however, sales never quite reached the same numbers. Additionally, Jeep was hard-pressed to maintain compliance with tough post-2007 emissions standards and eventualy discontinued the vehicle.
Recent Offers Made for Jeep Liberty SUV's:
2004 Jeep Liberty

36610
$190
10-02-2023
2004 Jeep Liberty

14618
$365
10-01-2023
2005 Jeep Liberty

12015
$265
09-29-2023
2003 Jeep Liberty

07304
$380
09-29-2023
2004 Jeep Liberty

30062
$380
09-29-2023
2003 Jeep Liberty

02767
$485
09-27-2023
2004 Jeep Liberty

49048
$425
09-24-2023
2004 Jeep Liberty

43205
$335
09-22-2023
2002 Jeep Liberty

18431
$370
09-22-2023
2005 Jeep Liberty

44039
$450
09-19-2023
2006 Jeep Liberty

75103
$240
09-18-2023
2003 Jeep Liberty

77433
$465
09-18-2023
2003 Jeep Liberty

06238
$285
09-16-2023
2003 Jeep Liberty

06238
$285
09-15-2023
2005 Jeep Liberty

11368
$590
09-14-2023
Is It Time To Sell My Junk Jeep Liberty?
Jeeps are rugged cars, but there comes a time for every vehicle to reach the salvage yard. If you're still undecided about your car, try finding out how much it would cost to completely repair it. Compare the quote you get from an authorized mechanic with the value of the car as quoted to you by our specialists. If the Jeep's repairs are more expensive than the vehicle's current worth, you're better off if you sell your car for cash today.
Call (855) 587-0227 or request a quote online to sell your Jeep Liberty.