Sell My Junk Mercedes Benz C-Class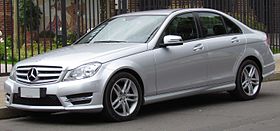 How Much Will I Get For Selling my Junk Mercedes Benz C-Class?
So you're finally ready to let go of your junk Mercedes Benz C-Class and confident enough to admit, "I want to sell my car for cash." Well, then you'll want to know that the curb weight of the car sits between 3,600 and 3,700 pounds. This gives it enough weight to be of interest to auto recyclers who base their quotes on scrap metal weight alone. However, the C-Class is a luxury car and can easily bring in more cash if it has functional features and components. You can get anywhere from $400 to $5000 for your car.
As highly reputable junk car buyers, we take a careful look at the vehicles we're prepared to buy. We always strive to offer the highest price possible so that we can resell parts and components at profit while giving people like you the best rate. We look at these factors first:
• The car's age;
• The car's weight;
• The car's mileage;
• The condition of the vehicle;
• Local scrap market prices.
If you own a junk Mercedes Benz C-Class, you can get a higher payout if it still has functional components and other parts. In fact, we're willing to pay up to $10,000 for decent, running cars in good condition. You can reach this price range for your junk Mercedes Benz C-Class if it has parts that are in demand on the second-hand market. Since new OEM parts can be very expensive for this model of car, salvaged components are typically in high demand.
History of the Mercedes Benz C-Class: Why We Buy Them
The Mercedes Benz C-Class was first released in 1993, completing more than four years of production work and experimentation. The C-Class remained under constant review and adaption inside Mercedes Benz, as well. Manufacturer Daimler began production work on the second-generation Mercedes Benz C-Class released in 2000 in 1994, only one year after the model's release.
In 2007, Daimler extended the wheelbase of the C-Class and gave the vehicle a stiffer body shell. Yet again the model received a facelift in 2011. with new, brighter LED taillights and a revised dashboard. The most recent version of the C-Class was released in 2014. Despite carrying the same set of features, it is almost 220 pounds lighter than the previous versions thanks to a new frame architecture method used by Mercedes Benz.
Recent Offers Made for Mercedes Benz C-Class Cars:
Should I Sell My Junk Mercedes Benz C-Class For Cash?
You can get a good payout for your Mercedes Benz C-Class if you're looking to sell your vehicle as quickly as possible. Fast, guaranteed cash payments are one of the primary advantages you get by selling your car to a junk car dealer. You might still consider repairing your car and putting it up for sale on the used market, however.
To decide which is best for you, subtract the cost of repairing your car from the car's overall value. If you find that repairs cost more than what the vehicle is worth, you're better off selling your junk Mercedes Benz C-Class for cash on the spot. Call us and get a quote!
Call (855) 587-0227 or request a quote online to sell your Mercedes Benz C-Class.