Sell My Junk Mercedes Benz S-Class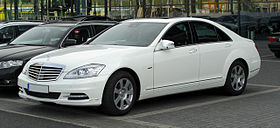 How Much Will I Get For Selling my Junk Mercedes Benz S-Class?
You can get anywhere between $500 and $6000 for your junk Mercedes Benz S-Class, depending on a number of factors. One of these factors is the curb weight of the car, which affects its weight in scrap metal. The Mercedes Benz S-Class weighs anywhere between 4,310 and 5,000 pounds, making it an attractive option for junk car recyclers like us.
We look at more than the weight of the car, however. In order to give you the best, fairest price for your vehicle, we look at a number of factors and try to pay out the highest possible price that we can. We look at:
• The car's condition;
• The car's age;
• The car's mileage;
• Local scrap metal prices.
As one of the most reputable junk car buyers in the business, we strive to offer top-dollar payouts for all the cars we purchase. To do this, we have expert appraisers tell us how much we profit we can make off each car we buy. This way, we never have to undercut the profit you should be earning from selling your junk Mercedes Benz S-Class.
We're prepared to offer up to $10,000 for decently running cars in good condition. If that sounds like your car, give us a call today. Enjoy a fast, guaranteed sale when you get instant junk car quote to Junk Car Medics.
What Is The Mercedes Benz S-Class All About?
The Mercedes Benz Special Class is the top-of-the-line flagship sedan of the Mercedes Benz Brand. It consistently carries the latest technologies innovations and the most comfortable luxury features on the market for any given production year. The Mercedes Benz S-Class in particular has ranked as the world's best-selling luxury sedan for many years since its debut in 1972.
The modern version of the S-Class that we know began production in 1991. This was followed by a completely restyled version in 1998. It is at this point that exterior features and design of the S-Class begin to resemble the car we see today. It was in 2014, however, that the S-Class received its current streamlined body shape. On the interior, nearly every surface is covered in a luxury material, such as leather or metal—no plastic.
Recent Offers Made for Mercedes Benz S-Class Cars:
Should I Sell My Junk Mercedes Benz S-Class?
If you have a damaged Mercedes Benz S-Class that you're looking to sell, you should pay special attention to the price of repairing the car. In order to sell it on the used market, you'll need to get it running decently enough to inspire the confidence of potential buyers. We, however, are willing to purchase your car as-is and pay you in cash on the spot.
Before taking your car in for repairs, get a quote on the value of the car and compare it with the mechanic's quote on fixing it. If repairs cost more than the value of the car, you're better off selling it to us today!
Call (855) 587-0227 or request a quote online to sell your Mercedes Benz S-Class.