Sell My Junk Mercury Villager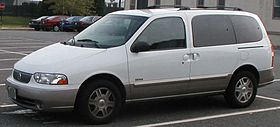 How much is my Junk Mercury Villager worth?
To find out how much your Mercury Villager is worth, we'll first want to look at some of the model's characteristics. For instance, this car model has a curb weight of 3,815 pounds, giving it enough heft to tip the scales if we're looking exclusively at its weight in scrap metal. However, the bulk of your car's salvage value will come from accessories and components that can be salvaged. In general, you can expect to get anywhere from $300 to $2300 for your Mercury Villager.
When appraising the value of junk cars, we tend to look at a few factors and combine them together to arrive at a base price. These factors include:
• The car's curb weight;
• The car's age;
• The vehicle's condition;
• Local scrap metal prices.
All of these come together to give us an idea of how much we can make salvaging the car on the auto recycling market. The presence of in-demand parts and accessories can greatly increase the value of a junk Mercury Villager. For instance, many of these cars are equipped with a faulty exhaust manifold or a bad fuel injection system. If your car has these parts in good working order, they might increase its value. We'll pay up to $10,000 for a running car in decent condition, so get in touch with us and ask for a quote to learn more. It's that easy to get instant junk car quote.
Background Info on the Mercury Villager
The Mercury Villager is a minivan that entered production in the year 1993. It gained an early advantage on the minivan market of the time because it featured innovating folding, removable seats alongside track-mounted rear seats. This made the model very versatile: it would function both as a five-passenger family van or as a cargo van.
The second generation Mercury Villager featured a distinctive waterfall-style grille and other styling cues that served to separate it from other minivans in its class. The manufacturer released these models in 1999 and then gave them a major facelift in 2001. With an MSRP in the $20,000's, these minivans were considerably more affordable than many other options on the market. Sales slowed down, however, and ground to a halt in 2002 with the discontinuation of the model.
Recent Offers Made for Mercury Villager Vans:
1993 Mercury Villager

85364
$265
09-15-2023
1997 Mercury Villager

23224
$285
08-27-2023
1995 Mercury Villager

64701
$230
08-21-2023
2002 Mercury Villager

52404
$240
08-12-2023
2002 Mercury Villager

89108
$115
07-14-2023
2001 Mercury Villager

80017
$450
06-09-2023
1999 Mercury Villager

34432
$455
05-08-2023
1997 Mercury Villager

75216
$405
04-17-2023
2002 Mercury Villager

11230
$760
04-15-2023
1995 Mercury Villager

91204
$460
03-29-2023
2000 Mercury Villager

49423
$470
03-22-2023
1996 Mercury Villager

92504
$220
03-20-2023
2002 Mercury Villager

75061
$390
03-10-2023
1998 Mercury Villager

89052
$290
02-24-2023
2001 Mercury Villager

29379
$170
01-24-2023
Is Junking My Mercury Villager Worth It?
You may have some understandable reservations about selling your junk Mercury Villager to an auto recycler like us. Perhaps you're thinking of fixing it up and driving it for another few years. However, you might get the best value return by scrapping it today. To find out, get a quote from one of our appraisal specialists and compare with the cost of repairing your vehicle completely. If the cost outweighs the value of the automobile, you'll get the best value selling it to Junk Car Medics.
Call (855) 587-0227 or request a quote online to sell your Mercury Villager.