Sell My Junk Toyota Camry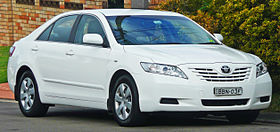 How Much Cash Can I Get For Selling my Junk Toyota Camry?
You may be wondering, "will I be able to get a great deal if I sell my car online?" Junk prices for Toyota Camry vehicles can vary widely. We've seen these cars sell for anything from $175 to $800, depending on the factors junk car buyers are interested in. One of these is the curb weight of the car: 2690 pounds. If the car is running and has some useful accessories that can be parted out further, you'll see that reflected in the sale price when you're working with a reputable junk car buyer.
If you have a worn-out or damaged junk Toyota Camry you want to sell, you're in luck. Junk car buyers like us will be very interested in what you have to offer. Typically, we look at a few factors when making quotes on junk cars for cash:
• The vehicle's condition;
• Its age;
• Its mileage;
• Local scrap metal prices;
• Its curb weight
At Junk Car Medics, you can earn up to $10,000 for a used car that is in decent running condition. We're prepared to offer more than anyone else in the business because we can both recycle individual parts and sell off the Camry's 2690 pounds of scrap metal at the same time. Call us for a quote on your Camry.
This model is one of Toyota's sturdiest sedans. However, they can and will wear out over time, and that's where Junk Car Medics steps in.
Recent Offers Made for Toyota Camry's
2001 Toyota Camry

46077
$385
10-03-2023
2008 Toyota Camry

43231
$605
10-02-2023
2003 Toyota Camry

90044
$210
10-02-2023
1995 Toyota Camry

46750
$240
10-02-2023
2007 Toyota Camry

32304
$825
10-01-2023
2000 Toyota Camry

92707
$415
10-01-2023
2011 Toyota Camry

08638
$1015
10-01-2023
2003 Toyota Camry

33025
$440
09-30-2023
2011 Toyota Camry

44286
$580
09-30-2023
2007 Toyota Camry

94080
$730
09-29-2023
2008 Toyota Camry

43231
$620
09-29-2023
1995 Toyota Camry

90037
$215
09-29-2023
2007 Toyota Camry

78240
$670
09-29-2023
2003 Toyota Camry

35212
$175
09-29-2023
2004 Toyota Camry

20782
$380
09-28-2023
Why The Toyota Camry? History and Popularity
The Camry is Toyota's second world-class car, coming close behind the Corolla in terms of worldwide sales. As one of the best-selling cars in the world, there is a constant demand for parts and accessories of all kinds, especially on older models. You may not know whether you have a hard-to-find part in your junk Toyota Camry, but we do, and we're willing to pay for it.
Should I Junk My Toyota Camry?
If your old Camry needs repairs, consider whether those repairs cost more than the value of the vehicle. If the answer is yes, your interests are best served by selling it to us for immediate cash. Camry's are known to develop transmission and emissions issues at high mileage according to RepairPal, which may mean you'll get the best deal out of junking yours.
We're happy to take damaged Toyota Camry's as well as rusted or corroded ones. Any junk Toyota Camry that won't turn a profit on the used car market is a perfect addition to our collection of junk cars.
Call (855) 587-0227 or request a quote online to sell your Toyota Camry.