Sell My Junk Toyota Land Cruiser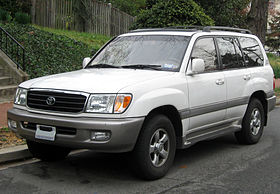 How Much Money Can I Make Selling My Junk Toyota Land Cruiser?
The Toyota Land Cruiser has a curb weight of 5,815 pounds, giving it enough heft to command a steady price based on its scrap metal content alone. However, the ability to salvage useful parts out of the car increase its odds of generating decent cash. You can expect to make between $400 and $3000 for your junk Toyota Land Cruiser.
Junk car buyers like us tend to look at a few factors when appraising these types of cars. Some of these include:
• The car's mileage;
• Local scrap metal prices;
• The age of the vehicle;
• The car's condition.
We're ready to pay up to $10,000 for used cars in decent condition, and yours may reach that sum if it is relatively new, runs smoothly and has no missing parts or urgent repairs that need to be made. You can also make more money with your junk Land Cruiser if it has parts that are frequently in demand. For example, these vehicles tend to have faulty transmissions at high mileage, so salvaging your functioning transmission may earn you extra.
More About the Toyota Land Cruiser
The Toyota Land Cruiser began production in 1951, as a Jeep-like vehicle made at the behest of the Japanese government. Production continued and new updates were made with each generation released. The modern version of the vehicle we know was released in 1990, featuring swing-out back doors and a new generation of diesel engines.
The vehicle got a major facelift in 1998 and enjoyed the integration of a V8 engine. In the US market, the V8 engine was the only one available for this generation of Land Cruiser. These cars are some of the most durable and reliable on the road, and they represent a good value for junk car buyers like us.
Recent Offers Made for Toyota Land Cruiser Trucks:
1999 Toyota Land Cruiser

02066
$2185
08-04-2023
1977 Toyota Land Cruiser

40071
$265
07-20-2023
1997 Toyota Land Cruiser

46259
$1890
07-09-2023
2007 Toyota Land Cruiser

11510
$3755
07-07-2023
1983 Toyota Land Cruiser

92118
$380
03-20-2023
2002 Toyota Land Cruiser

49505
$1620
02-01-2023
2004 Toyota Land Cruiser

39110
$4115
01-03-2023
1999 Toyota Land Cruiser

80545
$895
11-13-2022
1999 Toyota Land Cruiser

95834
$2665
05-30-2022
2000 Toyota Land Cruiser

98498
$2795
05-22-2022
2000 Toyota Land Cruiser

55433
$3490
05-16-2022
1998 Toyota Land Cruiser

14226
$1680
05-09-2022
1994 Toyota Land Cruiser

23235
$1845
01-28-2022
1997 Toyota Land Cruiser

79912
$2420
01-28-2022
1996 Toyota Land Cruiser

55403
$2025
06-10-2021
Is It Time To Sell My Car and Junk My Land Cruiser?
Selling your junk Toyota Land Cruiser to us is a great way to earn fast, decent cash for a car you're not using anymore. However, if you're still unsure about whether or not to sell, some simple arithmetic might help: find out how much it would cost to repair the vehicle completely and compare that to the cash you would get for selling it as-is. If you'll make more money selling the car now, you should call us and get a quote.
Call (855) 587-0227 or request a quote online to sell your Toyota Land Cruiser.