Junking cars without titles refers to the process of selling a car with no title. Junking cars without titles is an unknown to first-timers. A vehicle title is a piece of documentation used by the governing state that indicates the ownership status of a car. The title of ownership also provides other useful information, such as the VIN, the odometer reading on the issue date, and the owner's full name and address. When the vehicle is financed, the lienholder's name will be on the title.
While it's not impossible to junk a car for cash with no title, it becomes a bit more difficult. Rules vary state by state and when possible, a replacement title should be procured for a small fee.
Other documents that can provide documentation of the ownership of a vehicle include registration, driver's license, and a bill of sale. This documentation can be used when there is a missing title and the owner wants to junk their car for cash.
There are various reasons why a driver would not have a title on their vehicle such as these below.
the title was stolen
 the title was lost or damaged
the car is a lemon
the seller is title jumping
the vehicle is stolen
Add a header to begin generating the table of contents
Can I Junk a Car With No Title?
Yes, a car can be junked without a title as long as the owner has the other required pieces of documentation. This includes vehicle registration, a valid driver's license or another form of identification, and a bill of sale.
When possible, it's highly recommended to procure a replacement title. This is helpful for a variety of reasons and will often boost the value of the junk car. Replacement titles are relatively inexpensive and can be well worth the investment when it's time to junk the car for cash.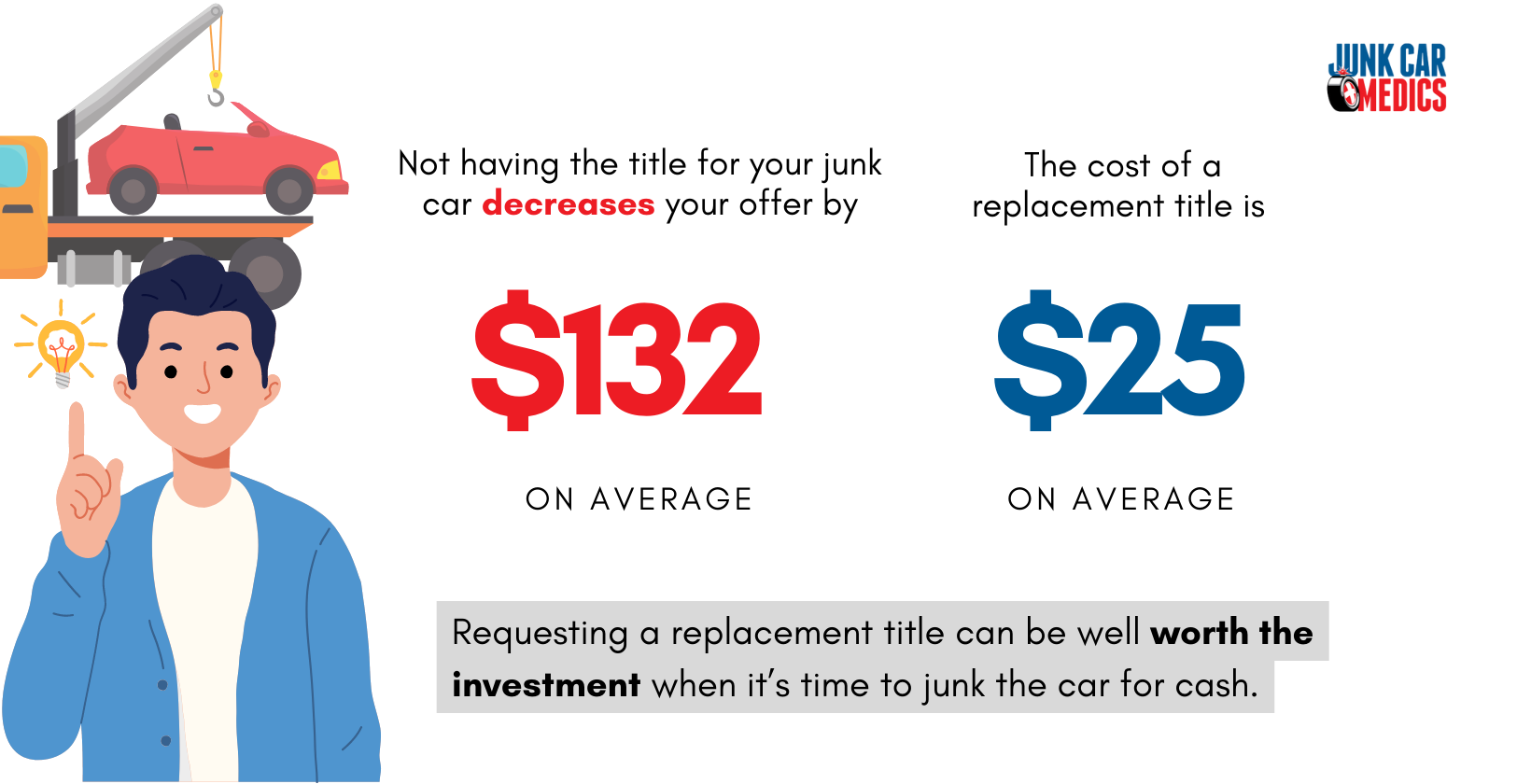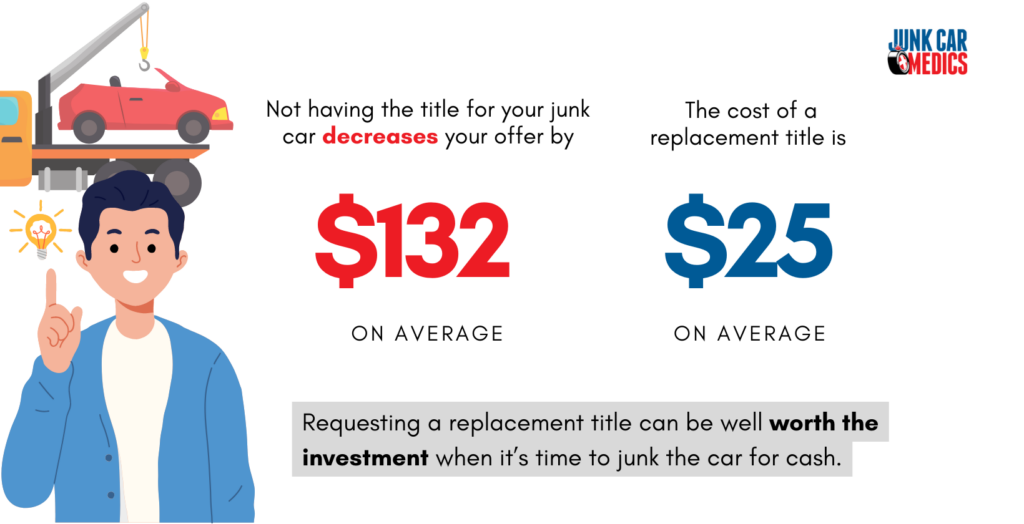 To legally junk a car with no title, the junkyard or junk car buyer will want some type of proof of ownership. This helps to protect them from the danger of purchasing a stolen vehicle. While missing titles don't always indicate nefarious purposes, they can be a red flag and require a bit of due diligence.
What States Can I Junk a Car With No Title?
In most states, vehicle owners can junk a car with a missing title. These states include Florida, Oklahoma, Wisconsin, California, and others. While some states make it easier than others, there are generally options for working around a lack of title on a vehicle.
States will vary in what rules they set forth concerning junking a car without a title. Rules may be dependent on the age of the car and what documents are required to legally junk the car. Cars older than a certain age (usually 10-12 years) have less stringent requirements when it comes to having a title.
State laws generally require different forms to be filled out and different requirements to be met before a vehicle can be scrapped without a title in hand. These forms can indicate that a sale was made and that the owner of the vehicle is in fact, the owner.
In Tennessee, the law states that if a car is being junked without a title, the owner needs to fill out Form RV-F1324001. This Title Substitution Statement for Dismantled or Destroyed Vehicles is set forth by the Tennessee Department of Revenue. Vehicles older than 12 years old won't need the owner to procure a replacement title or fill out the form.
Oklahoma law doesn't require any specific form to be filled out, though they do request a notarized copy of the vehicle information request form. The owner must also remove the battery from the vehicle and drain and puncture the gas tank before it can be scrapped without a title. This ensures that the vehicle will be junked and not sold to a private buyer.
While California law allows the buying and selling of cars without a title, there is a REG 227 form that needs to be filled out beforehand. This form transfers the title of the vehicle into another person's name. This document is then signed by both the buyer and seller to be official.
How to Prepare Selling a Junk Car With No Title?
There are few things you can do to prepare for selling a junk car with no title. First, you need to make sure you have proof of ownership. This can be either the bill of sale or registration. Next, try to get a replacement title for your vehicle. This way having a valid title will get you the most value for your junk car.
Another way to prepare selling a junk car with no title is researching junk car buyers in your area that buy junk cars with no title. Finally do some research to get a better idea of what your junk car is worth.
How to Junk a Car With No Title?
To junk a car without a title, sellers have a few options to prove ownership. They can provide any number of the following documents.
driver's license
vehicle registration
bill of sale
If the vehicle is currently owned by a lien holder, which is common in the case of a financed car, then a junk car buyer cannot legally purchase it. This is because the driver does not own the car and therefore, cannot sell it.
When a car has a lien, it can be sold back to a registered dealer within the state. In the case of a junk car, many dealers won't be interested in purchasing them as they have very low resale value and can only bring in a small sum once scrapped when compared to used cars in a roadworthy condition.
Once a car has been considered totaled, insurance should pay out enough to cover the cost of the car. If there is still money owed on the car, then gap insurance will cover this. For those who opted out of gap insurance, this can create difficulty when junking or otherwise getting rid of the car. The driver would have to pay it off before scrapping it, which can often leave them paying more than they made from the sale.
When procuring offers for a junk car, ensure that the box that states that you don't have the title is checked. Other than that, the quoting process remains the same and the cost of the junk car buyer paying for a replacement title is worked into the end quote.
While many states allow you to junk a car with no title, it's strongly advised to seek a duplicate or a replacement title. This will put more money in your pocket as the junk car buyer won't have to pay extra fees associated with obtaining a title.
What Is a Vehicle Title?
A vehicle title shows ownership of a car and is an integral piece of paper to keep with other important documents. Vehicle titles are issued by the DMV and show that you're the owner of the car, which comes in handy to sell the vehicle.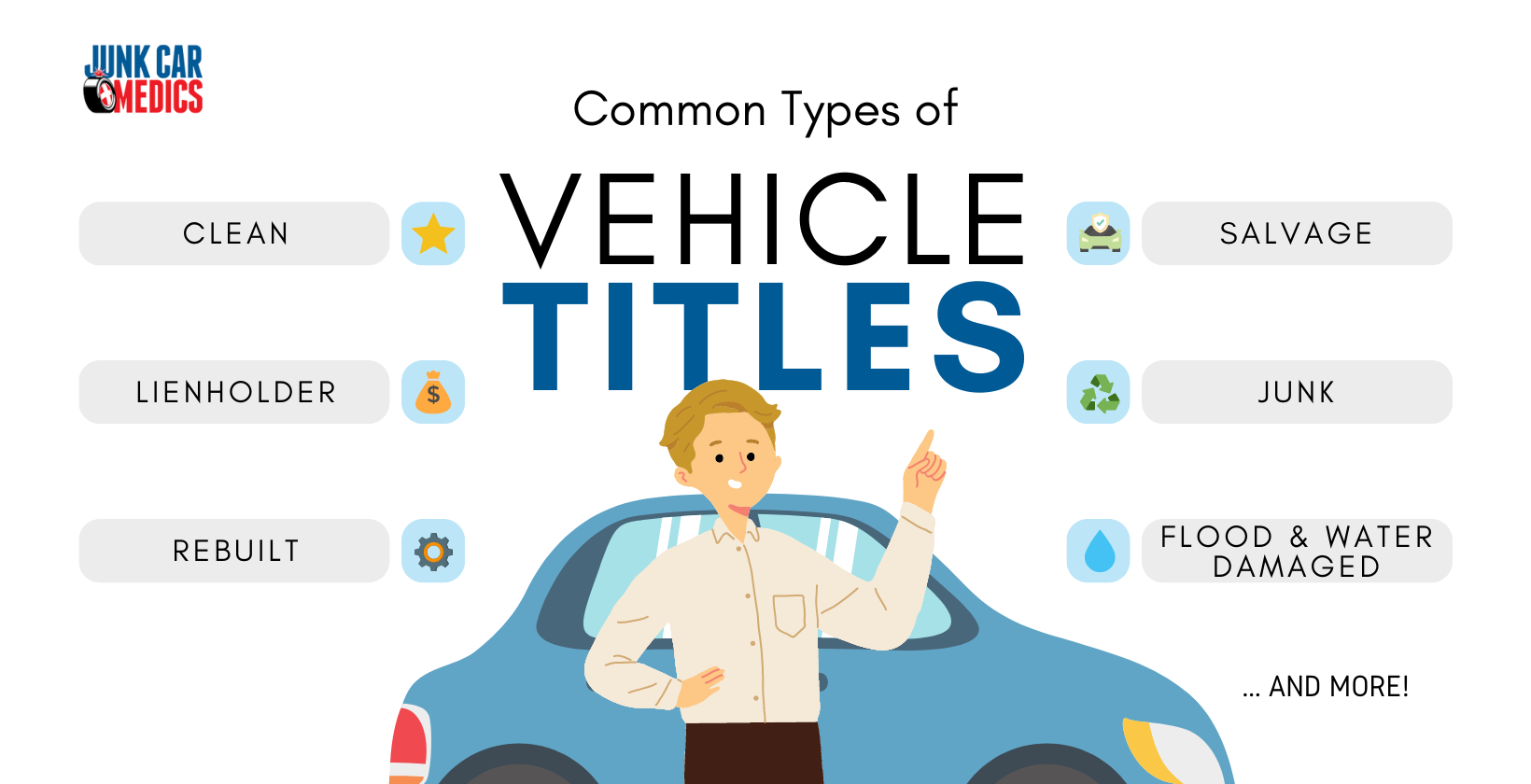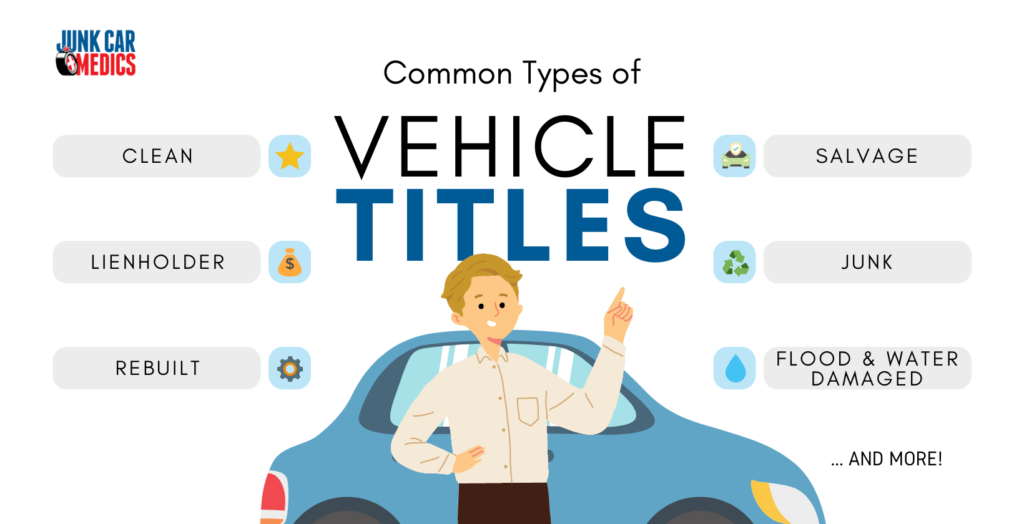 There are several types of vehicle titles, with the most common ones being:
Clean
Lienholder
Rebuilt
Salvage
Junk
Flood and water damage
Titles may be lost for a variety of reasons, with some of the most common examples being misplacing the document, having it stolen from you, or damaging the document in a way that makes it no longer legible.
A lienholder title is the one you receive when a car is financed, as it's in the lienholder's name and not the driver's name. Once the loan has been paid off and as long as the car hasn't sustained any serious damage, a clean and clear title will be sent.
Vehicles that have sustained flood damage will have this reflected on the title. For owners who wish to sell their car at some point, potential buyers will be made aware of the history of the car and make a decision accordingly.
Rebuilt titles are issued to vehicles that were at one point declared as a total loss by insurance. They've since been rebuilt to be in working condition. To receive this rebuilt title, the vehicle must pass the state inspection.
Junk and salvage titles differ in that junk titles have sustained more damage than salvage vehicles. Salvage titles indicate that the car has been deemed a total loss by insurance and while it may still be repaired to the point of being drivable, it will always reflect this damage on the title.
Junk titles are provided to those vehicles that are deemed not roadworthy anymore. These are generally inexpensive to procure, though there's an additional fee if the car has a lien on it.
How to Get a Replacement Vehicle Title?
To get a replacement vehicle title in most states, drivers will need the following.
driver's license
proof of vehicle ownership
social security number
payment method to pay the fee
A small fee of around $25 is generally required to receive a replacement title. This fee can vary wildly from state to state, reaching a high of $60 in New Jersey. It's often cheaper to opt for a mail-in application as opposed to going by the DMV, so if you're looking to save money this is the way to go.
While a vehicle title may seem like an unimportant piece of paper to some, it's an incredibly important document to hold onto in a safe and secure place. Losing, misplacing, or damaging the title can cause a headache down the road if you go to sell the vehicle.
Before procuring a replacement title, drivers need to first check your state's local requirements. This will provide you with the most accurate information.
Most states offer replacement or duplicate titles through their department of motor vehicles agency. Drivers should be ready to provide proof of ownership, which can include a bill of sale or documents for a previous loan on the vehicle. There is a small fee associated with covering the costs of replacing the title.
On the new title, there will be an indicator that it is a replacement. Though it varies by state, you may wait up to a few weeks to receive the title. For an additional fee, some states provide same-day service.
Once you've received your duplicate title, ensure that it's stored in a safe place until you need it. When you plan to junk your car, then have it ready to sign when the car changes hands.
The requirements for filing for a lost title and getting a duplicate title vary widely from state to state. It's a good idea to check with your state's DMV office to find out how you get a new title.
Here are a few examples to demonstrate the vast differences between states:
The process for getting a duplicate title in Missouri is straightforward. You fill out a form and mail it in with your payment. In some cases you may need to send in a second notarized form, but that's it. If you haven't heard back from the DMV in two weeks, you can file an inquiry to find out where you application is in the process.
If you need a new title in New York, you first have to figure out if the car was ever issued a title. Cars sold before 1973 may only have a registration. Then you have to fill out the proper form to get a new title. In some cases it is possible to sell a car in New York without a title. In that case, the buyer and not the seller may be responsible for applying for the new title.
Oregon has an interesting policy that allows you to sell a car and apply for a new title at the same time – but only if the vehicle is not subject to certain odometer requirements and at least one current owner will remain on the title. If neither of these conditions are met, the owner must apply for a replacement title before they sell the car. Oregon also notes that they will not issue a replacement title if you know who stole and currently has possession of your title.
How to Sign a Car Title Over When Junking a Car?
When junking a car, the title is generally signed by the owner and the buyer. For a local junkyard sale, when the tow driver or junkyard employee comes to collect the vehicle and inspect it, they will sign the title with the buyer to officially transfer ownership.
On a title certificate, there are two designated areas on the title that require a signature for endorsement. The buyer's signature indicates that the title is changing hands. It falls to the seller to report the sale to the state when required, as this protects from a liability standpoint.
If the vehicle is ever salvaged or resold, the original owner won't be held liable for any accidents or potential damage that was caused by the car. When scrapping a car with a missing title, you won't receive the maximum amount that would otherwise be possible as the junk car buyer will now have to pay the fee to transfer ownership of the car. They remove this cost from the price of the car, therefore leaving the seller with less cash in their pocket.
What's the Difference Between a Clean Title Versus a Salvage Title?
A clean title indicates that the vehicle has never been totaled and is in legal condition to drive. The name on the document is the owner of said vehicle and there are no restrictions such as indicated by a salvage or a rebuilt title of ownership. All new cars have a clean title and generally, most used cars do as well. This also means that they're fully insurable.
A salvage title indicates that the vehicle is currently illegal to drive, as it's in an unsafe condition to be operated on the roadways. Cars with either salvage or rebuilt titles are always worth less than those with clean titles, as this is highly preferred by any buyer looking to purchase a used car.
The main difference between a clean title and a salvage title is that one indicates a car that is legally operably on the road and the other indicates one that is unsafe and inoperable to drive. While clean titles don't necessarily prove that the car has never been in an accident, they do show that the vehicle has never been considered a total loss by insurance.
Both a salvage title and a clean title indicate the ownership status of the vehicle. Regardless of the type of title, they should all contain basic information such as name and address, as well as the VIN on the vehicle and the odometer reading.
Who Buys Junk Cars With No Title Near Me?
Junk car buyers may be limited when the vehicle has no title. Below are some places that purchase junk cars without a title.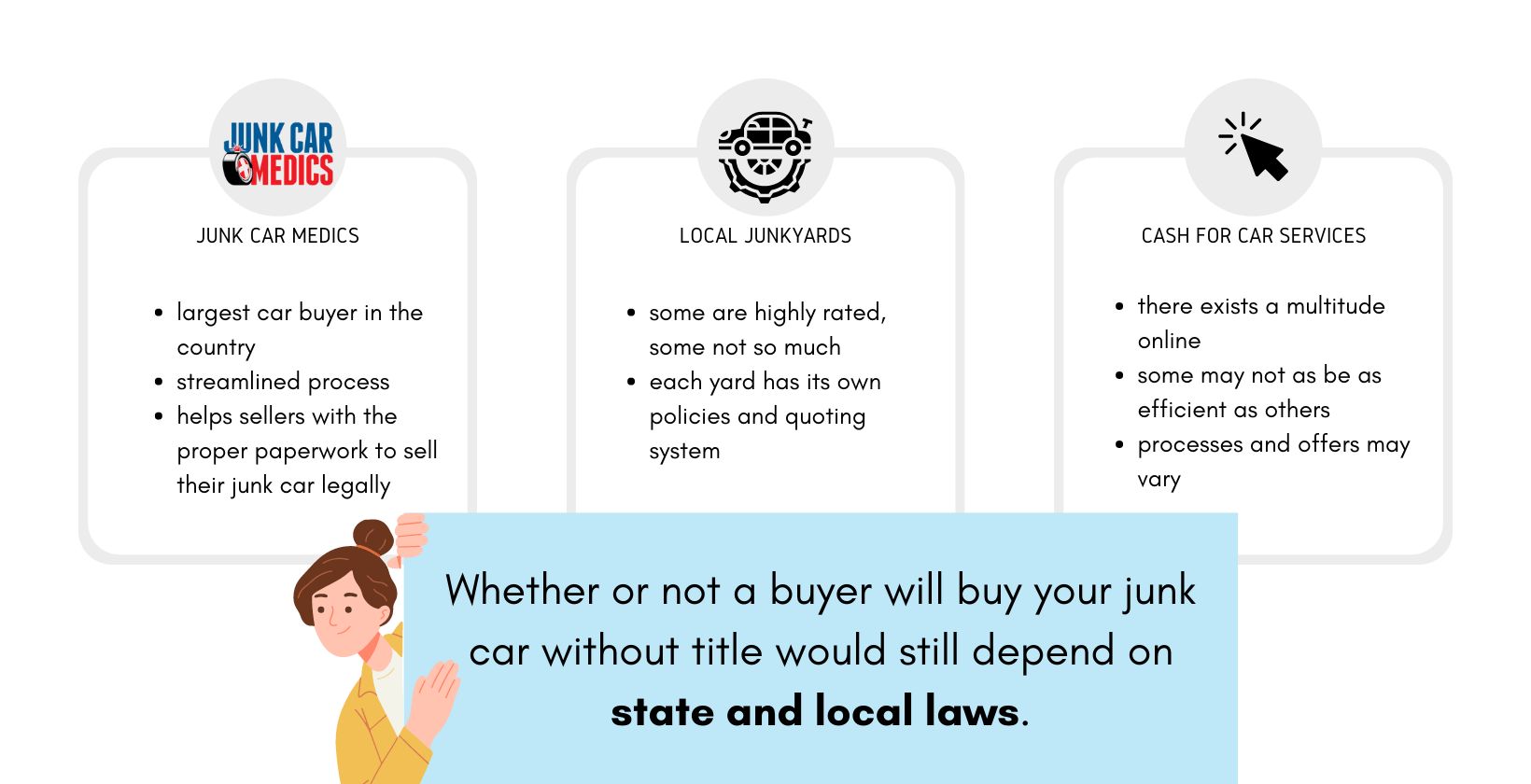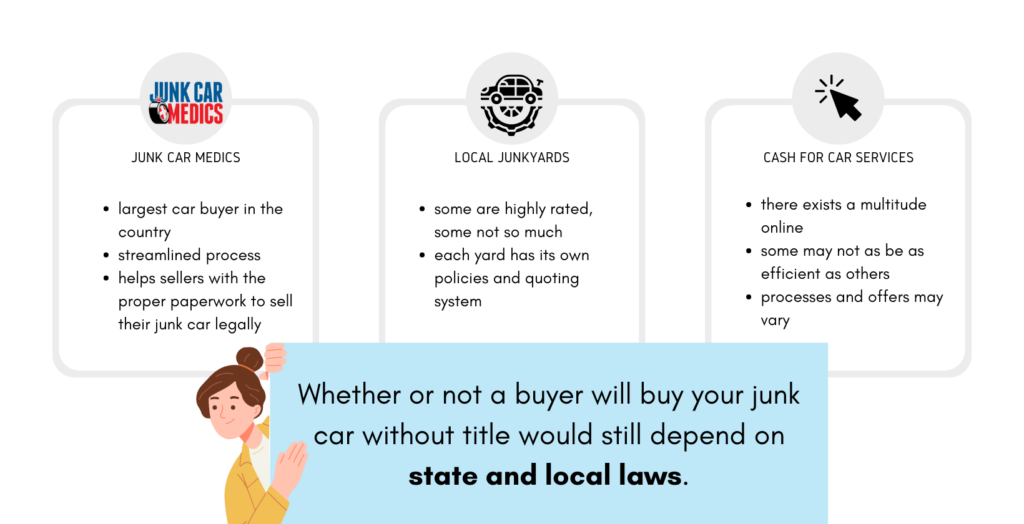 1. Junk Car Medics
We're the largest car buyer in the United States and have created a highly streamlined process for buying and selling junk cars. When a title is not required for a car to be scrapped in your state, we're happy to purchase it from you for cash. We can work with you to procure the required documentation to work around a missing title based on the forms and paperwork set forth by the state government.
2. Local Junkyards
When searching for a highly rated local junkyard near you, proceed first with an initial Google search. This will pull up average ratings and reviews for each location, which provides a good sense of how they do business. Most junk yards will have a website that contains more information and potentially an online quote system to make the junking process easier.
3. Cash for Car Services
There are a multitude of online junk car services that buy junk cars with no title. Depending on state and local laws, many junk car buyers can legally purchase a scrap car that is missing a title. Forms and documentation vary by state and can be found on the state government's website to be downloaded.
When compared to the competition, Junk Car Medics is the most efficient way to junk a car for cash. Sellers are walked through the sales process and provided with a fair offer, all while never having to leave their homes. We strive to build efficiency into every step of the process, so you don't waste your time and you get cash in hand as quickly as possible.
Junk Car Medics provides the following benefits to those seeking to sell a scrap car.
fast and easy online quote system
fair price in cash for your vehicle
no fee associated with towing the junk car
assistance in procuring a replacement title
helpful and friendly service and communication
Depending on the state and city that the junk car resides in, completing a quick Google search about junkyards that buy cars with no title can provide a list of candidates. State laws differ and it's up to both the buyer and seller to ensure they have filled out the proper documentation before the vehicle legally exchanges hands.
Does Junk Car Medics Buy Cars Without Titles?
Yes, Junk Car Medics is happy to buy cars with no title when all other requirements have been met. Other documents required include a driver's license, vehicle registration, and a bill of sale. We are here to help you determine which documents you need and whether or not you'll be able to sell your vehicle with a missing title.
Junk Car Medics is the largest junk car buyer in America and boasts a direct and modern service that prioritizes efficiency in a sometimes convoluted process. We make things hassle-free so you can junk your car for cash quickly and without a headache. Our website is easy to navigate and provides a quick and fair value for your junk car.
How Much Will I Get to Junk a Car Without a Title?
There is no one-size-fits-all price for cars with no title at the junkyard. When sellers go through a professional service such as Junk Car Medics, there is a higher likelihood that they'll receive a fair price. The average junk vehicle is worth $X and this is considerably less when the vehicle doesn't have a title.
This value decrease is due to the extra work that the buyer has failed to do in terms of establishing a title for the car. This is why it's recommended to seek out a replacement title instead of junking a car with a missing title of ownership.
On average, the cost of a replacement title is $25. This fee can cost as little as $2 in Texas if the mail-in application option is chosen and $60 in New Jersey. Many states fall in the $20-$30 range.
Paying for a duplicate title is a worthwhile investment for those planning on junking or selling their car. The upfront cost will be earned back at the time of sale, as the junk car will be worth more with the title as opposed to without it.
$500 Cash for Junk Cars Without Title
It's entirely possible to junk a car for at least $500, though this decreases in likelihood if the vehicle doesn't have a title. In these cases, the vehicle would have to be heavier in scrap metal weight to bring in more money from the junk sale.
A junk car for $500 with no title isn't an impossibility but it becomes more challenging. When possible, a replacement title should be procured to bring in more money from the sale. It's easier to junk or sell a car with a title of ownership, as this is an important piece of paperwork when it comes to a vehicle's current ownership and its history.
Can I Junk a Car With a Lien on the Title?
To sell a vehicle with a lien on the title, the loan must be paid off first. Vehicle owners are unable to sell a car that they still owe money on. In these situations, the vehicle can be taken to a dealer and bought out as a trade-in or through a private sale.
Cars can't be junked while they have a lien. In many cases, sellers won't make enough from the junk car to pay off the outstanding loan. Professional junk car services and by-the-book junkyards won't accept a vehicle that isn't in the name of the individual attempting to junk it. A lien indicates that the name of the vehicle's driver is not on the title.
Is It Better To Donate or Junk My Car With No Title?
It is better to junk your car with no title rather than donating a junk car. This is because you will get some profit for selling the junk car, and many charities will not accept a car without having the title. We would recommend that you at least try and sell your junk car without a title first, and then try to donate the junk car if that what is best for you.
How to Prepare Junk Car Removal With Having No Title
To make sure to have a smooth removal process for your junk car with no title, they're a few ways you can prepare. First, gather all the necessary documents that you may need. Without having a valid title junk car buyers will need proof of ownership. Next, make sure the car is in an area that is easily accessible.
Review the pickup plan with the buyer to make sure everyone is on the same page for pickup time. The last step on preparing junk car removal with no title is to make sure you get paid on day of pickup and everything is in order on both side before the sale is final.