Sell My Junk Chrysler 300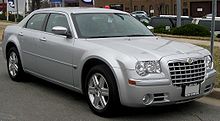 How Much Cash Will My Junk Chrysler 300 Get Me?
When you wish to sell your Chrysler 300, you might be wondering what the easiest way to do so is. You could get paid a good deal of cash for selling your Chrysler no matter what condition it is currently in. We buy old, junked cars and even newer ones, and we will always pay cash for them. It doesn't matter what they vehicle looks like either. Cosmetic damage to the inside of the vehicle will not lower the value and nor will damage done to the frame or exterior. We buy any old car for cash on the spot. We pay per weight of the vehicle and your Chrysler 300 has a curb weight of between 3,721 and 4,046 pounds. Do you realize what that means? It means that you can get thousands of dollars if you sell your car online to us! We can buy your vehicle for top dollar because we can salvage parts and components through a network of buyers in the auto recycling market.
We base our cash price on a few different factors when we buy junk cars. The weight of the vehicle is the number one aspect when selling your old vehicle, but we also base it on other reasons. We look at the age of the vehicle, how many miles are on it, the make and model of the vehicle, and the condition of it. While we do purchase any vehicle no matter what it looks like or even if it runs, newer models may be worth more. We also factor in the current scrap prices of the market at the time when we come up with a figure, as market prices do fluctuate.
You may think that selling your Chrysler 300 yourself will be easy. Sure, you can list it online on Craigslist or through a local Facebook sellers group. But do you really want to be constantly inundated with emails, phone calls, and texts? Not only that, you'll have to deal with a multitude of strangers who want to come to your home and look at the vehicle. This isn't exactly safe, nor is it always easy when you have work, school, family, and a million other things to do! We make it much easier to sell your old vehicle because we will come to you and purchase it, no haggling or hassle. We even haul it away for you for free if it no longer runs. Simply let us know when you contact us and we will bring our own tow truck driver to collect it!
Recent Offers Made for Chrysler 300 Cars:
2005 Chrysler 300

Zip: 46567
Offer Price: $90
Offer Date: 07-14-2020
2009 Chrysler 300

Zip: 90022
Offer Price: $685
Offer Date: 07-11-2020
2008 Chrysler 300

Zip: 19135
Offer Price: $500
Offer Date: 07-09-2020
2005 Chrysler 300

Zip: 85044
Offer Price: $585
Offer Date: 07-08-2020
2006 Chrysler 300

Zip: 58104
Offer Price: $65
Offer Date: 07-08-2020
2012 Chrysler 300

Zip: 85224
Offer Price: $80
Offer Date: 06-29-2020
2002 Chrysler 300

Zip: 97703
Offer Price: $85
Offer Date: 06-20-2020
2008 Chrysler 300

Zip: 91767
Offer Price: $510
Offer Date: 06-15-2020
2010 Chrysler 300

Zip: 30180
Offer Price: $525
Offer Date: 06-13-2020
2006 Chrysler 300

Zip: 28227
Offer Price: $515
Offer Date: 06-13-2020
2007 Chrysler 300

Zip: 95127
Offer Price: $660
Offer Date: 06-08-2020
2006 Chrysler 300

Zip: 67216
Offer Price: $70
Offer Date: 06-07-2020
2008 Chrysler 300

Zip: 95834
Offer Price: $610
Offer Date: 06-05-2020
2014 Chrysler 300

Zip: 95148
Offer Price: $860
Offer Date: 06-01-2020
2008 Chrysler 300

Zip: 80831
Offer Price: $660
Offer Date: 05-12-2020
Do you want to know the best part? We will always pay you cash for your vehicle. We understand that no one really wants to deal with checks or direct deposits nowadays. It is too risky to accept a check from a stranger that you met online and no one wants to wait for bank deposits to go through. Junk Car Medics® will always come out to your home or business with the cash that you are due for your Chrysler 300. Our friendly, qualified buyers will give you fair market value for your vehicle without the aggravation of haggling over numbers. Give us a call today! You won't be sorry when you have cash in hand to put down on a brand new car or for any other reason you need the money!
Call (855) 437-9728 or request a quote online to sell your Chrysler 300.