Sell My Junk Cadillac CTS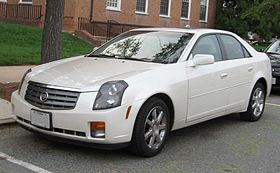 How Much Cash Will My Junk Cadillac CTS Get Me?
Sell your Cadillac CTS to a company that wants to provide you with fair pricing for it. Don't do a passive sale and wait for someone to come to you. Be proactive and call us. We can almost guarantee that we will take your CTS off your hands and put money in them ASAP. The reason that we are so confident that we will take your car is that we feel that we can use any car for a good purpose. We provide all of our customers with free towing and speedy service. You will never have to worry about stressing to get the vehicle to us. All you have to do is sit back and wait for us to bring your money.
It Pays to Have a Big Caddy
Having a heavy car is a big deal when you do business with us. You see, instead of calculating your quote using information like the manufacturer and the mileage, we use the weight of the vehicle. We calculate your quote price by comparing the weight with scrap metal prices. The weight of the average CTS is 3,616 pounds, and we calculate the offer based upon the scrap metal prices on the exact day that you call. After we get that figure, we then examine the rest of the information that we gathered about your vehicle. The bulk of what we offer you comes from from the weight of that big frame you have. Because of the way we do things, we can offer you a bigger and better price than the average car buyers can. Because we truly care about you, we can give you an honest payment when you sell your car to us.
Yes, You Can!
Yes, you can sell us your car in any condition. We don't care if it's ugly, pretty, running, not running, dented, pinged, scraped, or what have you. We take all cars, including junk cars. In fact, we love junk cars. They are our specialty.
Simply the Best Deal Out There
You will not find another deal that will provide you with a hassle-free and sincere offer like one we will give you. There is no waiting, no lowballing and no flaking. We will find our way to you shortly after you agree to take the offer. Our agent will come with a tow truck, and he or she will have money in the hand just for you. Our deal is simply the best deal out there.
Recent Offers Made for Cadillac CTS Cars:
2007 Cadillac CTS

78233
$585
05-28-2022
2003 Cadillac CTS

78023
$615
05-23-2022
2007 Cadillac CTS

19013
$645
05-18-2022
2004 Cadillac CTS

85286
$600
05-12-2022
2006 Cadillac CTS

33027
$850
05-10-2022
2009 Cadillac CTS

78737
$720
05-09-2022
2004 Cadillac CTS

33604
$685
05-03-2022
2007 Cadillac CTS

78217
$585
05-02-2022
2006 Cadillac CTS

85345
$600
05-02-2022
2008 Cadillac CTS

11208
$645
04-29-2022
2004 Cadillac CTS

93102
$555
04-23-2022
2006 Cadillac CTS

55033
$540
04-20-2022
2006 Cadillac CTS

55033
$540
04-15-2022
2009 Cadillac CTS

85381
$665
03-17-2022
2006 Cadillac CTS

32828
$585
03-14-2022
Give Us a Call
Are you ready to sell your Cadillac CTS? If so, then let's get the process started. You can call us on our dedicated phone number which is 855-587-0227, or you can complete a short form and send it in to us. We well get back to you with a quote for your CTS, and you can tell us if the quote totally delights you. If so, we will send an agent to your home or office with the funds in the hands to pay you for your car. The agent will remove the vehicle from your sight, as well.
Call (855) 587-0227 or request a quote online to sell your Cadillac CTS.