Sell My Junk Chevrolet Tahoe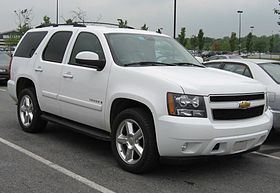 How Much is My Junk Chevrolet Tahoe Worth?

The Chevrolet Tahoe is a very popular full-size SUV that consistently earns decent cash on the junk car market. With a curb weight of 5,355 to 5,601 pounds depending on the specific year and model, you can expect a payout of between $350 and $3000. If your car still runs well and has useful parts and accessories, you can earn even more.
With Junk Car Medics, you can get same-day payment in cash for your junk car. We check a few different factors to determine how much we pay for junk cars of this type. We look at:
• The car's mileage;
• The car's age;
• Local scrap metal prices;
• The vehicle's general condition;
• The car's location.
This give us about all the information we need to know in order to make an offer. However, if your car has salvageable parts and accessories, we might pay out more. We're ready to pay up to $10,000 for a used car in running condition, so feel free to call us and ask for a quote today.
Some Background Information On the Chevrolet Tahoe
The Chevrolet Tahoe is one of the most popular full-size SUVs in the manufacturer's lineup. The company first released it in 1992 as a continuation of the Chevrolet Blazer. At the same time, parent company GMC released a rebranded version as the Yukon. Both vehicles, the same car from a technical point of view, sold extraordinarily well, with the Chevrolet Tahoe enjoying a clear lead nearly every year.
There are four generations of Chevrolet Tahoe: the first was in production until the year 2000, the second until 2006 and the third until 2014. The Chevrolet Tahoe is also popular with law enforcement agencies throughout the United States, making it a great source of salvageable parts and useful accessories through the secondhand market.
Recent Offers Made for Chevrolet Tahoe Trucks:
2005 Chevrolet Tahoe

45229
$505
09-19-2022
1999 Chevrolet Tahoe

53095
$515
09-17-2022
1999 Chevrolet Tahoe

02341
$550
09-15-2022
2004 Chevrolet Tahoe

20019
$790
09-14-2022
2007 Chevrolet TAHOE

06488
$590
09-11-2022
2001 Chevrolet Tahoe

21215
$620
09-07-2022
2006 Chevrolet Tahoe

76106
$595
09-06-2022
2001 Chevrolet Tahoe

89074
$635
09-06-2022
2004 Chevrolet Tahoe

64014
$735
09-05-2022
2001 Chevrolet Tahoe

89118
$660
09-04-2022
2004 Chevrolet Tahoe

70065
$540
09-01-2022
2002 Chevrolet Tahoe

33709
$595
09-01-2022
2001 Chevrolet Tahoe

85225
$550
08-29-2022
2001 Chevrolet Tahoe

77396
$555
08-23-2022
2002 Chevrolet Tahoe

77520
$680
08-15-2022
Should I Sell My Junk Chevrolet Tahoe For Cash?
There is nothing more convenient than knowing you'll get immediate cash for your junk Chevrolet Tahoe, but we know that most owners are thinking, "Is my best option to sell my car for cash? Shouldn't I attempt to repair it?" However, time keeps on ticking and the longer you wait, the less valuable your car is going to be.
To find out whether selling your car to Junk Car Medics is a good idea, compare the price of completely repairing your damaged Chevrolet Tahoe with the sum that our expert appraiser offers you. If we offer you a better deal, than schedule the appointment with our tow team at your convenience—we're always ready to buy junk cars and trucks for excellent prices.
Call (855) 587-0227 or request a quote online to sell your Chevrolet Tahoe.