Sell My Junk Chevrolet Trailblazer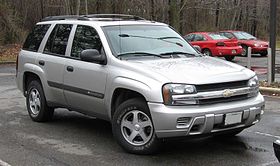 How Much Cash Will My Junk Chevrolet Trailblazer Get Me?
Have you been thinking about trying to sell your Chevrolet Trailblazer or have you already had a nightmare of a time trying to sell it? Our company can help you with that. Really? Can I really sell my car online? Yes! We can remedy your nightmare by making your dreams come true. We can make the process so simple and enjoyable that you almost feel silly about not calling us first. Junk Car Medics is proud to offer you immediate free removal of an unwanted vehicle whether it's working or not. We will appreciate any vehicle that you offer us to purchase. We specialize in removing undesired vehicles from vehicle owners and then finding something creative to do with them.
The Weight Decides the Fate
We will use the weight of your vehicle to determine the amount of money that we can offer you for the car. That's how we differ from similar companies. We don't necessarily go primarily on the age of your vehicle or what it looks like. They may be factors, but ultimately, the weight decides the fate.
Here's How It Works:
Your Trailblazer's weight may be between 4600-4700 pounds. We will examine that weight against the current scrap metal prices. Next, we examine all the other attributes and dynamics such as the make, model year, technology, and overall condition. The end result is a figure that you can be happy with receiving and we can be happy giving you. We have been in business for quite some time, and no one has ever referred to us as an unfair group. Consumers are usually highly delighted with our processes.
We Care Enough to Offer You the Best Price
We are all about providing you with the best price for your vehicle. That's why we urge you not to participate in any time-consuming or unfruitful practices to try to sell your vehicle. In other words, don't try to list your car on Craigslist because you may find yourself getting involved in many witch hunts. Many people treat Craigslist ads lightly by not showing up for car inspection or emailing the owners with irrelevant information. Don't put it in the newspaper and wait for a phone call. Don't waste your time on that old "for sale" sign. Get in touch with us and be done with it. In many cases, we are able to provide our customers with the monies that they need the same day they ask for them.
Recent Offers Made for Chevrolet Trailblazer Trucks:
2002 Chevrolet TrailBlazer

63301
$600
05-18-2022
2008 Chevrolet TrailBlazer

95817
$995
05-17-2022
2003 Chevrolet TrailBlazer

85704
$550
05-15-2022
2004 Chevrolet TrailBlazer

53590
$685
05-13-2022
2009 Chevrolet TrailBlazer

80204
$885
05-12-2022
2007 Chevrolet TrailBlazer

32779
$640
05-11-2022
2008 Chevrolet TrailBlazer

76108
$515
05-08-2022
2008 Chevrolet TrailBlazer

53223
$680
05-04-2022
2004 Chevrolet TrailBlazer

32208
$540
05-03-2022
2004 Chevrolet TrailBlazer

49507
$550
05-02-2022
2006 Chevrolet TrailBlazer

46037
$630
05-02-2022
2003 Chevrolet TrailBlazer

11778
$790
05-02-2022
2004 Chevrolet TrailBlazer

60542
$635
05-02-2022
2004 Chevrolet TrailBlazer

19127
$600
05-01-2022
2007 Chevrolet TrailBlazer

44702
$675
04-30-2022
Start the Process Today
You don't have to wait one more minute to get the funds that you need for car that you don't. With your help and cooperation, we can fix this situation today. Junk Car Medics are listening and waiting for you call. We can get the ball rolling on this thing just as soon as you let us know what you need. We accept regular phone calls or text messages. The number that you can call or text message us at is 855-587-0227. Make a list of all your vehicle's attributes so you can tell us about it when you call. We will try to wrap this up quickly so you can go on with your life happy and with money in your hands. It will be our pleasure to assist.
Call (855) 587-0227 or request a quote online to sell your Chevrolet Trailblazer.