Sell My Junk GMC Suburban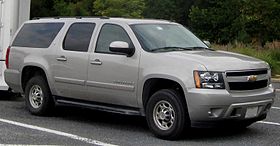 How Much Cash Will My Junk GMC Suburban Get Me?
Would you like to sell your GMC Suburban to a buyer who won't leave you waiting or scratching your head wondering if you truly got a deal? Have you been so frustrated in the auto sales process to the point where you think, "I'll never be able to sell my car for cash!" Junk Car Medics can help you with that. JCM is a dedicated car buyer that can provide you with cash in your hand and a free tow.
Yes, You Heard It Right
The buyer can put cash directly in your hand. Someone will come out with the promised amount of money from the quote and gladly give it to you. There's much more to it than that, however.
Here's the Deal
JunkCarMedics.com does not use a traditional way of calculating the quote. The weight (5,824 pounds) is the most important factor in the equation. We use that to get a rough estimate, and then we make adjustments according to your statements about the condition.
The Prices Are Awesome
We use the most important element of the vehicle and then build the quote around it. That's why the quotes are in a league of their own. With JunkCarMedics.com, you don't have to wait for a shaky person to show up, and you don't have to accept a poor trade-in deal.
Recent Offers Made for GMC Suburban Trucks:
1996 GMC Suburban

19007
$715
03-07-2022
1999 GMC Suburban

33177
$755
12-11-2021
1999 Gmc Suburban

33157
$825
12-10-2021
1999 GMC Suburban

89032
$640
12-06-2021
1999 GMC Suburban

89081
$615
12-01-2021
1999 Gmc Suburban

80231
$610
06-28-2021
1990 GMC Suburban

92506
$545
06-25-2021
1995 GMC Suburban

99006
$70
06-11-2021
1997 GMC Suburban

60123
$645
06-04-2021
1990 Gmc Suburban

80465
$615
06-04-2021
1996 GMC Suburban

34952
$630
04-25-2021
1997 Gmc Suburban

43607
$500
04-13-2021
1999 GMC Suburban

98031
$70
03-27-2021
Make the Sale Today
If you are ready to sell your GMC Suburban, all you need to do is pick up the phone. The number is 855-587-0227. You can complete an online form if you prefer.
Call (855) 587-0227 or request a quote online to sell your GMC Suburban.