Sell My Junk Hyundai Sonata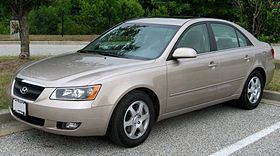 How Much Cash Will My Junk Hyundai Sonata Get Me?
Have you been struggling with trying to sell your Hyundai Sonata lately? Why are you struggling? You could have cash in your hands today if you use a company that isn't going to play games. Junk Car Medics is who we are, and what we do is provide people with the funds that they need. We buy all sorts of cars from various eras, and we don't complain much about the condition. Call us today and we will take your Sonata away for free.
Say Good Riddance
Getting rid of a vehicle should never be a difficult or stressful task. Why? Well, because all vehicles have a value no matter what their make, model, production date, etc. They are all precious creations, and we buy them no matter what their condition is. That's right. We will even buy your car if it doesn't run. That's how much we love our automobiles.
Here's How We Do It
We calculate your amazing quote using scrap metal pricing. That's how we can give you such awesome offers. Sure, we deduct a little here and there for the flaws, but the quotes are so great that you never even miss it. We use the automobile's weight for our calculations. The Sonata is about 3,200 pounds. Think about how much cash that could be for you.
How It Works
We're fans of simplicity, so our process is as easy as child's play. You call us and tell us what you have. We offer you money. You say yea or nay. We come and put money in your hands. It's that simple.
Don't Waste a Phone Call
Unless you like small offers and long waits, don't bother with other methods of trying to sell your car. Come to a reliable company that will give you a reasonable quote within a few minutes. We also try to handle the entire transaction and process within 24 hours. We understand that clients need their money ASAP, so we do our best to get it to them. The earlier you call, the better the chance is that you will get paid the same day. Don't be afraid to pick up the phone.
Recent Offers Made for Hyundai Sonata Cars:
2009 Hyundai Sonata

75407
$515
05-18-2022
2007 Hyundai Sonata

91711
$765
05-17-2022
2004 Hyundai Sonata

32303
$640
05-16-2022
2007 Hyundai Sonata

32643
$620
05-16-2022
2008 Hyundai Sonata

90304
$635
05-16-2022
2011 Hyundai Sonata

07106
$860
05-14-2022
2009 Hyundai Sonata

13077
$520
05-14-2022
2004 Hyundai Sonata

85310
$675
05-14-2022
2007 Hyundai Sonata

91711
$635
05-14-2022
2007 Hyundai Sonata

77048
$710
05-13-2022
2011 Hyundai Sonata

55449
$975
05-09-2022
2008 Hyundai Sonata

07302
$825
05-07-2022
2006 Hyundai Sonata

98029
$550
05-07-2022
2005 Hyundai Sonata

95811
$550
05-05-2022
2010 Hyundai Sonata

70114
$620
05-05-2022
I'm Ready to Sell My Car Online - How Do I Get Started?
Now you should be ready to sell your Hyundai Sonata to some no-nonsense people who will put the money that you need directly into your hands. You can make contact with us by phone or short form. The number you can call us on is 855-587-0227. We're waiting.
Call (855) 587-0227 or request a quote online to sell your Hyundai Sonata.