Sell My Junk Infiniti G35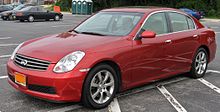 How Much Cash Will My Junk Infiniti G35 Get Me?
You might be wondering what to do with your junk Infiniti G35. Should I sell my car for cash?, you may be asking yourself.
If you give the auto recycling market a try, you could receive a significant payment for your damaged car. We know that the Infiniti G35 has a curb weight between 3,336 and 3,532 pounds, with the exact amount depending on the particulars of your car. At that weight and with the possibility of salvaging parts from the car, you could end up making hundreds if not thousands of dollars.
But here's the kicker: you don't have to do anything except contact us and set up the sale.
Don't worry about taking the car anywhere, as we come to you and provide a free removal. That offer applies to any vehicle we buy, whether it's in good or poor condition. We'll come get it even if it isn't running, and we'll bring your cash payment with us that day.
Curious how we come up with the price we offer for your car?
The appraisal process is fairly straightforward. Most of the money is in the car's scrap metal, which means that the weight of the car and the local prices for scrap metal are two key factors in how much we can afford paying you. The condition of your car is also important, particularly if it's a newer car. Other things we consider are the car's age, mileage, make, and model.
Now, if your car does have some working parts that also happen to be in demand, we can afford to boost our offer because we have a network full of junk car parts buyers.
Here's the deal: we're all about getting you the best price for your car. We strive for a fair deal where everybody is happy at the end of it.
You definitely have other ways you can sell your car. What you have to consider is how much time you want to dedicate towards selling your car, and if you're going to find a better offer. You can post ads to sell your car or try to trade it in at a dealership, but there's no guarantee you'll get as much as you want. We keep the sales process as simple as possible, so you don't have to haggle or wait months to make a deal.
Recent Offers Made for Infiniti G35 Cars:
2008 Infiniti G35

95064
$855
09-22-2022
2004 Infiniti G35

85301
$560
09-20-2022
2008 Infiniti G35

60622
$970
09-20-2022
2005 Infiniti G35

34759
$870
09-20-2022
2006 Infiniti G35

75217
$615
09-19-2022
2005 Infiniti G35

34759
$670
09-19-2022
2004 Infiniti G35

85345
$705
09-17-2022
2008 Infiniti G35

32254
$535
09-17-2022
2007 Infiniti G35

77373
$640
09-16-2022
2005 Infiniti G35

95742
$540
09-06-2022
2003 Infiniti G35

33411
$945
08-30-2022
2006 Infiniti G35

77063
$760
08-23-2022
2004 Infiniti G35

85013
$890
08-20-2022
2007 Infiniti G35

37209
$855
08-20-2022
2008 Infiniti G35

95815
$755
08-19-2022
So, how can you know when it's time to junk your Infiniti G35? There are typically plenty of signs that it's time to go out with the old and in with the new.
Have you seen that dreaded Check Engine light turn on too many times? Do mechanical issues keep adding up? Was your car just in an accident and now needs extensive repairs? If your car is becoming more trouble than it's worth, or if it has necessary repairs costing more than its value, then your best bet is simply selling it as-is. It's smart to act as quickly as you can in this situation, because if you take your time, your car's value will just continue to go down.
JunkCarMedics.com is ready to buy your junk car. We have specialists available who can provide you with a quote for your car today, and help you set up the sale. Then, you can put the money you make on this deal towards your next ride.
Call (855) 587-0227 or request a quote online to sell your Infiniti G35.