Sell My Junk Nissan Maxima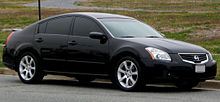 How Much Cash Can I Get for Selling My Junk Nissan Maxima?
A few important factors play a major role in determining just how much you get when selling a junk Nissan Maxima for cash. However, by looking at the history of the vehicle on the scrap market, it's easy to see that anywhere between $100 and $750 could easily be yours. If the car is running and in decent condition, you may even earn more.
So you want to sell an old, worn or damaged Nissan Maxima—great! Junk car buyers typically look at a few factors when deciding how much to pay for a junk car:
• How old the car is;
• What condition it's in;
• How many miles it has;
• Its weight;
• Local scrap metal prices.
At Junk Car Medics, we're willing to pay up to $10,000 for used cars. If yours runs well enough to depend on and has all of its parts, you could get a good sum if you decide to sell your car for cash. The car's curb weight of 3,471 pounds makes can only make it lucrative up to a point—valuable accessories and equipment that auto recyclers may be interested in are what will really bring the cash in.
Why Do We Buy Junk Nissan Maxima Cars?
This full-size car, originating in 1981 as the Datsun Maxima, is a very popular vehicle due to its combination of luxury and affordability. In Nissan's sedan lineup, the Maxima has always been given priority when it came to special technology and new features.
Although these vehicles are known to be well built and resistant to wear, you may find yourself with a car that is better suited to the scrap yard then the used car market.
Recent Offers Made for Nissan Maxima Cars:
1996 Nissan Maxima

80105
$90
09-24-2022
2005 Nissan Maxima

06112
$510
09-22-2022
2011 Nissan Maxima

30518
$710
09-22-2022
2005 Nissan Maxima

78109
$500
09-22-2022
2011 Nissan Maxima

60516
$895
09-22-2022
2005 Nissan Maxima

19023
$620
09-21-2022
1999 Nissan Maxima

18974
$545
09-17-2022
2007 Nissan Maxima

06041
$510
09-16-2022
2008 Nissan Maxima

91732
$600
09-15-2022
2008 Nissan Maxima

18109
$530
09-14-2022
2007 Nissan Maxima

19134
$570
09-09-2022
2005 Nissan Maxima

07306
$560
08-26-2022
2010 Nissan Maxima

33147
$510
08-23-2022
2012 Nissan Maxima

11208
$585
08-19-2022
1997 Nissan Maxima

08021
$555
08-15-2022
How To Tell If I Should Junk my Nissan?
In general, you will want to give us a call and get a quote on your Nissan Maxima if you need to make repairs that are more expensive then the car's resale value. Whether your car is damaged, worn out or wrecked, you may be able to salvage useful parts and get good cash for it.
Nissan Maxima vehicles have been known to have faulty ignition coils, leaking power steering pumps and crankshaft problems. If your Maxima has any of these parts in good working order, the increased demand for them may net you a better price. Give us a call and find out!
Call (855) 587-0227 or request a quote online to sell your Nissan Maxima.