Online quotes to sell cars for cash have become the norm. Online quotes to sell cars for cash speeds up the process for consumers to determine how much cash they can junk a car for.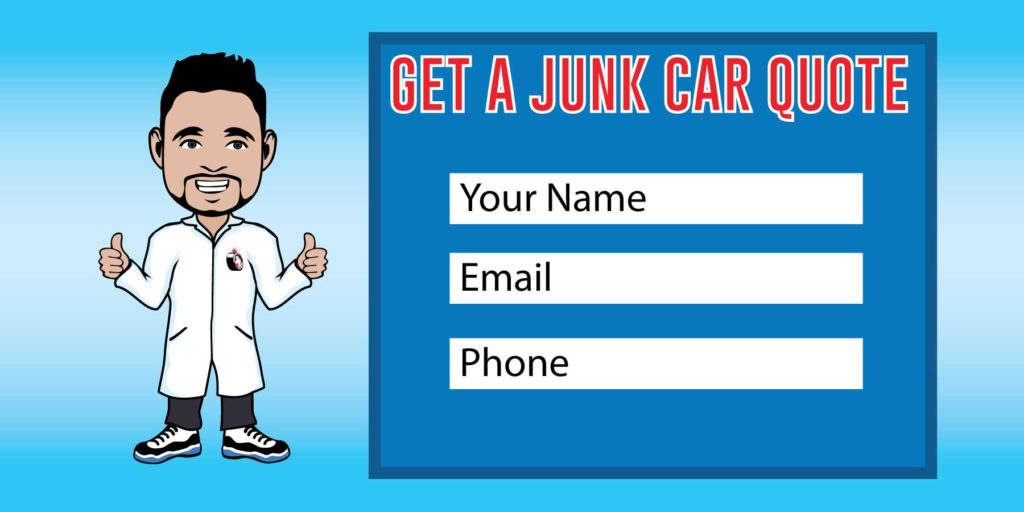 Junk Car Medics works with a variety of buyers, including local junkyards, towing services, and other online buyers to sell your junk car. This is a unique model for a junk car service to provide, as it ensures that your junk car is being seen by multiple buyers and you'll end up with the highest price. Junk Car Medic's state-of-the-art junk car value estimator provides quick and accurate quotes based on similar junk cars. Offers remain valid for seven days, which provides sellers with a week to consider their options. You can accept the online quotation offer instantly or wait several days. There is no risk or obligation when requesting a quote. After seven days have passed, Junk Car Medics can provide another quote with a recalculation of the current scrap metal values in your area.
The advantage of requesting cash for cars online quote is that it's quick. Sellers can receive money in hand in a couple of days, allowing them to offload a junk vehicle and make quick cash for their car. Thousands of junk cars are scrapped each month, with many owners seeking instant online quotes.
Add a header to begin generating the table of contents
What is an Online Quotation for a Junk Car?
Online quotations are a quick and easy way to get cash for a junk car. Junk Car Medics works with a large network of junk car buyers to provide the best offers to those looking to sell. Online quotations are available in just a few minutes and vehicles can be sold in 1-2 days. Junk Car Medics makes the junk car selling process quick, easy, and hassle-free. When requesting an online quotation from a junk car buyer, a variety of factors will come into play. The make, model, year, mileage, and overall condition of the vehicle, as well as the valuable usable parts remaining, will be considered. Junk car buyers and junkyards make money from reselling parts, so it's integral that the vehicle is fully intact, even if it's nonrunning.
How Does an Online Quotation for Junk Cars Work?
Online quotations provide a convenient way for junk car owners to request an offer for their vehicle. Online quotes can be found on a junk car buyer's website. Sellers fill out an online form that asks for basic information about their vehicle and a description of the overall condition. An instant quote can be provided based on the inputted information. Sellers can either accept the offer or seek a higher one elsewhere.
Online quotes may be good for 24 hours to 7 days, depending on the buyer. Junk car owners should have the following information on hand before requesting an online quotation.
Make, model, year
Current odometer reading
Condition of the vehicle
Any damaged/missing parts
Proof of ownership
Online quotes make selling a junk car easy. No more calling around to local junkyards and asking for an estimate. Online buyers are focused on providing quick, hassle-free service to drivers. This saves time and increases the payout for the junk car.
What Are the Advantages of Our Real Online Quote?
The instant quote technology provides an accurate, up-to-date valuation based on current market data. This is an efficient way to measure the value of a junk car. Our service matches sellers with the highest-paying buyer. There are no hidden costs and no negotiation. The price is guaranteed for seven days before an additional valuation needs to be made.
Once a quote is accepted, details will be provided and pickup time can be scheduled. This takes 1-2 days and you'll have cash in your hand for your old ride. Real online quotes are available 24/7.
How to Get an Online Quotation for Junk Cars from Junk Car Medics
Requesting an online quotation from Junk Car Medics is a quick process. The form will ask various questions, including:
Year
Make
Model
Location of vehicle
Type of title
Drivability
Damage to interior or exterior
Odometer reading
Before navigating to the Junk Car Medics website, drivers should collect the above information. The entire process takes a few minutes in total, though the process can be drawn out if the mileage is unknown and if there are various areas of damage that need to be disclosed.
What Are the Requirements for Requesting a Quote?
Junk Car Medics purchases junk cars from all makes, models, and years. Junk cars from 1999 can still bring in over $350! Some makes and models are more popular than others, such as Toyota, Hyundai, Honda, Ford, and Chevrolet. Junk car owners should keep in mind that domestic makes and models are oftentimes worth less than foreign, as the market can be oversaturated with these vehicles.
Many junk car buyers require that the vehicle have 3-4 equipped wheels and tires, as well as a whole engine and transmission. Depending on the state, the buyer may also need a title of ownership or a duplicate title for the sale to be legal.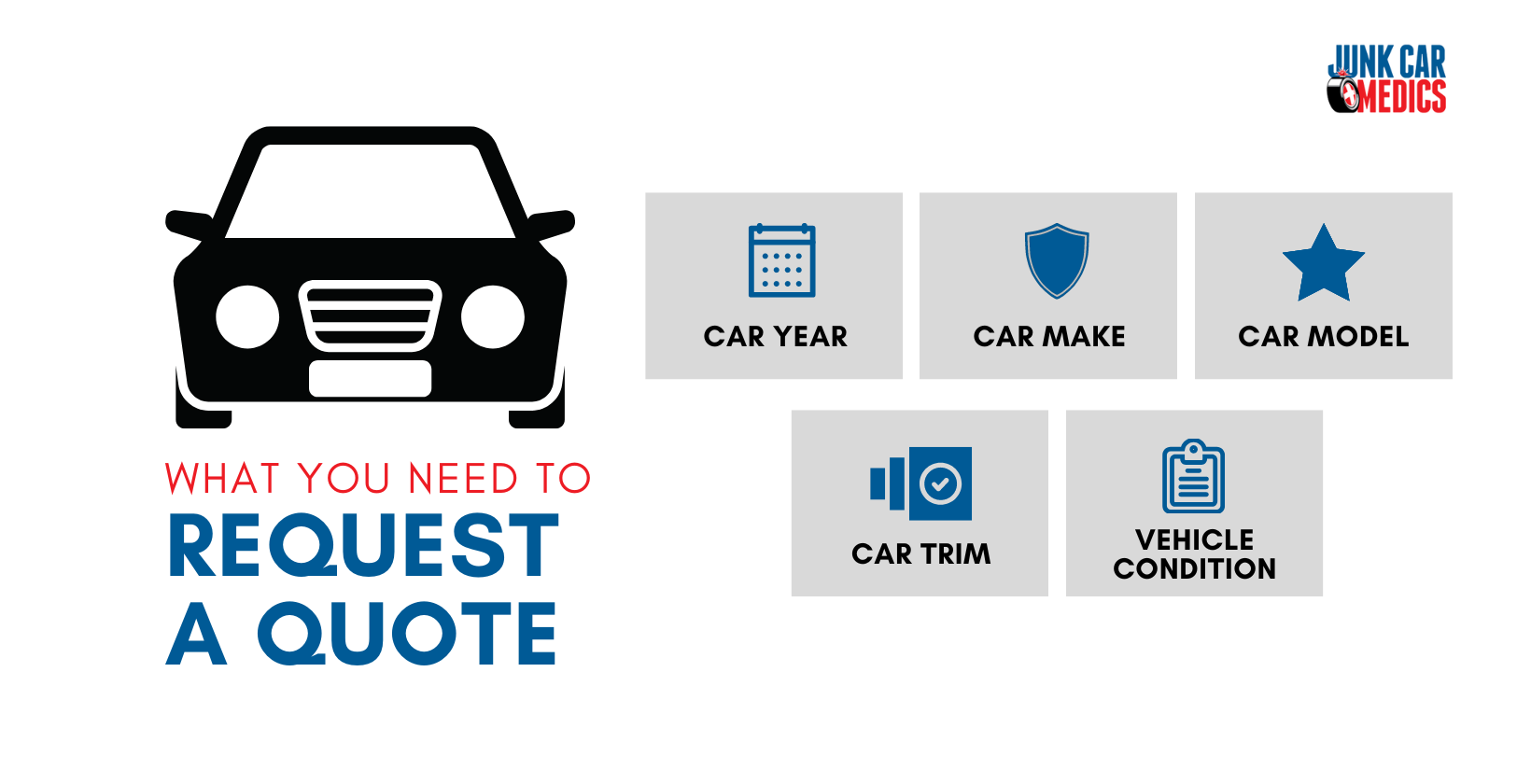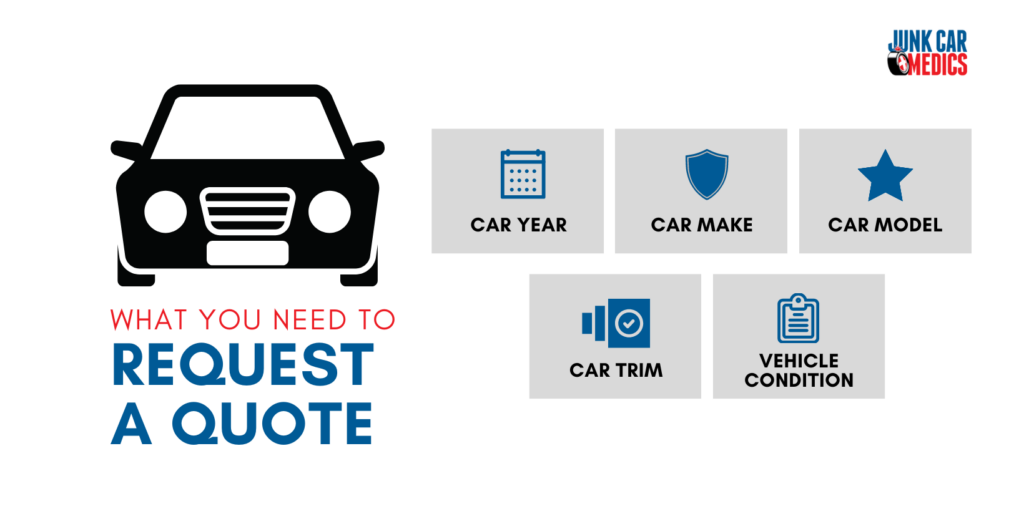 1. Car Year
Car year can be an integral determining factor of what a junk car is worth. Models several decades old will be in less demand than those from the most recent decade. Based on data collected by Junk Car Medics, the 10 most popular car years are:
2006
2003
2005
2004
2007
2002
2001
2000
2008
1999
Not all junk cars are old, as vehicles can be totaled within the first few years of ownership if the damage is significant enough. Many of the junk cars sold each year are 10+ years old and have hundreds of thousands of miles on them. Currently, vehicles from the early 2000s are popular in junkyards.
2. Car Make
Not all makes are made equal. Foreign and domestic makes can value greatly in value to a junk car buyer. With so many domestic vehicles on the road, they oversaturate junkyards and are, therefore, worth less. Foreign models are in higher demand and can command a higher price even as junk. The top 10 makes include:
Honda
Toyota
Ford
Chevrolet
Nissan
Dodge
BMW
Hyundai
Volkswagon
Chrysler
American-made vehicles are notoriously known as being less reliable than foreign-made automobiles. This can affect their perceived value. Makes such as Ford, Chevrolet, and Chrysler can still bring in hundreds of dollars as scrap.
3. Car Model
When requesting an online quote for a junk car, the car model will be a requirement. This allows the junk car buyer to determine the popularity of the particular model and consider this information when making an offer. The top 10 models include:
Accord
Civic
Camry
Altima
Corolla
Explorer
Sentra
3-Series
Focus
Jetta
The prevalence of a particular car model can be chalked up to how popular it is on the road. Tens of thousands of Accords, Civics, Camrys, and Corollas are sold each year and inevitably, they will reach the end of their life. Once they do, they can be sold to a junk car buyer for a fair price. High prevalence isn't necessarily an indicator that the model is unreliable, especially if the vehicle is old and has high mileage on the odometer.
4. Car Trim
When purchasing a vehicle, those with higher trims tend to go for a higher price. This remains true when scrapping a car. Junk cars with higher-end trims lead to higher values. The higher the trim, the better the accessories are in the vehicle. Some makes include better audio systems, navigation systems, and leather seats in the higher trims. These luxury additions can be worth more in a junkyard.
Car trims are determined by the make of the vehicle. It's common to have distinguishers such as premium, limited, and platinum. These names help provide consumers with an idea of what the base, mid, and high-end models are from a particular maker. Base models are the least expensive, while fully loaded models can have an MSRP price that's thousands of dollars more expensive.
5. Vehicle Condition
Vehicle conditions can have an impact on the price, especially when it comes to damaged and unusable parts. Body damage doesn't prevent a junk car from receiving hundreds of dollars at a junkyard, though a car with a damaged engine, transmission, and major exterior and interior damage will drastically lower the price. Damaged cars can come in all shapes and sizes, from small fender benders to broken windshields. Totaled cars are vehicles that insurance has deemed less in value than the repair work.
Wrecked cars have been involved in a more serious accidents. There tends to be damage to the body panels and the mechanical workings of the vehicle, especially if the wreck involved the front of the car. Old cars can be considered 10+ years old models, which often have over 100,000 miles. A vehicle that is no longer operable is undrivable and many junk car owners decide to sell their vehicle to a junk car buyer at this point, as it no longer functions as a reliable mode of transportation. Scrap cars can be sold to a junkyard or a scrap yard, depending on what parts it has left. Scrap yards will buy vehicles based on their weight and in accordance with the current market prices of the metal.
All damage should be explained in the online form when requesting an online quote. If the vehicle is claimed as one condition and it turns out to have unmentioned damage, offers will change. Cash is paid at the time of pickup and if the damage was left undisclosed, the offer will be reduced and perhaps canceled altogether.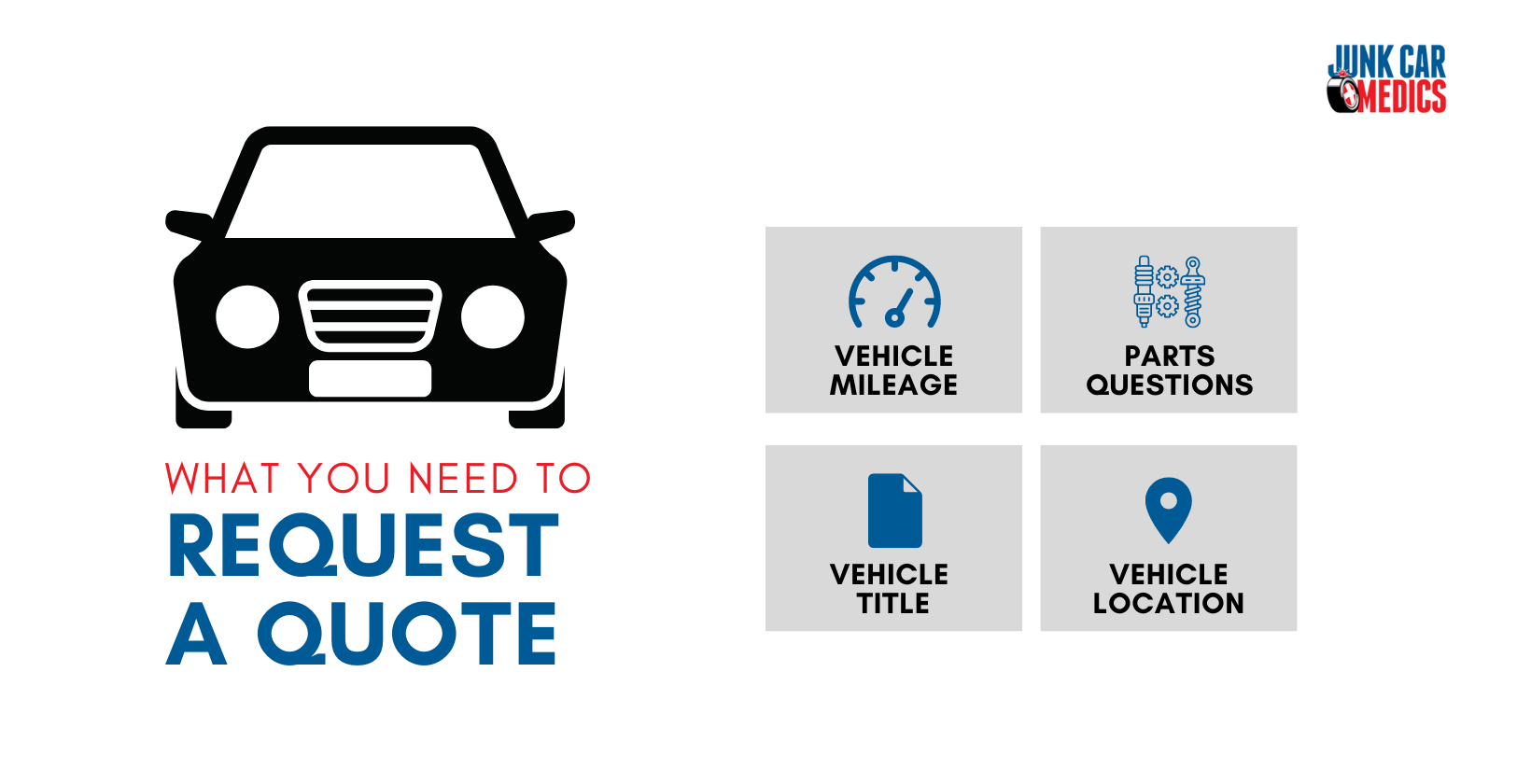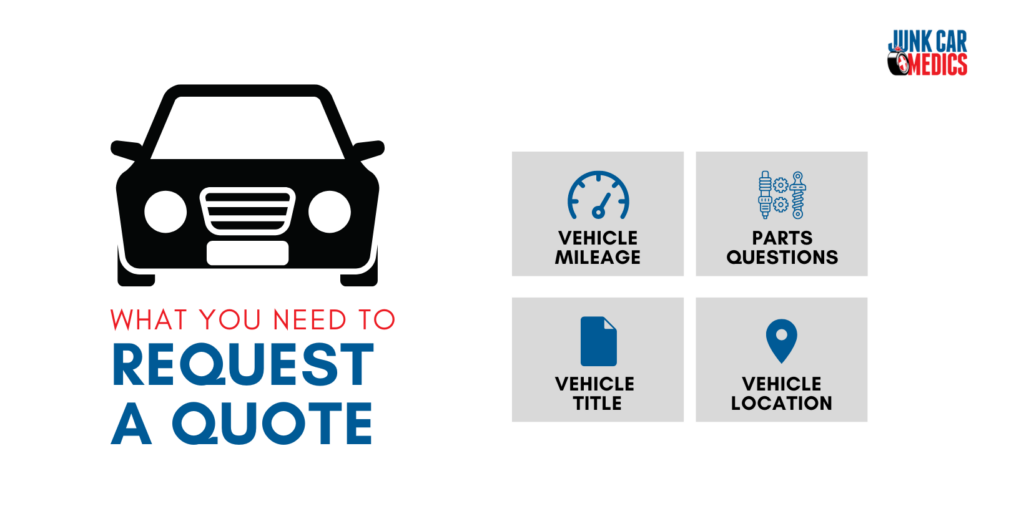 6. Vehicle Mileage
Online quotes often require the seller to include the current odometer reading. This helps to determine how much wear and tear the vehicle has had and how much life the remaining components may hold. Not all junk cars are high mileage. Newer cars with lower mileage can be considered junk if it's been damaged beyond reasonable repair. Junk cars with 200,000+ miles on the odometer and the original engine and transmission will be offered a lower quote than a similar vehicle with 100,000 miles.
If the exact mileage is unknown, an approximate estimate should be made. This is an important figure for the buyer and without it, an informed purchasing decision can't be reached.
7. Parts Questions
Junk car buyers will buy inoperable, damaged, wrecked, and vehicles with mechanical issues. Most buyers require that the vehicle not be missing parts. If the engine or transmission has been removed, many buyers won't purchase the junk car. The value of a scrap car lies within the components that can be removed and resold as used parts. Without these parts, the junk car doesn't have much value and it's better being sold to a scrap yard based on the weight in metal. Other valuable parts include the catalytic converter, tires, and wheels.
Junk car buyers will want to know of any interior and body panel damage, as well as any cracked windshields or windows. The buyer should be informed if there are any missing wheels or tires, with some buyers requiring at least three intact tires as a precursor for a successful sale. Junk cars with missing parts can be sold to a junk buyer, though it becomes increasingly more difficult.
8. Vehicle Title
During the online quote process, owners will be asked if they have a title of ownership. This information provides the buyer with proof that the seller is the rightful owner of the junk car. This prevents the buying and selling of stolen vehicles. Some states don't require a title on junk cars, while others require a salvage title. When possible, Junk Car Medics will buy scrap cars without a title. It's highly recommended that owners seek a duplicate or replacement title, as this increases the value of the junk car.
Junk car buyers will offer less for vehicles with no title, as procuring a salvage title will cost money. This cost is deducted from the quoted offer, therefore taking money from the seller's pocket. Titles help to prove ownership and without them, junking a car can be more difficult, though not impossible. Vehicles with clean titles, on average, receive $742 compared to $262 for junk cars without a title. A rebuilt title increases this amount by $450.
| | |
| --- | --- |
| Type of Title | Average Pickup Price |
| Clean | $742.07 |
| None | $262.42 |
| Rebuilt | $712.90 |
| Grand Total | $663.86 |
9. Vehicle Location
Depending on where the vehicle is located, this can affect the offer price from a junk car buyer. If the vehicle is inaccessible, such as tucked away in the back of a garage with other junk vehicles and appliances surrounding it, this can make the process more difficult. The car will have to be readily accessible to the tow truck driver, meaning any surrounding debris and junk will need to be removed before the driver picks up the car and handing over the cash.
The junk car buyer will want to know how far the vehicle is away from them. Even though many websites list "free removal," the removal isn't free. The cost of removal is baked into the offer price. If a junk car is further away, the offer price will inevitably be lower than it would be had the car been just a few miles away.
Considering the sale from a scrap metal standpoint, scrap metal is worth more or less depending on the location. For instance, scrap metal in cities is often worth less as the cost of doing business is higher. Similarly, if the scrap yard is further away — the transportation cost will be baked into the offer if they need to pick up the metal. Junk car buyers take into consideration the location of junk cars before buying them to ensure they come out on top and make a profit.
How Does the Car Year Affect the Junk Car Prices?
Many junk cars are older vehicles, though some newer cars that have been in serious wrecks and have been totaled can be considered a junk car as well. A junk car from recent years is rarer than one from 10-15 years ago. Some years are more popular than others, which can be determined by the body style of the makes and models at the time. A popular model the year before a design refresh may demand more value as current owners look to replace parts on their running vehicles.
The year of a vehicle determines which years are comparable and can provide replacement parts. A 2016 Honda Civic won't be able to be repaired with parts from a 2002 Civic, for instance. Many makes have a window of a few years that items such as electrical components, speakers, taillights, and other parts can be used as comparable replacements.
Junk cars from the years 2007-2008 command respectable pickup prices on average, ranging from $712-$761. Vehicles from over two decades ago, in 1999, are worth $351 on average, which is a worthwhile chunk of cash from an out-of-date junk car.
| | |
| --- | --- |
| Junk Car Year | Average Pickup Price |
| 2006 | $572.65 |
| 2003 | $521.64 |
| 2005 | $564.46 |
| 2004 | $506.64 |
| 2007 | $761.72 |
| 2002 | $455.88 |
| 2001 | $433.74 |
| 2000 | $400.42 |
| 2008 | $712.38 |
| 1999 | $351.25 |
How Does the Car Make Affect the Junk Car Prices?
Some junkyards focus on a particular make, such as a Honda yard or a Toyota yard. These yards may be willing to pay more for that type of vehicle, as it allows them to expand available inventory for people trying to repair their roadworthy vehicles with used parts. Hyundai, Toyota, and BMW command more than $700 in junk car value according to the data collected by Junk Car Medics. Junk car owners can request a free online quote to see if their vehicle is in line with the average pickup price.
Chrysler vehicles average around $455, which is low compared to the foreign Toyota brand — coming in at $851. Domestic makes tend to command less than foreign ones, as they're oversaturated and not as in high demand. Many junk car sellers can make $400-500 for their decrepit car, with popular makes, models, and newer years being able to command over $800.
| | |
| --- | --- |
| Junk Car Make | Average Pickup Price |
| Honda | $628.95 |
| Toyota | $851.28 |
| Ford | $646.76 |
| Chevrolet | $666.24 |
| Nissan | $606.40 |
| Dodge | $550.32 |
| BMW | $735.39 |
| Hyundai | $885.05 |
| Volkswagen | $590.89 |
| Chrysler | $455.35 |
How Does the Car Model Affect the Junk Car Prices?
It's no surprise that certain cars are worth more. This holds for junk cars as well. Some can fetch a higher offer price due to their status as a vehicle with in-demand junk parts. Depending on the location of the junkyard or junk car buyer, some makes and models will hold value differently. Even if a particular make of vehicle tends to sell well as a junk car, it will also depend on the car. An older variation of that junk car will be worth less than one that's from a recent year.
Of the models listed below, the Toyota Corolla is worth the most at pickup on average. This can be due to it being a Japanese car and the notorious reliability of the make and affordability of the model. Many people who drive Corollas and junk yards know that they'll likely be able to sell pieces off of a junk Toyota sedan with relative ease on the market. The lowest average pickup price listed below comes from the Ford Explorer, which is a domestic vehicle. These may be overpopulated and therefore, they're worth less to the salvage yard.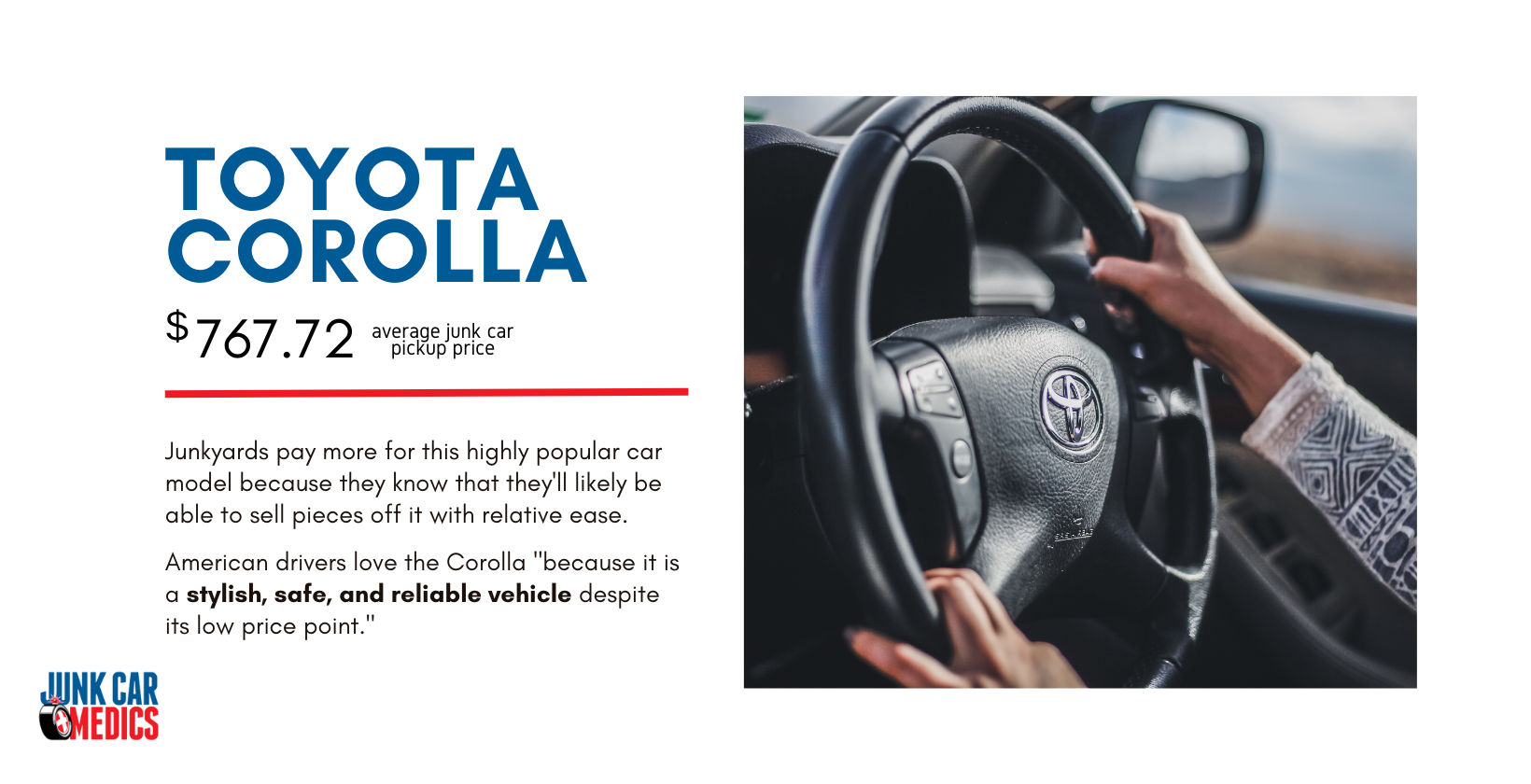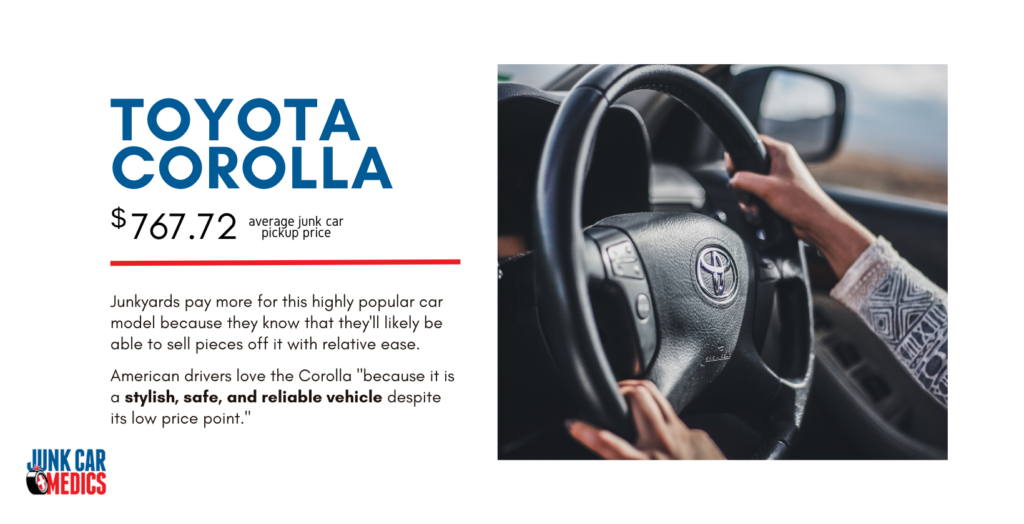 | | |
| --- | --- |
| Junk Car Model | Average Pickup Price |
| Accord | $530.73 |
| Civic | $617.85 |
| Camry | $652.03 |
| Altima | $536.19 |
| Corolla | $767.72 |
| Explorer | $472.34 |
| Sentra | $727.14 |
| 3-Series | $677.16 |
| Focus | $532.41 |
| Jetta | $553.22 |
Values of junk cars are constantly changing. View a breakdown of current scrap car prices.
How Long Does it Take to Get an Online Offer to Sell a Car for Cash?
It only takes 1-5 minutes to receive an instant cash offer online to sell your junk car. This can depend on the overall technical skill of the user and the Internet speed. Before you request an online offer, have the important details of your vehicle written down such as the make, model, year, and any missing parts. If you have this information readily available, the process for requesting a quote is easy and painless.
Get Online Quotes to Sell Cars for Cash That Were in Accidents
Many junk cars have been in accidents or were otherwise damaged. These vehicles are valuable to junk car buyers. While they may not hold much value to drivers, especially if they're inoperable, they still hold salvageable parts that can be resold in a junkyard environment. When the cost of repair on an older vehicle is too high, drivers often choose to sell to a junk car buyer. This is a quick avenue for cash and allows the junk car to be removed from the property instead of becoming an eyesore.
When filling out an online form for a quote, all damage should be mentioned. This allows the junk car buyer to make an informed decision and offer an appropriate amount in valuation for the car. Drivers can explain any accidents or damage via phone as well.
Junk car buyers are focused less on the entire car than they are on individual parts. These valuable components, such as the transmission, engine, audio system, fenders, bumpers, and so on, are salvaged for resale. Once the vehicle has been salvaged for parts, the remaining frame and scrap can be recycled and shredded.
Junk Car Medics doesn't care if your car has been in an accident and suffered damage. The vehicle can even be totaled by insurance and we're happy to buy it. We see value in wrecked cars!
Get Online Quotes to Sell Cars for Cash That Have Mechanical Issues
Junk Car Medics provides online quotes for cars that have mechanical issues. These issues may include:
Transmission slipping
Electrical problems
Dead battery issues
Blow head gasket
Car not turning on
Junk car buyers buy all types of vehicles, including those that are inoperable due to mechanical malfunctions. These repairs are often costly and push owners towards a new car versus spending money to repair their old one. Junk car recyclers buy these vehicles, salvage them for parts, and then scrap them for the remaining metal. Junk car buyers often require the engine and transmission to be complete and not missing. Get paid cash for junk cars today with mechanical problems by requesting a free online quote.
Get Online Quotes to Sell Cars for Cash with No Titles
Junking a car without a title is dependent upon local and state laws. If the law allows a vehicle to be junked without a title of ownership, Junk Car Medics is happy to buy the scrap car. Junk Car Medics will work with owners who don't have a title. Some states require a bill of sale with a signature to verify the transaction.
To junk a car without a title, owners should have documentation to prove ownership, such as a driver's license, registration, and a bill of sale. Replacement titles are an inexpensive way to boost the value of a junk car. Any reputable junk car buyer will want proof of ownership to protect themselves against buying a stolen vehicle.
Junk Car Medics will provide an online quote for junk cars with no title. The vehicle must meet all other requirements to qualify for a quote.
Get Online Quotes to Sell Cars for Cash that Do Not Start or Drive
Junk Car Medics purchases non-running vehicles. When filling out the online quotation form, indicate that the vehicle does not start or drive. Junk Car Medics will be able to provide an accurate valuation for the vehicle. On starting vehicles, the engine will turn on and idle once the key is turned. If this does not happen, the car is considered nonstarting. Junk car buyers will still purchase these cars but it's important to provide this key detail upfront for an accurate quote.
Is the Engine and Transmission Intact and In the Vehicle?
Many junk car buyers will want to know upfront whether the engine and transmission are intact on the vehicle. This is because these two parts are valuable for resale. If these components are missing, it drastically reduces the value of the junk car for the buyer. Many buyers may not buy a vehicle with missing parts. After a vehicle has been salvaged for parts, it's best to sell it to a scrap yard which will pay based on the weight of the remaining metal.
Providing this information upfront on which parts the junk car is missing allows a junk car buyer to provide an accurate offer. Upon an inspection of the car at purchase, the buyer will be able to tell if these parts are missing so it's best to be clear during the initial discussion to not waste anybody's time. Even without an engine and transmission, some buyers may offer a lower price for the vehicle as there is still value to be had in other parts.
Is the Catalytic Converter Intact and In the Vehicle?
The catalytic converter is the most valuable part of the vehicle from the standpoint of a scrap yard. The converter has several precious metals in it, which makes it worth more for melting down and reusing these metals on other catalytic converters. It's not uncommon for a catalytic converter to be stolen as thieves can make quick cash from them. If your junk car is missing a catalytic converter, tell the junk car buyer so they can provide an accurate offer.