Get Cash for Cars The Quick, Easy, Painless Way
Our car buyers purchase thousands of cars of all makes, models, and conditions each month across America.
Get an offer to sell your car for cash in 1-2 minutes and have it sold in 1-2 days.
Junk your car today safely, while practicing social distancing
COVID-19 Update: Junk Car Medics and our providers are taking all precautions and supporting social distancing efforts. You can sell your car from the comfort of your home.  However, our staff is currently working remotely so please excuse any noise or long hold times. You can still get an instant offer online. We appreciate the chance to earn your business! Thank you and stay healthy!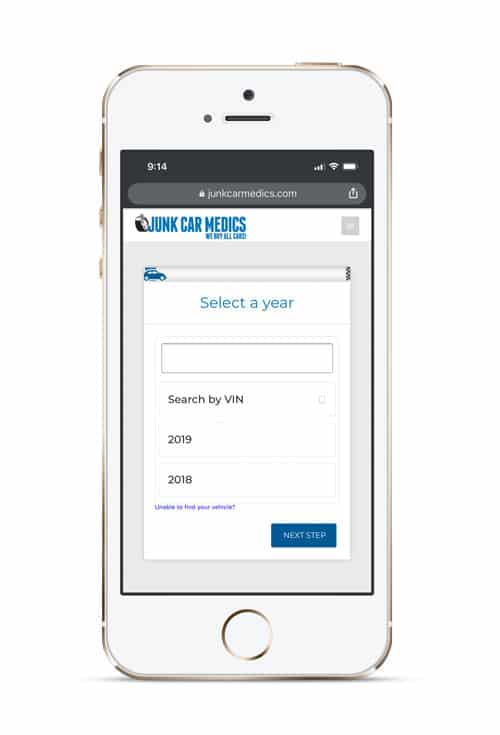 Step 1.
Provide some basic info on your vehicle and receive our highest offer instantly.
Step 2.
Accept the offer online in minutes and a representative will contact you to make arrangements.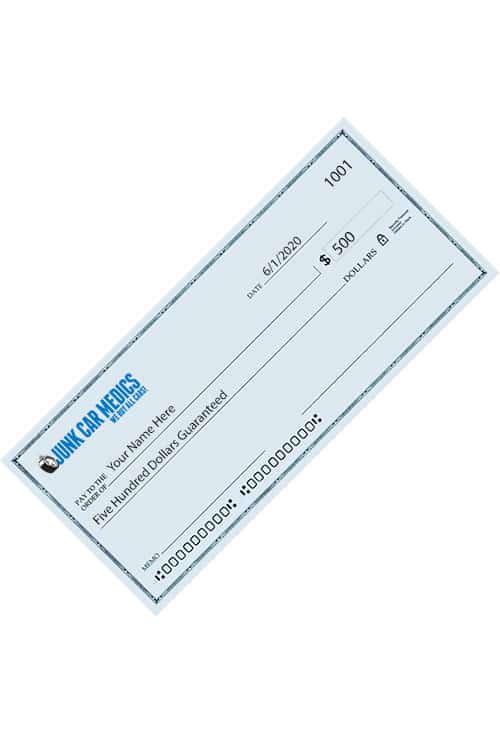 Step 3.
We'll come to you and remove your car for free and pay you with a guaranteed check!
192,000+
Used cars bought since 2016
$54+ million
Paid to sellers like you
1-2 days
From offer to pickup + payment
"Great to deal with. The online tool provided a quick, reasonable quote. Once I accepted the quote, I received a call promptly to go over the details and set up a pickup time. The driver called to confirm the time and again when he was about 10 minutes away. All of the staff was very courteous and made the process painless. I will be using them again if I need to dispose of another vehicle!"
-William V.
Junk Car Medics is Changing The Way People Junk Their Cars for Cash in America
The Quick, Easy, Painless Way to Sell My Car
Has old faithful failed you?
Maybe you were recently in an accident and need to sell a car for cash.  Or you simply have had enough and are ready to get rid of it.
Selling your car should be easy, no matter what condition it's in.
Junk Car Medics has grown to become America's #1 cash for cars service by creating a simple, direct, and modern service that serves people who need to sell cars for cash. It's quick, easy, and painless.
Junk Car Medics assists with selling cars for cash by using an extensive network of auto salvage yards, towing providers, and online auto auctions to get you top dollar even when scrap car prices are down.
Our online process is the best in the industry and you can get a fair market offer to scrap cars in 79 seconds on average with free towing and a hassle free process to get cash for junk cars.
From start to finish you are looking at about 1 - 2 days and we'll be here for you if needed along the way, even after the sale if needed (I personally guarantee your checks).
Join 1000's of satisfied customers each month that choose Junk Car Medics over copy cat competitors or the local dealership.
If you have done this before and are ready to get an instant quote click the below button.
Otherwise, follow along and learn how to sell a car for cash today whether it's your first time or you just want to make sure you get top dollar.  We buy any car, truck, van, or SUV. We buy junk cars too, of course!
Get a free quote that's hassle free and have your car sold in 1-2 days.
Not like local "cash for used cars" that tell you a price and then try to change it when they get there. Fast and courteous service.
Pick up my car with check in hand the next day. No hassle. Great transaction.
Not a complicated process and all the people I dealt with including the tow truck driver were great! Easiest way to make money off of your junk car!
We Make 1000's of Offers Daily
Here's a Few of Them
(offers may vary greatly on the same makes and models based on year and condition)
1988 Ford Mustang

Zip: 61611
Offer Price: $525
Offer Date: 09-27-2020
2006 Honda Pilot

Zip: 80501
Offer Price: $540
Offer Date: 09-27-2020
2005 Suzuki Forenza

Zip: 18210
Offer Price: $65
Offer Date: 09-27-2020
2003 Chevrolet Suburban

Zip: 11377
Offer Price: $525
Offer Date: 09-27-2020
2004 Toyota Sienna

Zip: 33907
Offer Price: $820
Offer Date: 09-27-2020
2016 Toyota RAV4

Zip: 78666
Offer Price: $5140
Offer Date: 09-27-2020
2003 Dodge Dakota

Zip: 53955
Offer Price: $570
Offer Date: 09-27-2020
2007 Cadillac CTS

Zip: 85226
Offer Price: $645
Offer Date: 09-27-2020
2008 Chrysler Town & Country

Zip: 01960
Offer Price: $770
Offer Date: 09-27-2020
2002 Ford Taurus

Zip: 24153
Offer Price: $60
Offer Date: 09-27-2020
2007 Chevrolet Cobalt

Zip: 45232
Offer Price: $90
Offer Date: 09-27-2020
1990 Honda Accord

Zip: 85041
Offer Price: $70
Offer Date: 09-27-2020
2003 Lincoln Navigator

Zip: 85003
Offer Price: $85
Offer Date: 09-27-2020
1996 Acura Integra

Zip: 33020
Offer Price: $55
Offer Date: 09-27-2020
2009 Audi A4

Zip: 30117
Offer Price: $955
Offer Date: 09-27-2020
Get Your Quote & Sell Your Car Today: 1-855-437-9728
Frequently Asked Questions Related to Our Cash for Cars Service
Does Junk Car Medics pay the most cash for cars?
Through a large network of car buyers, auto salvage yards, and auto auctions, Junk Car Medics is able to pay top dollar for cars, trucks, vans, SUVs, and crossovers.
Who buys junk cars?
While Junk Car Medics isn't the only place that buys junk cars, we think you'll agree we're your best option.
Selling a junk car can be quite a task. The industry is overruled by shady junkyards and car buyers looking to rip you off.
Junk Car Medics works with only the best local auto junkyards, car auctions (both online and off) and car buyers in your area to get you the best price for your car.  You can call your local junkyard to see how much they'll pay for your car or call Junk Car Medics and get the best price from multiple sources.
Does Junk Car Medics pay cash for cars?
While we wish we could actually pay cash for cars the majority of our car buyers will pay you with a check.  It wouldn't be safe to send out our drivers with piles of cash on them. A check is safer and better for accounting purposes.
What kind of cars does Junk Car Medics buy?
Through our cash for cars program, we buy cars of all years, makes, models and conditions. We buy cars running or not.  And if possible, we buy cars without titles (where applicable).  We'll also provide free removal and towing of your car when you choose us.
How do I get an offer to junk my car to Junk Car Medics?
Getting an offer to sell your car to Junk Car Medics is simple.  Call us at 1 (855) 437-9728 or get an offer online.
How long does the whole process take
Selling a junk car doesn't have to be a hassle.  Get an instant offer in 1-2 minutes and have your car sold in 1-2 days.
What's my junk car worth?
The value of junk cars is based on the below factors:
Current Scrap Prices
Vehicle Weight
Demand for Car Parts
Year, Make, Model
Vehicle Condition
Location
Mileage
Learn more about junk car prices here.
Cash for Cars Near Me
Junk Car Medics cash for cars service has a location nearby!
Below, find the trending cities that we serve and where we buy the most cars for cash across America.