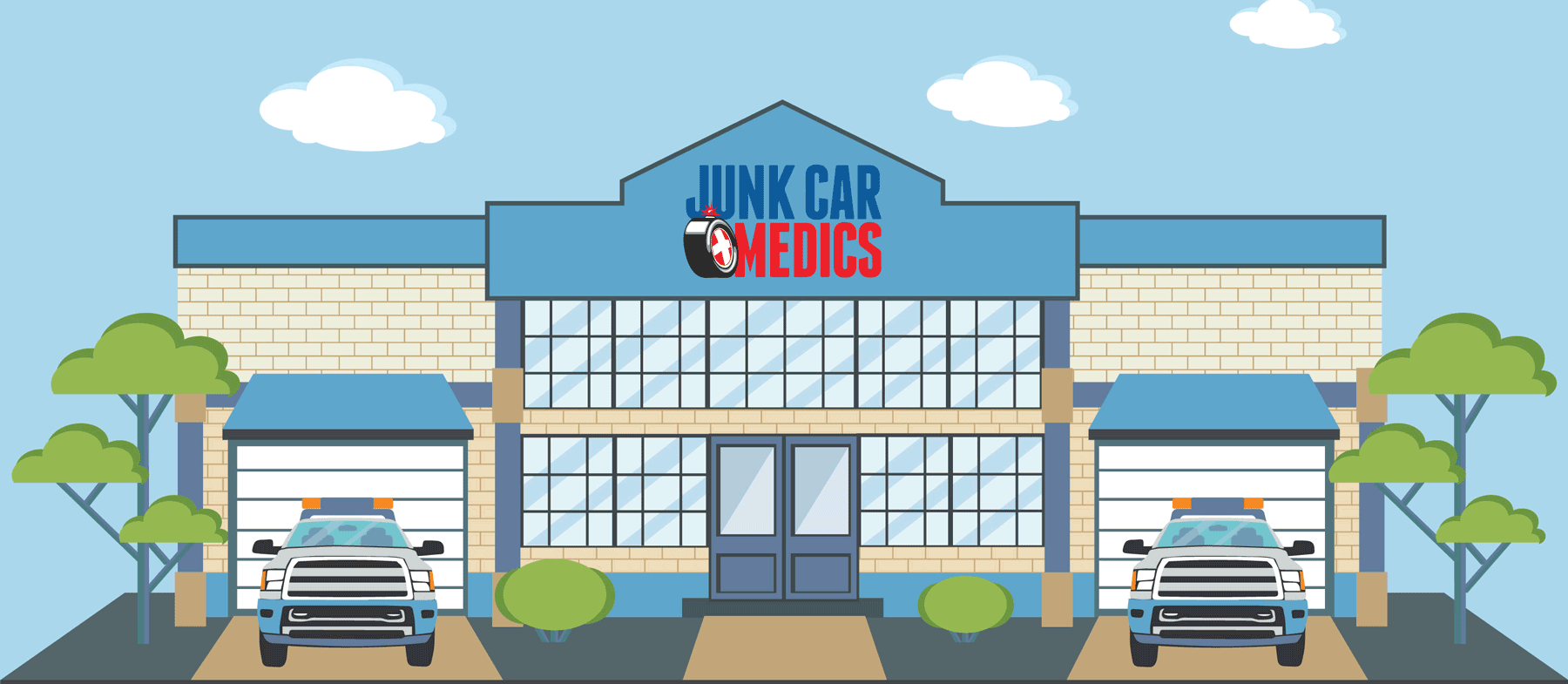 We Pay Cash for Cars - Up to $15,000
Trusted by 1000's Each Month

Get a Fast, No Obligation Offer in 1-2 Minutes

Have Your Car Sold in 1-2 Days

We Buy All Cars - Used, Totaled, Junk

Free Towing & Pick-up at Home or Office
We Pay Cash for Cars - Up to $15,000
Our car buyers purchase thousands of cars of all makes, models, and conditions each month across America.
Get an offer to sell your car for cash in 1-2 minutes and have it sold in 1-2 days.
Sell your car for cash today safely, while practicing social distancing
COVID-19 Update: Junk Car Medics and our providers are taking all precautions and supporting social distancing efforts. You can sell your car from the comfort of your home.  However, our staff is currently working remotely so please excuse any noise or long hold times. You can still get an instant offer online. We appreciate the chance to earn your business! Thank you and stay healthy!
How It Works - Cash for Cars in 3 Steps
Step 1.
Enter Your Used Car's Details
Step 2.
Accept The Offer & Schedule Pickup
Step 3.
Get paid with a guaranteed check!
192,000+
Used cars bought since 2016
$54+ million
Paid to sellers like you
1-2 days
From offer to pickup + payment
"Great to deal with. The online tool provided a quick, reasonable quote. Once I accepted the quote, I received a call promptly to go over the details and set up a pickup time. The driver called to confirm the time and again when he was about 10 minutes away. All of the staff was very courteous and made the process painless. I will be using them again if I need to dispose of another vehicle!"
-William V.
JunK Car Medics is Changing The Way People Junk Their Cars for Cash in America
The Quick, Easy, Painless Way to Sell My Car
Has old faithful failed you?
Maybe you were recently in an accident and need to sell a car for cash.  Or you simply have had enough and are ready to get rid of it.
Getting cash for cars and junk cars can be a daunting task.  The industry is largely outdated and messy. Sellers have a tough time finding a decent price for their cars and reliable buyers. They're often forced to shop around a bunch of low-value options or risk being taken advantage of. Or, even worse, to deal with shady services looking to take advantage of them and make a killer profit.
Everything we do comes down to the opposite of that mess. We're here to make things quick, easy, and painless for car sellers.
Selling your car should be easy, no matter what condition it's in.
Junk Car Medics has grown to become America's #1 cash for cars service by creating a simple, direct, and modern service that serves people who need to sell cars for cash.
Junk Car Medics assists with selling cars for cash by using an extensive network of auto salvage yards, towing providers, and online auto auctions to get you top dollar even when scrap car prices are down.
Our online process is the best in the industry and you can get a fair market offer to scrap cars in 79 seconds on average with free towing and a hassle free process to get cash for junk cars.
From start to finish you are looking at about 1 - 2 days and we'll be here for you if needed along the way, even after the sale if needed (I personally guarantee your checks).
Join 1000's of satisfied customers each month that choose Junk Car Medics over copy cat competitors or the local dealership.
If you have done this before and are ready to get an instant quote click the below button.
Otherwise, follow along and learn how to sell a car for cash today whether it's your first time or you just want to make sure you get top dollar.  We buy any car, truck, van, or SUV. We buy junk cars too, of course!
Get a free quote that's hassle free and have your car sold in 1-2 days.
They gave me more than what anyone else offered for my 2002 Ford Explorer XLT. They were fast and effective getting things done! They set me up with a carrier and he was on time and prepared as well.
Easy website. Best way to get rid of car. Very friendly
Quick, easy, and impressed Would recommend.
We Make 1000's of Offers Daily
Here's a Few of Them
(offers may vary greatly on the same makes and models based on year and condition)
2009 Nissan Altima

Zip: 33032
Offer Price: $710
Offer Date: 08-09-2020
2009 Dodge Caliber

Zip: 47601
Offer Price: $700
Offer Date: 08-09-2020
2004 Honda Civic

Zip: 95212
Offer Price: $680
Offer Date: 08-09-2020
2003 Nissan Frontier

Zip: 37918
Offer Price: $725
Offer Date: 08-09-2020
2006 Dodge Dakota

Zip: 94801
Offer Price: $605
Offer Date: 08-09-2020
2005 Mini Cooper

Zip: 37917
Offer Price: $820
Offer Date: 08-09-2020
2002 Dodge Stratus

Zip: 90047
Offer Price: $80
Offer Date: 08-09-2020
2010 Mazda 3

Zip: 92069
Offer Price: $675
Offer Date: 08-09-2020
2006 Honda CR-V

Zip: 01824
Offer Price: $975
Offer Date: 08-09-2020
2007 Hyundai Elantra

Zip: 32826
Offer Price: $640
Offer Date: 08-09-2020
2003 Mercury Sable

Zip: 94561
Offer Price: $60
Offer Date: 08-09-2020
2005 Toyota Camry

Zip: 72758
Offer Price: $920
Offer Date: 08-09-2020
1998 Mazda Protege

Zip: 78664
Offer Price: $90
Offer Date: 08-09-2020
2004 Lincoln LS

Zip: 30467
Offer Price: $70
Offer Date: 08-09-2020
2004 Kia Sedona

Zip: 85345
Offer Price: $550
Offer Date: 08-09-2020
Get Your Quote & Sell Your Car Today: 1-855-437-9728
Get Your Quote & Sell Your Car Today: 1-855-437-9728
of if you prefer to receive a quote online you can do so here:

DISCOVER THESE HELPFUL TIPS
YOUR TOOLKIT FOR JUNKING A CAR FOR CASH