So the time has come to junk your car.
Old faithful is no longer faithful so you must get rid of it and turn that car into cash.
But where do you turn?
If you've never been down this road before you may not be sure of your options.
This post is for you if you are deciding on whether to use an online service or not. Surely by now, you are aware of the various online cash for cars and junk cars services, such as Junk Car Medics.
But before we get into the pros and cons of using an online service to sell a junk car for cash, let's discuss why I'm qualified to speak on this topic.
We See Both Sides
Junk Car Medics is an online cash for cars and junk cars service. However, through my marketing agency, we also work with a bunch of local yards to get them junk car leads directly through their own websites.
So we see both sides, the pros and the cons of using an online service and I look to go over those here.  Let's dive right in.
The Pros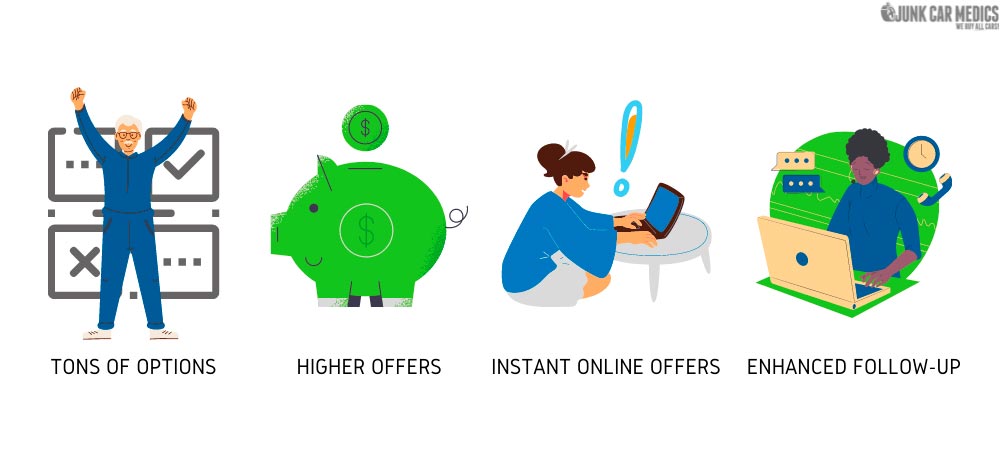 Tons of Options
Over the last several years many various services hit the scene claiming to pay cash for cars. You now have more options than ever before to junk a car too. The more options mean they need to compete for your car with higher offers.
Higher Offers
Cash for car services such as Junk Car Medics work with additional buyers such as car auctions, towing services, and local auto salvage yards and will use whichever buyer will pay the most for your car. If you deal directly with a local auto salvage yard vs cash for cars service they may try and low ball you thinking they are your only option.
Instant Online Offers
You can get an offer to sell a junk car in minutes online. You can get a handful of offers from the various services on a lunch break even. The majority of local auto salvage yards do not have an online system in place to get you an offer.
Enhanced Follow-Up
I'm not sure if you've ever dealt directly with some of your local options but to the majority of them you are just another customer. Scheduling removal can be worse than scheduling cable service. Whereas online cash for car services such as Junk Car Medics will follow up with you on your vehicle and help you every step of the way.
The Cons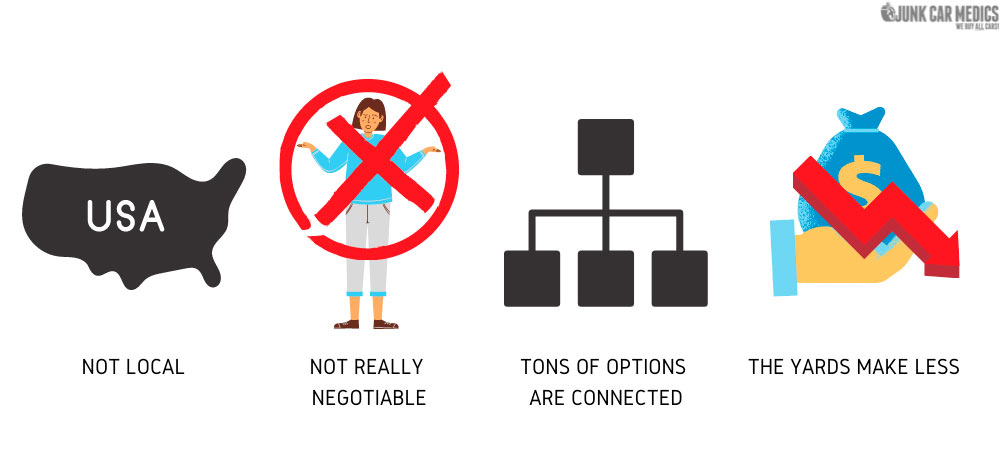 Not Local
Online services are based all throughout the United States but they may not be directly in your backyard. While we can buy your car from anywhere you technically aren't dealing with a local company.
Not Really Negotiable
Online offers are generated based on an algorithm that calculates the price your junk car is worth. There is not usually a way to negotiate the offer as it is calculated with slim margins baked in.
Tons of Options are Connected
While there are plenty of online options to junk a car you may notice a lot of them are connected. At the end of the day, there are only so many junk car buyers so a lot of the services use the same ones.
The Yards Make Less
If you are all about local then this one is thrown in for you. Online services tend to get you a better offer because of the various options of buyers we have. Say you were offered $200 for your junk car from a local auto salvage yard and $250 from Junk Car Medics. You will get $50 more from Junk Car Medics. The salvage yard will make less because they would pay us a finders fee for the vehicle. But believe me, they are all still doing ok.
---
How Junk Car Medics Differs From Other Cash for Cars Services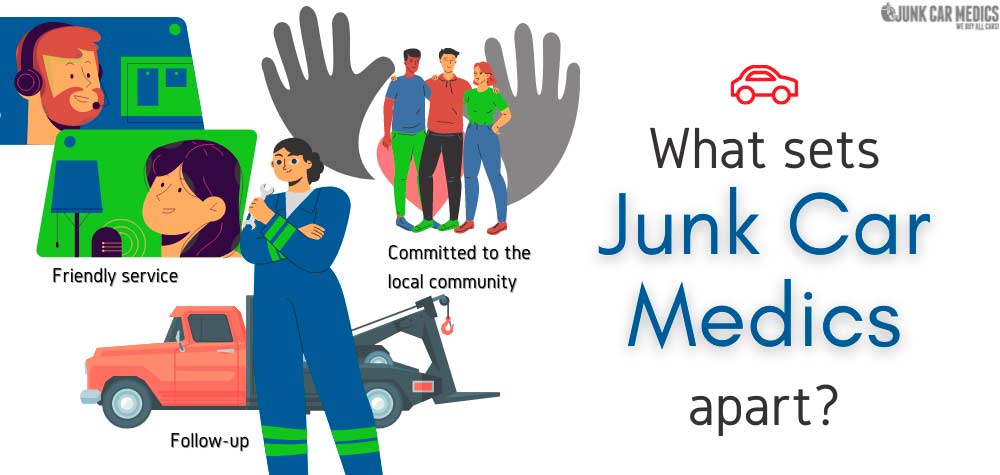 While Junk Car Medics is not local in every market we do work towards getting money back in the various local communities we operate in by doing things like sponsoring local little league teams and events.
You can't negotiate an offer online but if you give us a call we'll see if we can squeeze a few more dollars for your junk car.
While we do use a lot of the buyers that our competitors do we differentiate ourselves with our 1. Follow-up, 2. Friendly service, 3. Commitment to your community.
We take care of our car buyers and our local auto salvage yards by treating them with pizza parties and the like for their commitment and service to Junk Car Medics and to you!