The Cash for Clunkers program has evolved through the years to meet the needs of consumers. Originally, it was a government-funded program, but it now operates as a private vehicle purchasing service.
If you are thinking about trading in an old vehicle that is not running optimally, there are ways to receive benefits to put towards a new car.
Here's what you need to know about Cash for Clunkers, and how it can benefit you.
The Original Cash for Clunkers
The Cash for Clunkers program was the nickname of the popular U.S. federal government's $3 billion plan known as the Car Allowance Rebate System. They provided cash incentives for individuals to trade in their old, less fuel-efficient vehicles for new vehicles that are better for the environment.
The original Obama-era Cash for Clunkers had two purposes in mind. It not only helped to revive the automotive industry by stimulating car sales, but also encouraged residents to purchase newer, more energy-efficient vehicles.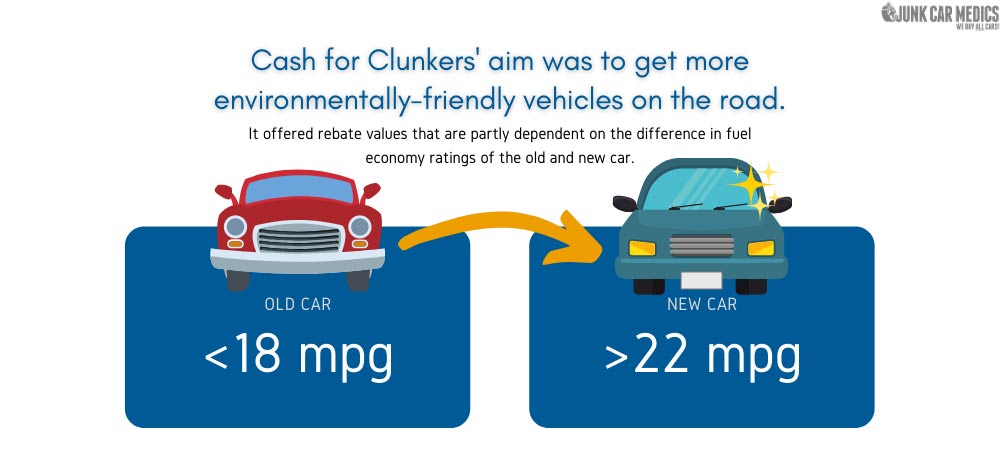 This element was to help cut back on emissions and greenhouse gases. Qualified consumers received an amount between $1,000 and $4,500 to put towards a new replacement vehicle. It was more popular than previously anticipated, and the government funds depleted within only a few short months. The program was shut down in August of 2009.
There were specific guidelines that ensured that certain vehicles were eligible for the program based on age, fuel economy, condition, and current registration. Applicants were also bound to purchase a replacement vehicle that was less than $45,000 and a precise fuel efficiency amount.
The final numbers for this program back in 2009 boast a total of 690,000 vehicles sold through the government incentive program in only a few short months. It also boosted auto sales of the Big Three automakers (General Motors, Ford and Chrysler) and increased their new vehicle market share by about 2%.
Will the Government Cash for Clunkers Program Return?
There has been speculation as to whether or not the U.S. government will introduce a new Cash for Clunkers incentive program following the drastic economic downfall from the COVID-19 pandemic. Many industries were hit hard by the coronavirus, including the auto industry.
The last time this program was in place, it was so successful that it did not last the entire duration since they allocated all the funds before the end date. Many predict that if it does return, it will be popular once again, and consumers will take advantage of the incentives.
>Having another government-funded incentive plan could spark vehicle sales and reinstate American jobs lost throughout the past year. There are other theories that an updated Cash for Clunkers under the Biden administration would propose that consumers trade their gas-powered cars in for electric vehicles.
This strategy could help decrease emissions and benefit the environment more than traditional energy-efficient models.
Current Cash for Clunkers Programs Available
Today, there are still Cash for Clunkers throughout the U.S., even though they are not heavily (if any) funded through the U.S. government.
One option now is a private incentive plan where consumers can connect with local purchasers for cash sales. Another is specific for residents of California, known as the California Vehicle Retirement Program.
Private Cash for Clunkers Incentive Programs
Many individuals prefer this current program since the guidelines are not as strict as the government program, and the qualifications are easier to meet.
There could be several reasons why the Cash for Clunkers program will suit your needs. These instances could include:
Continuous repairs or maintenance adding up to more than the vehicle is worth
Junk vehicles taking up space in your garage or yard
Your current vehicle has failed the emissions test
Do not have the time or energy to try and sell your old car privately
There are several benefits to using Cash for Clunkers. If you have a vehicle that you need to sell, this incentive plan could be the best fit for you. Some of the attributes include:
Vehicles can be in any condition, running or not
Local buyers will come tow your vehicle away for you
Stress-free way to sell your vehicle
If you are missing paperwork, you can still sell your vehicle
How to Use the Private Cash for Clunkers Program
The process for the current Cash for Clunkers incentive program is easy. Individuals can call them directly or fill out an online form. From here, you will be in contact with a representative who will ask you questions about your vehicle.
Once they determine a fair value from your answers and you agree with their proposal value, they will arrange a convenient date and time to come to pick up your vehicle and give you cash on the spot.
One benefit of this cash for cars program is that they can access a nationwide registration database to verify the vehicle's ownership. If you cannot find the necessary documentation, that should not keep you from selling it. They can verify you are the current owner and have the power to sell it.
Junk Car Medics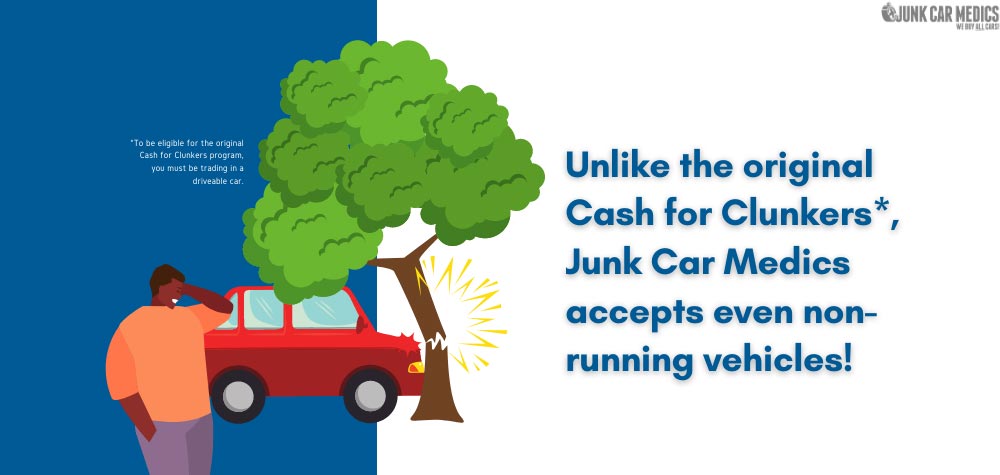 Junk Car Medics is a private company that has no limitations on the vehicle you need to sell. They make the entire process easy and hassle-free. The types of vehicles they will accept from consumers include:
New
Used
Flooded
Damaged
Totaled
All you need is the title for them to buy your car for cash in as little as 2-3 days. Junk Car Medics is there to get you the very best price for your vehicle and will not take advantage of your urgency to sell your car as some dealers might.
Whether you have a junk car for sale or just want to retire your old ride, Junk Car Medics can help you get the cash you need and take your vehicle off your hands.
The California 2021 Vehicle Retirement Incentive
For California residents, the Bureau of Automotive Repair's Consumer Assistance Program provides eligible individuals assistance with repairs or a vehicle retirement option. This program is in place to help increase and maintain a higher standard of air quality throughout the state.
There are specific guidelines to be eligible for this incentive program, and the fiscal year runs from July 1 to June 30 for funding.
The turnaround time for an application, processing, and receiving payment can take anywhere from 6 to 8 weeks. This longer timeline can be a deterrent for some consumers who may need cash sooner.
There are several private Cash for Clunker companies that California residents can use if they require funds sooner.
The eligibility requirements to take advantage of the California Vehicle Retirement program include:
Vehicle must run
Vehicle must be currently insured in the state of California or have a lapse of fewer than 120 days from the last insurance date
If it has failed a smog test, or if you are considered low-income
Your vehicle is 1995 or older
If you reside in California and have any questions regarding this Vehicle Retirement program, you can talk to the Bureau of Automotive Repair for more information.
In Conclusion
Selling a vehicle that is old, rundown, or even unusable can be an exhausting task. Talking to junkyards, car buyers, auto dealerships, and private lots can take the time you do not have.
The longer it takes to sell your vehicle, the longer it will be before you have cash in your hands. Finding the best place to buy your used car for cash will help relieve stress and get you back on the road with something newer and more mechanically sound.
Explore the option of getting that old junk car out of your garage and getting paid at the same time. When you choose a Cash for Clunkers program in your area, not only will they come and pick up your vehicle from you, but you will have cash quickly.
In the end, Cash for Clunkers is a win-win situation for you and the auto yard that takes the car off your hands. You are also helping reduce emissions by removing an older vehicle from the road and replacing it with a newer, more efficient model.