HOW TO GET AN AUTO LOAN WITH BAD CREDIT
Looking for a new car is an exciting process, but it isn't always an easy one. If you don't have perfect credit, you might find getting your new car purchase financed is much more difficult than it should be. Lenders aren't nearly as lenient as they used to be, and people with poor credit can find themselves fighting an uphill battle to get a car financed.
Naturally, if you have bad credit, your first priority should be paying down outstanding balances so that you can begin repairing your credit score. However, many people need personal transport to get themselves to work and back, and if you find yourself in that situation then financing your car could make the difference between paying off your bills or not having a salary at all.
Thankfully, there are lenders who will work with individuals who have bad credit. There are three basic types of lenders to consider:
Each of these comes with a certain set of benefits and drawbacks that you'll have to apply to your financial situation to determine which is best for you. Most of them require applicants to prove a minimum monthly income of between $1,500 and $2,000, and place further restrictions on exactly what types of purchases they're willing to finance.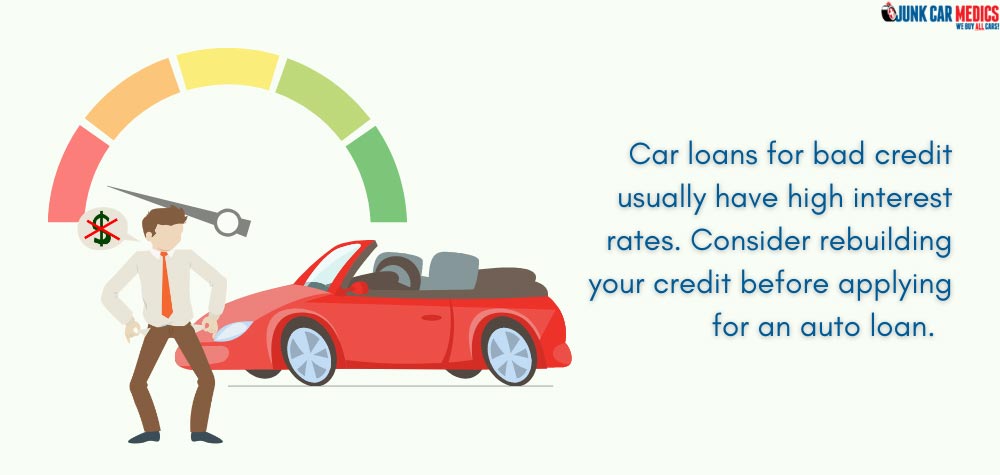 To get a loan with bad credit, compare offers from banks and lenders that have a history of dealing with creditors in your specific financial situation. You may need to get a co-signer to boost your creditworthiness, or make a more substantial down payment in order to allay the lender's risk.
Special Financiers
If you have a poor credit score, you need a knowledgeable and flexible lender that is, above all, on your side. Of these, Auto Credit Express is one of the best options because they don't automatically deny loans-you can be sure that your case will be heard.
Auto Credit Express is ideal for individuals who have been through bankruptcy but need to buy a used, older car. They do not approve loans for purchasing cars from private sellers, however.
Big-Bank Lenders
While it may seem like big banks are out of the picture unless you have stellar credit, it's not true. A big-bank lender like Capital One offers competitive interest rates and extensive education resources even for buyers with bad credit.
This particular lender has a few strict requirements concerning the car you'd like to buy, however. The vehicle must be no older than 10 years, have fewer than 120,000 miles, and be worth anywhere between $4,000 and $40,000 to be considered. Also, private sellers and lease buyouts will not be approved.
Lead Generators
If you're not ready to begin talking terms with a lender, you may prefer to have a lead generator send you offers from interested lenders instead. This puts a little more control in your hands since you can compare and contrast each lender's terms. MyAutoLoan.com gives you access to an interest rate estimator and a number of other useful resources for determining the best deal for a bad credit loan.
How Bad Credit Affects Your Car Loan
Once you get approved for financing, you can expect to pay a larger monthly payment then someone with perfect credit. The total interest you pay on your car loan depends on a large number of factors, but your lender's primary concern is the risk of lending to an individual with poor credit. The higher risk you represent, the more should expect to pay out in the end.
On the plus side, successfully making those payments will improve your credit score, setting you on the right track towards creditworthiness. Shop around with care to make sure you get a deal you can afford.