Have you ever driven by a yard with a beat-up, rusted car sitting there neglected?
Maybe you wondered what happens to totaled cars after an accident. Both cars could end up with a scrap car business, such as Junk Car Medics when we buy junk cars.
Does that answer surprise you? Read on to learn more about how to make money buying junk cars, and what it could mean for you.
Is There Money in Buying Junk Cars?
Absolutely! If you have the skills, time, and resources, you can make decent money buying junk cars. Starting a scrap car business can be a lucrative venture if you take advantage of every square inch of the vehicles.
It may sound unbelievable that you could make money off a rusted, beat-up, old jalopy. However, Americans recycle more than 12 million cars every year to the tune of $22 billion in annual profits for the salvage industry. That's an impressive number by most standards and makes starting a junk car business economical if you have the know-how.
Finding Junk Cars to Buy
Like most other industries, you need to find the resources to make a profit. Junk cars may be more plentiful in some areas than others, but if you know where to look, you can find just what you need.
Look around your neighborhood for old, neglected, and abandoned cars. If you're feeling adventurous and have a reliable trailer or towing system, expand your search to nearby neighborhoods and beyond.
Ask local repair shops and dealerships for referrals. They may contact you when something of interest comes their way or send potential clients to you.
Place an ad on the classifieds or Craigslist asking for junk cars.
Post on social media platforms that you buy junk cars.
As with anything, be cautious when posting publicly. It might benefit you to set up a dedicated email address for this purpose. It's a safer place to direct all inquiries and referrals instead of your personal account.
Ways to Make Money Buying Junk Cars
Once you nail down your system for obtaining junk cars, you need to have a process in place to offload them quickly. You probably don't want to figure out where to store several junk cars for long periods of time.
Strip It And Sell The Used Car Parts
If you can get over the rusted or dented exterior, some of these junk cars still have viable parts that you can sell to people who need them. This option is ideal for those with car skills who can assess the status of a part and safely remove it. Some of the most common parts to strip and sell include:
Fuel pumps
Transmissions
Starters
Catalytic converters
Fuses
Alternators
Engines
Batteries
Tires with minimal to no wear
Rims
Note that sometimes parts require a little cleaning and repair work to bring it up to snuff. Remove any valuable parts and decide where you want to sell them. Remember, you can decline sales if you think there's a better offer elsewhere. You can make a decent profit off functional parts if you know where to sell used car parts.
How Much Money Can You Make on Average?
Things get complicated when you start dissecting a vehicle. You can expect to get substantially less than what a new part would cost, but the actual take would depend on the make, model, year, and condition of the part. For example, a rim won't fetch you nearly as much as a working transmission, and the better shape either part is in will impact your take.
Additionally, some parts can command more money based on mileage. Consider the difference between an engine with 100,000 miles on it compared to one with twice that number.
Repair It and Flip It
One man's trash is another's treasure, right? The same can be true for junk cars. Though it's common to see experienced car enthusiasts rebuilding classic models, that's not the only reason to repair and flip.
For people with exceptional car repair knowledge and skill, you could give a car a second life and help somebody out in the process. Buy a junk car with good bones, fix it up, and resell it to somebody as a used car. Be mindful to stick with reliable cars, unless it's a classic that you can bring back to life, like a Mustang or Corvette.
How Much Money Can You Make on Average?
Again, the amount you make can vary depending on the make, model, year, mileage, and condition of the vehicle. You also have to factor in any money that you spent on any replacement parts. That said, you may be able to get a few thousand dollars for a reasonably repaired vehicle.
To establish a listing price, you may want to compare similar vehicles on the Kelley Blue Book site and local listings through reputable vendors. It's a good bet that potential buyers will use the same resources and come to the table with a lower offer.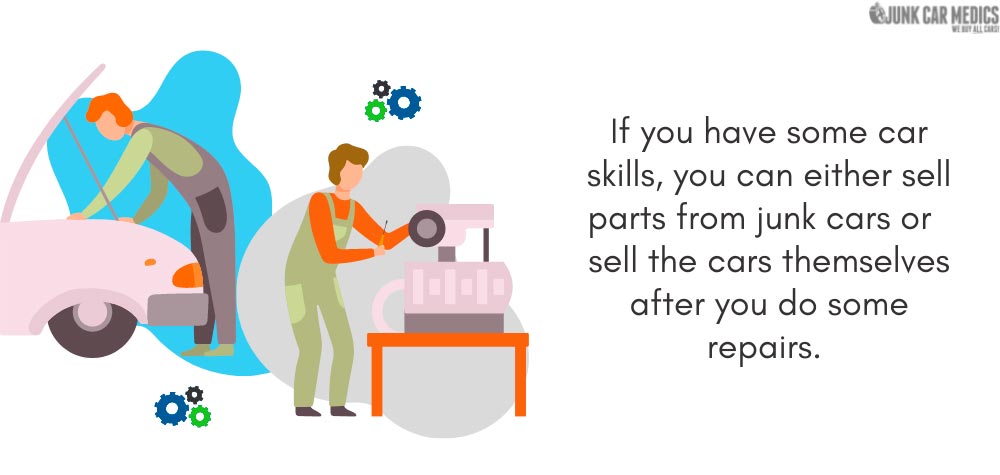 Recycle It for Scrap Metal
Not every vehicle is repairable, even if you managed to salvage some parts. When you realize that you stripped everything you can get, it may be your best bet to sell the rest as scrap.
Before you commit to a scrap yard, make sure you take everything of value off the vehicle and possess all necessary paperwork to establish ownership. Choose a licensed scrap yard that's compliant with all local regulations.
How Much Money Can You Make on Average?
You get paid based on the weight and current scrap metal prices. It's a good idea to research the best prices in your area before committing to one yard. You can find listings for scrap yards and the current local prices.
Sell It As-Is to Auto Salvage Yards
When all else fails, you can choose to sell junk cars as-is to a salvage yard. These businesses buy cars in any condition, including totaled vehicles. Some of them do all of the heavy lifting for you, including towing it away, and offer you cash in exchange for vehicles
To sell a car to a junkyard or salvage yard, you need to take the car in for an evaluation and sign over the title. It's a good idea to follow up and make sure the yard did transfer the title.
Note that it's important to call around to several salvage yards in your area to get the best price. Keep in mind that it may be worth taking a little less money in exchange for the company towing the car for you.
How Much Money Can You Make on Average?
When you sell a car as-is, you can expect to make at least a few hundred dollars per vehicle. It depends on several factors, including the car's make, model, and condition.
Important Tips When Buying Junk Cars
Starting a scrap car business might sound like the ideal job for you, but it's a good idea to do your research before diving in. There are a lot of ducks to get in a row with any car you buy, even the junk ones. Here are some tips and tricks to make your life easier.
Do not buy any vehicles over the phone or based on internet ads without seeing them in person.
For an easier time and more profit, only buy junk cars with no title issues. You have to show definitive proof of ownership before you can sell a vehicle, even to a salvage yard.
Make sure you pay less for the junk car than you expect to sell it for, including any parts you hope to strip and sell. That's why pricing research is very important.
Consider how much time you need to put into a vehicle. Hours of manual labor for a few hundred dollars may not be as worthwhile, especially if you have to purchase additional parts.
Purchase your own tow truck and trailer if you plan to commit to this business plan long-term. It will save you on rentals or paying a third party to transport your purchases.
Ask as many questions as it takes for you to feel comfortable with a sale. The right person or business won't mind answering the questions to close the deal.
Even if you have extensive car knowledge, brushing up on business, communication, and financial skills could be more helpful than you realize. Like any industry, there are people looking to pull one over on you.
Conclusion
As you can see, starting a scrap car business takes time, effort, and a little skill with cars, but it can be a way to generate income during these uncertain times. It may be helpful to forge partnerships with reputable businesses that specialize in buying junk cars. It's always nice to have a fallback plan in case you get overwhelmed or a car doesn't measure up once you get it home.
Even if you're just looking to make a little cash on the side, knowing how to make money buying junk cars could be an excellent way to do that!