Auto salvage yards nearby, also referred to as junkyards, wrecking yards, make it easy to get rid of old, non-running cars. Auto salvage yards nearby buy junk cars and resell scrap car parts. Dependable junkyards like Junk Car Medics have processes in place to get you the best price for your junk car. Junk Car Medics simplifies the process through an online offer form to sell cars without leaving the couch.
On average, auto salvage yards pay between $200-$500 for junk cars. This sum depends on a variety of factors, such as the make, model, age, and overall condition of the vehicle. Old junk cars are anywhere from 10-25 years old. If a newer car is totaled beyond repair, this can also be considered a salvage car and will be purchased for cash by a junk car buyer.
Junkyards will come to the seller to tow the car away. With cash in hand, the vehicle will be inspected and paid for, before it is removed to a salvage yard to be scrapped for parts. Junkyards are the best way to junk a car, as they pay cash and the offer process is quick, easy, and hassle-free.
Add a header to begin generating the table of contents
Sell Your Car With Local Auto Salvage Yards Paying Top Dollar
Junk Car Medics provides quick and fair offers for any junk cars near you. The online quoting system is modern and efficient. Junk Car Medics has built a painless process from start to finish to get cash in the pockets of junk car owners who want to get their old ride out of the driveway.
Junk Car Medics purchases 5,000 vehicles a month by working with various local car yards and junk car buyers. This allows the best price possible to be offered to the seller, which is why Junk Car Medics is the number one junk car buyer in the United States with thousands of happy sellers.
Unlike local salvage yards, Junk Car Medics is available 24/7 to provide a quote for your junk car. Through our wide-ranging partner system, you'll quickly receive a fair offer for your old ride and you can be assured that you're getting the best offer to junk your car without ever leaving your home.
Do Junkyards Buy Cars for Cash?
Yes, junkyards near you buy scrap cars for cash. Junkyards are in the business of purchasing junk cars to scrap for parts. They then sell these valuable parts for cash to other customers, who are looking for components such as a catalytic converter, an engine, or even a replacement bumper.
When purchasing junk cars, junkyards will negotiate with the seller to get the vehicle as cheaply as possible. Sellers should come in with a fair quote in mind, to avoid getting swindled out of cash. Junk Car Medics takes the haggling out of the equation and instead, provides a painless quote via an online form for those who don't want to endure frustrating negotiations.
Wrecking yards will buy vehicles of all makes, models, and conditions. Depending on the configuration of factors, they will alter the price they pay for a junk car. If the vehicle has an operable transmission and engine — they can turn a profit on the vehicle by selling parts.
Salvage yards will sell parts and vehicles. People who are seeking to purchase a car for a small amount of money will often look at junk yards to see if there's any goldmine that's been cast aside. These make for good project cars and they can be purchased for a small sum, depending on whether their parts have already been salvaged.
How Much Do Junkyards Pay for Cars?
The amount of cash that junkyards will pay for cars depends on the location and the vehicle in question. Some make and models will draw more cash than others, as well as the year the vehicle was first sold. Depending on where you're located, you can expect the cash value to fluctuate quite a bit.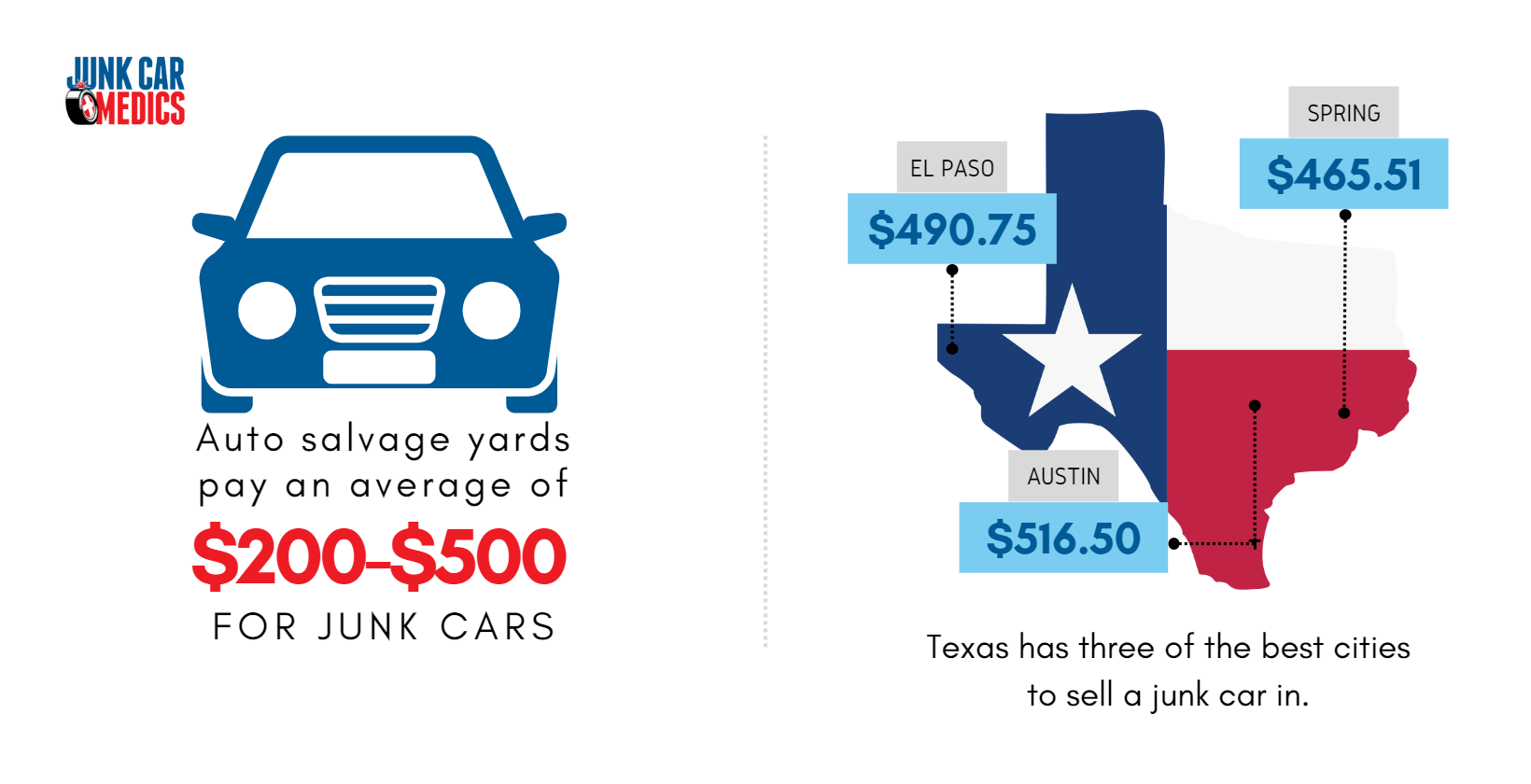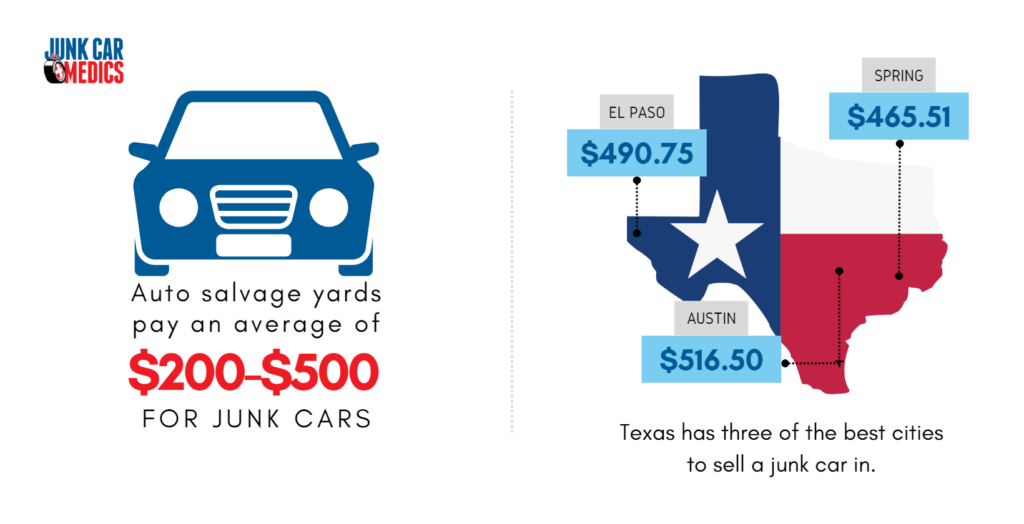 Junk Car Buyers will purchase junk cars all across the country. The top five cities with the highest average price of junk cars originating there are listed below.
Austin, Texas — $516.50
El Paso, Texas — $490.75
Bronx, New York — $473.70
Spring, Texas — $465.51
Miami, Florida — $462.45
Texas cities fall into three of the top five spots, indicating that the Lone Star State is a solid choice for selling a junk car. The best place to sell a salvage car is where you're located. Junk Car Buyers is happy to provide a free, no-commitment quote for your vehicle.
Best Ways to Find Junkyards Near Me
The first step to junking a car for cash at a local wrecking yard is to do a quick online search. This will pull up names of businesses and locations that can provide you with a jumping-off point. Take a look at reviews and what type of quote system each junk yard has, such as an online form or a call-ahead system.
Another helpful route to take when finding a local scrap yard is to ask friends, family, and coworkers if they have worked with a local operation. First-hand experience is a great selling point and can build trust and confidence in the car junk yards. When a close friend had a great experience with a scrap yard and got a fair cash value for their car, they're more likely to share this information.
Depending on where you live, it's more than likely that there are several local salvage yards nearby. In metropolitan areas, there is guaranteed to be a wide range of options as more residents equate to more vehicles, therefore there will be more junkyards in business.
Qualities of a good junkyard include a functional website with information on the services provided. If they provide an online quote system, this is convenient for the seller. After calling around to a few different locations, the seller will have an idea of the best price they can get for their junk car.
5 Best Junkyards Near Me That Buy Cars
With so many junkyards and junk car buyers in the industry, it can feel overwhelming to choose the best one. Listed below are the best junkyards near you that buy cars for top dollar.
1. Junk Car Medics
Junk Car Medics is the largest car buyer in the United States, which is an important distinction from their competition. They work with the below buyers as well to get the best possible price for you. Their unique online offering system is available 24/7 and provides an instant quote based on the information you input about your vehicle.
Junk Car Medics is a trusted name in the junk car buying industry and this is proven by the many positive reviews left by happy sellers. The efficiency of the system, from receiving a quote to having the vehicle towed away, is second to none. The seller will have a check in hand and the hassle of storing a junk car on their property off their plate in no time.
2. Pick n Pull
Pick n Pull is a nationwide junk car buyer and they currently operate with several store locations across the United States and Canada. They provide quotes online and over the phone, depending on the preference of the seller.
Checks can be handed over by the tow truck driver when they take the junk car away or they can be mailed to a home address. Alternatively, the payment can also be picked up in-store for those who live near one. Pick n Pull operates on a numbers game, so the offers that they're able to make tend to be on the lower side. Junk car sellers may find that they find higher competing offers for their decrepit vehicles.
3. Pull a Part
Pull a Part is not as wide-ranging as some other junk car buyers as they only operate in 20 US cities. They will purchase any vehicle so long as it doesn't have major components missing, such as the engine or the transmission. The vehicle must also have all four wheels intact.
The business provides a free online quote. When seeking to sell their junk car, sellers should collect several quotes to ensure they're getting a fair price. Once an offer is accepted, Pull a Part will send a tow driver to remove the vehicle and provide cash to the seller.
4. Copart
Another trusted name in the car buying industry, Copart is a reliable option for selling scrap cars. While their immediate focus is on online auctions and not on buying cars, they still operate in hundreds of areas around the United States and Canadian territories.
Copart has an online offering system that requires the seller to input information about the vehicle to receive an accurate quote. Generally, sellers can make more money from their junk cars via a competitor.
5. Peddle
Peddle is another nationwide junk car buyer. They were one of the first businesses to get involved in buying junk cars and have been operating as a dependable source of cash for scrap cars ever since. Peddle works with a larger network of other buyers to sell across all 50 states.
While Peddle's business model is similar to Junk Car Buyers, the downside is that they can be difficult to communicate with. Their reach has become so expansive that there is a shifted focus away from service and communication. Some sellers want this personalized communication that other options can provide.
Junkyards Near Me Online Directory
Below is a directory showing nearby auto salvage yards. There are many options to choose from and at any given time, there are multiple competitors within the same locale for drivers to buy and sell from.
Do Junkyards Buy Cars With No Parts?
Yes, junkyards will buy cars that have no parts. They will not offer as much cash for them, as they are less valuable. When a vehicle is missing key parts, the only value left is in the metal. If the car is heavier, then it will be worth more than a lighter car since it's based on the weight of scrap metal that can be salvaged.
Junkyards look for valuable parts such as catalytic converters, engines, transmissions, and other expensive components that can be removed, refurbished, and sold. When a car has no parts left, it makes more sense to sell it to a scrap yard. Scrap yards
Between 12-15 million cars are junked each year in the United States. This is beneficial to the environment since up to 80% of a vehicle can be scrapped for metal and recycled. This auto recycling industry provides enough steel to produce over 13 million new vehicles between the United States and Canada.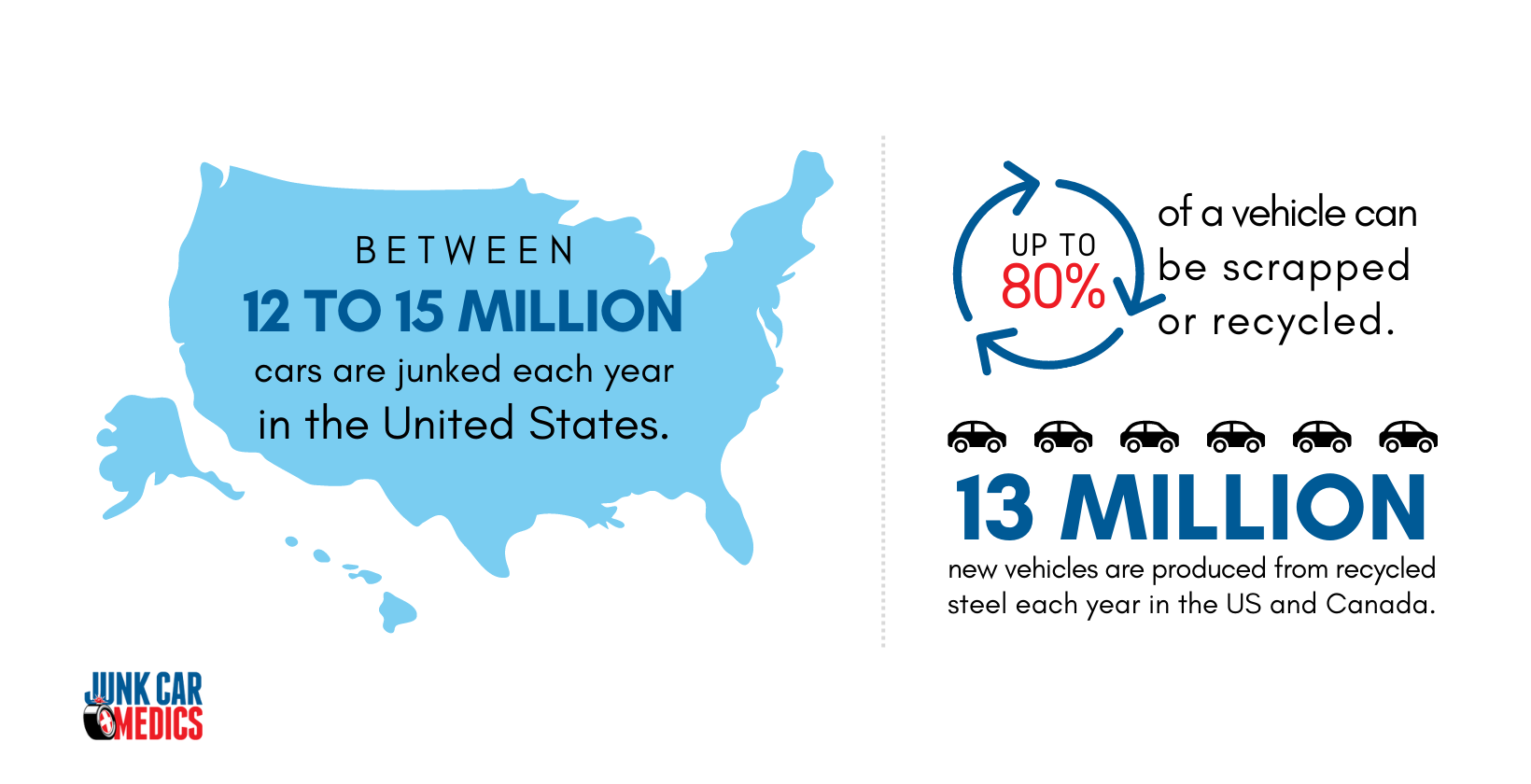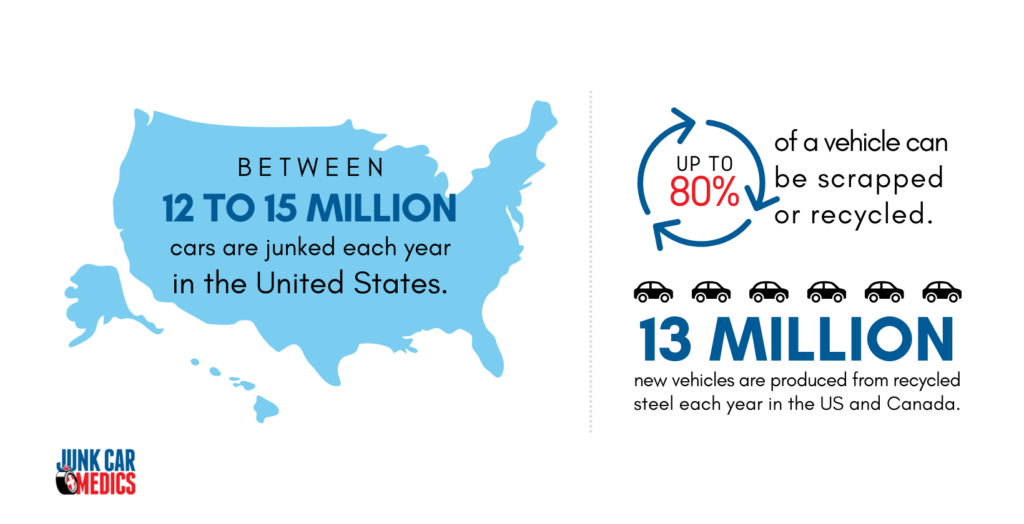 At any given time, there are well over 100 million used auto parts that are searched in online inventory databases. Scrap yards that are in highly populated areas may list 100s of new cars a month. This used part industry grows year after year, with an average of 1% growth per year between 2017 and 2022 according to IBIS World.
Do Auto Salvage Yards Offer Free Pick-Up?
Yes, salvage yards provide built-in free pick-up service for those selling a junk car to them. They have tow trucks, as well as flatbed trucks to pick up cars free of any extra charges. If a junk yard is requiring you to pay a fee for a tow service, find a different junk car buyer.
While the price of the tow isn't necessarily "free," it is baked into the price that they offer for a junk car. This service is taken care of by the auto salvage yard and should never become the responsibility of the seller to have their junk car towed to the yard. Various considerations factor into the cost of pickup, such as the time it takes to drive to the junk car and how much fuel it takes to get there.
For junk car sellers who are located in a rural area, they may receive a lower cash offer than someone located close to the salvage yard. This is how the junkyard pays its employees and keeps its operation running smoothly and remaining profitable.
What Vehicles Can I Find at a Salvage Yard?
There is a diverse range of makes and models of vehicles at salvage yards across the country. Where you live may dictate which cars are more commonly scrapped, though there are a few consistently junked models that you can count on seeing. There are even junkyards dedicated to popular brands, such as Honda. Due to the high demand for Honda parts, some car yards specialize in the make.
Some popular makes and models that are found at junkyards across the United States include:
Nissan Altima
Toyota Corolla
Volkswagon Golf
Lexus LS 400
Honda Accord
Honda Civic
Popular domestic models include:
Ford Escort
Chevrolet Cavalier
Chrysler PT Cruiser
Ford Taurus
Dodge / Chrysler Minivans
Just because a vehicle is commonly found in a junkyard isn't an indicator that the car is of low quality. It often means that the car drove hundreds of thousands of miles before giving out, as all vehicles inevitably do. All vehicles have to go somewhere at the end of their life, whether it's somebody's driveway under a tarp or to the tow yard.
Not all junkyard finds are so common. Exciting finds can always be made at a Texas-based classic car junkyard. Vintage ricks, buses, cars, and pickups — they've got it all. Old Car City USA boats as being the "world's largest known classic car junkyard." The vehicles here, while not always in the best shape, are salvageable in the right hands with the right tools. Dodge Chargers, Challengers, Chevrolet Impalas, and a swath of muscle cars can be found here.
There is a list of reasons why a vehicle ends up at a junkyard and the most common reasons are that they were wrecked beyond repair or they've simply met the end of their expected life and they cost too much to drive. If a 20-year-old car is requiring constant repairs, it makes more financial sense to junk it and invest in a newer, more reliable vehicle.
Newer cars, such as releases from the past 5-7 years, that end up in junkyards are usually due to being totaled in a wreck. When insurance deems a vehicle totaled, it means that they don't make financial sense to repair it to get it back on the road.
What is the Difference Between a Junkyard, Savage Yard, Wrecking Yard, and Auto Recycling Yard?
There is virtually no difference between a junkyard, a salvage yard, a wrecking yard, and a auto recycling yard. They are different names for the same type of business. The local options can vary widely in reviews, so it's recommended to do an online search before reaching out to any type of junk or salvage yard to sell a junk car.
All of these businesses are in the game of dismantling wrecked and junked cars. The usable parts are then sold to owners of functioning vehicles and thus a profit is turned. Junkyards are the most common term in America, with wrecking yards and salvage yards being colloquial terms in Canada and European countries. Learn more about the definition of a junkyard and the various synonyms.
What Do Junkyards Near Me Do?
The core purpose of a junkyard is to buy junk cars and sell scrap parts. This is a business model and it's been around for as long as cars have been on the road. People inevitably need a way to get rid of an old, broken-down car that is no longer providing reliable use to their home and family.
Junkyards also help to keep the environment clean of chemicals and they process the number one most recycled item in America — vehicles. It's beneficial to the planet that vehicles are safely recycled, as it helps to reduce emissions and pollution into the atmosphere.
What Makes a Good Junk Yard Great?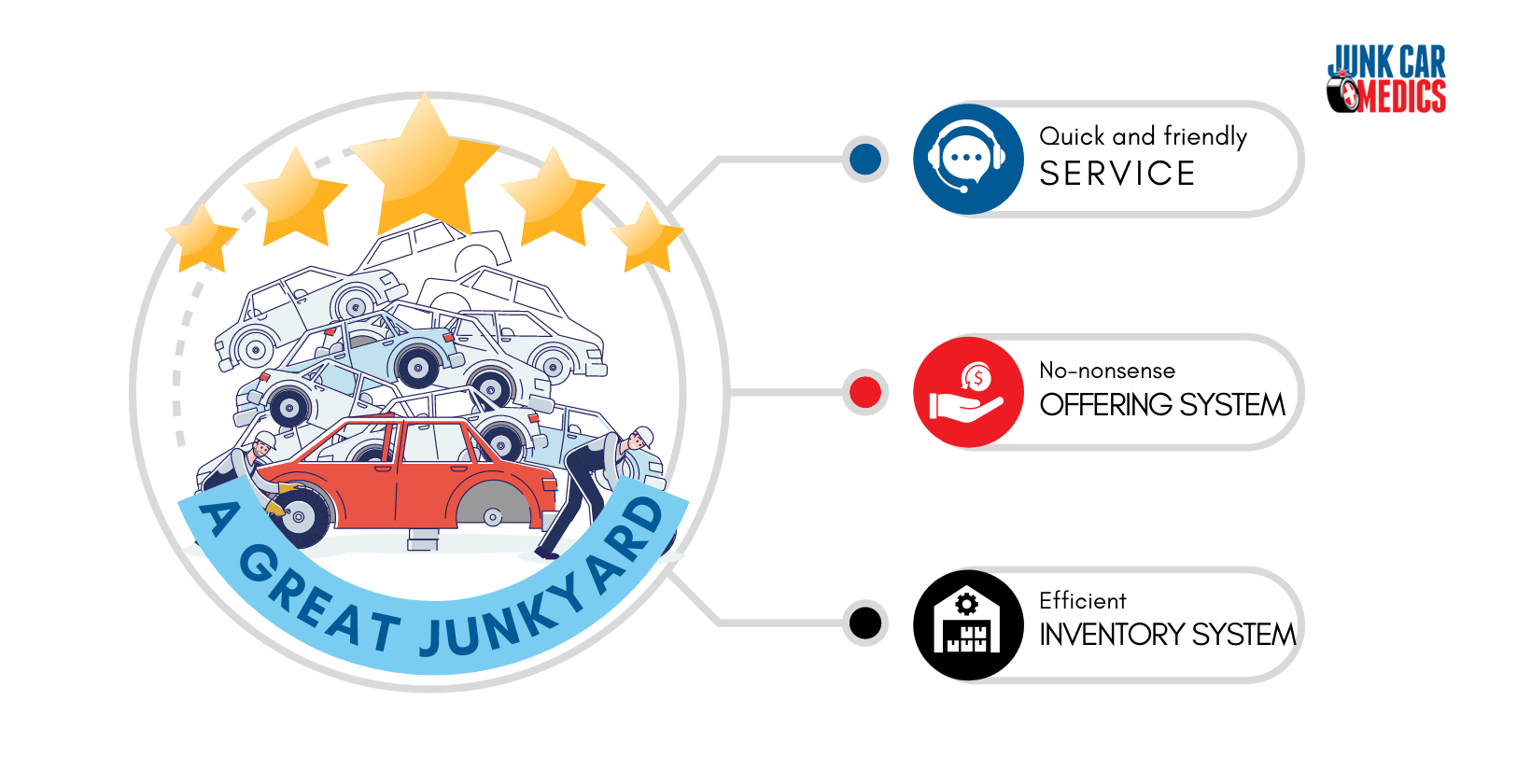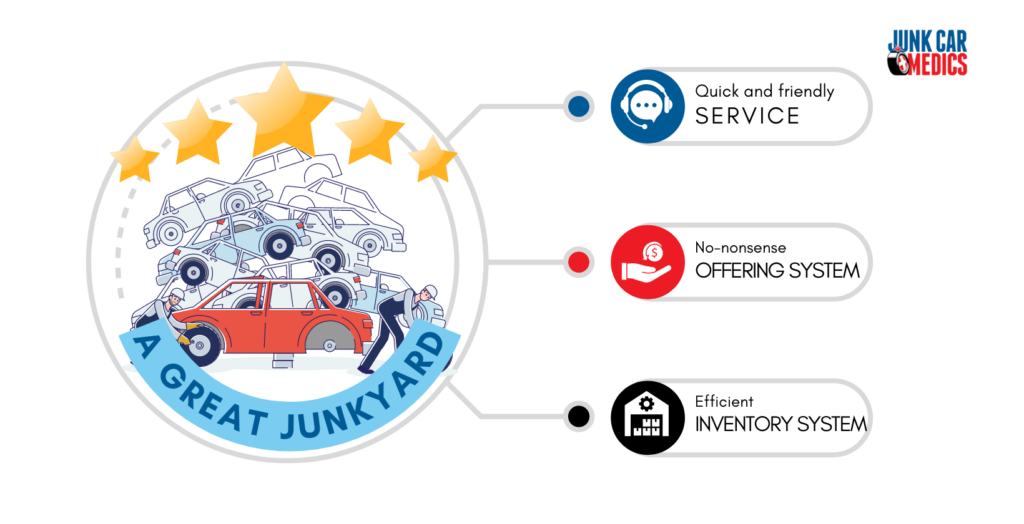 There are many mediocre junk yards out there. For a junkyard to be truly great, first it must provide quick and friendly service. Nobody wants to be haggled for trying to sell their junk car for cash. If sellers feel that they're being lied to about the value of their junk car and harassed into selling it, the junkyard will receive less than stellar reviews.
Secondly, great junk yards will provide a quick offering system that doesn't waste the time of the seller or buyer. The quote should be fair and based on the current market value of the car. Professional junk yards will have an idea of what different makes and models can range from and will be able to provide this information to the seller.
Lastly, a great car yard will have some type of efficient inventory system in place. Whether they outsource a service or keep track of their parts themselves, customers should be able to easily look up part numbers on their website. This helps the junkyard make sales and it helps customers find the parts they're looking for, without wasting time.
Are Junkyards Near Me Open All the Time?
No, junkyards are not open all the time. They have regular business hours like other companies that can be found through an online search or via their website. This is because they must have employees on site to answer emails, phone calls, and online form quote requests. Many local salvage yards don't outsource this type of work, meaning they rely on employees being physically present at the location.
This is why online junk car buyers, such as Junk Car Medics, are so convenient for people looking to get cash for a scrap car. The website is available 24/7 and quotes can be requested and received at any hour of the day. This makes the process much quicker, with less concern about business hours.
What is the Difference Between a Salvage Yard and a Scrap Yard?
Despite junk yards, salvage yards, and wrecking yards meaning the same thing — scrap yards have a key difference. Scrap yards deal in all metal components, whereas the other competitors deal in vehicles. Junk yards and salvage yards remove and salvage valuable parts before scrapping the car for metal.
Contacting a salvage or junkyard will yield more positive results. The junkyard will consider the car in its entirety, including any valuable parts remaining. They will sell the parts and turn a profit, therefore allowing them to provide a better cash payout to the owner upfront.
A scrap yard deals exclusively in metal, which takes the car down to its frame. They have a limited price they can offer for common metals such as zinc, copper, and aluminum. A scrap yard doesn't care about the inner workings of the vehicle or valuable parts left under the hood. Once a salvage yard has sold everything of value, the vehicle will likely end up at a scrap yard where it will be crushed and recycled.
Do Auto Salvage Yards Sell Car Parts?
Yes, auto salvage yards sell car parts. This is one of the biggest parts of their business model. Buying a used car part from a junk yard is a great way to get a discounted rate when compared to a new part. When it comes to more expensive components, such as transmissions or engines, many people opt to find a used or refurbished one instead of shelling out thousands.
Junk yards will remove valuable parts, as well as empty out any of the remaining fluids from the vehicle. Once the car has been pulled apart, the rest of the frame will be crushed for metal. This can be sold at whatever the current going rate for metal is, which can fluctuate day by day. The metal is crushed and then recycled, ready to be used for something else.
How to Find Auto Salvage Yards That Sell Car Parts
Most auto salvage yards also sell car parts. To ensure that this is accurate before you make the trip, complete a Google search to see what services the auto salvage yard provides. Many will have some type of inventory listed on their website, which helps customers know what to expect before heading over to the junkyard.
Another option is to call the salvage yard to inquire about a particular part. They will be able to provide accurate, up-to-date information on the status of their inventory and whether they will be able to sell the part.
What Do Used Auto Parts Cost at Junkyards?
Used auto parts are sold at a discounted rate at junkyards. Buyers can expect up to an 80% discount when compared to new OEM parts. This is significant savings for those seeking to repair their vehicles on a budget.
The rates are further discounted at U pull junkyards. By removing the parts yourself, the salvage yard doesn't have to pay employees to do the work upfront. If you're mechanically inclined, this is a solid route to take for project cars and vehicles that need a few pieces to get running again.
Junkyard prices for valuable parts such as engines and catalytic converters are often steeply discounted.
$291 engine for a 2013 Nissan Altima
$100 engine for a 2015 Toyota Camry
$440 engine for a 2014 Honda Accord
$350 catalytic converter for a 2005 Toyota 4Runner
$250 catalytic converter for a 2011 Honda Civic
$125 catalytic converter for a 2016 Honda Genesis
Helpful websites such as getusedautoparts.com allow those looking for junkyard prices on particular parts to find them within their radius. Instead of searching for each junkyard individually, this website brings together hundreds of salvage and local junkyards in one convenient place.
How Do I Know if a Junkyard Has the Parts I Need?
The most straightforward way to determine if a local junkyard has the parts that you're looking for is to call them or search via their website. Depending on the type of website and inventorying system they have, you may be able to type in the part you're looking for online.
Some salvage yards are less modern in their online presence and you may need to call them and speak with an employee. They will be able to provide you with their inventory list before you head down to check for the part yourself. This can be more time-consuming and frustrating in today's age of instant information.
Which Auto Salvage Yards Have Online Inventory?
Many auto salvage yards have moved to an online inventorying system, as this is easier for employees and customers. Having an online list of what's in stock keeps the process of searching for a car part more efficient and streamlined. There are services such as getusedparts.com that some salvage yards opt to use.
It's rarer for a junkyard to keep its inventory logged, as it is generally easier to use a service such as car-part.com. These services have gained popularity over the years and they're commonly integrated into an auto salvage yard's website.
What Scams Are Junkyards Known For?
The most common junkyard scam is the bait-and-switch. With this scam junkyards will make you an offer for your junk car and offer to remove it for free. The junkyard will then arrive to remove your car and put it on the flatbed. At that time they will tell you they can only pay you  a certain amount, which is less than you agreed to. You then have to decide whether to sell your car for less or start the process all over. The bait-and-switch is the most common of a handful of junkyard scams to watch out for.