To sell a junk car to a junkyard is one way to get rid of unwanted vehicles. Selling a junk car to a junkyard is pretty straightforward. Understanding the process to sell your junk car to a junkyard will help you choose the best junkyard to sell your car. From paperwork to payment, follow these 7 steps to sell a car to a junkyard.
1. Gather the necessary documents.
The first step to selling a car to a junkyard is to gather the paperwork needed to transfer ownership of the vehicle. You must be able to prove ownership of the junk car to sell it to a junkyard. When the paper title is not available it may take days or weeks to get the documentation you need to prove ownership. In particular it takes more time to get a duplicate or clear title if needed, especially when there is a listed lien holder or the lost title was issued by another state.
The documentation required by the junkyard is dictated by the state in which you live. In most cases a certificate of title, salvage certificate, nonrepairable certificate, or other junk title is required to sell a car to a junkyard.
Other documentation that may be required to sell a car to a junkyard in your state include:
Bill of Sale: A Bill of Sale is required to sell a car to any entity in every state. The bill of sale is essentially the junkyard's receipt for the purchase of the vehicle.
Junk Title Application: Some states require junk car owners to apply for a junk title or junk status before the vehicle can be salvaged and recycled. Check with your local DMV.
Title Transfer Application: Many states have a title transfer application to complete when a vehicle changes hands, but often these are not required when selling a car to a junkyard.
Lien Release: A lien release is required when the vehicle is used as collateral for a loan, the loan has been repaid, and the certificate of title still shows the lienholder. If you have already gotten a new title with the lienholder removed the lien release is not necessary.
It may be possible to sell your junk car to a junkyard without a title, but other forms of proof of ownership such as registration or bill of sale will be required. To determine if you can sell my junk car without a title check your local DMV website. Some states have separate rules for selling a car for scrap and selling a used car, so be sure you are reviewing the correct requirements.
2. Contact the best junkyards near you for junk car quotes.
The second step to junking a car with a junkyard is to choose a junkyard near you, which starts with discovering the best junkyards in the area. Begin with a locally targeted Google search for junkyards near me and look at the reviews and ratings. You can also find online reviews on social media and sites like Yelp or the BBB.
Look for these key points while reading reviews.
Whether or not the junkyard buys junk cars from individuals or if they only buy cars from car auctions and junk car dealers
Customer service experiences, including how negative experiences are addressed and rectified
Evidence of transparency and integrity, such as paying quoted prices for junk cars
Average prices paid for junk cars, or whether or not people feel they get a fair deal
The most reputable junkyards will have a mix of positive, negative, and mixed reviews with an average 4.1 to 4.9 star rating. Having all 5 star ratings is generally an indicator that the reviews were solicited rather than genuine. Regardless of how good the junkyard might be, every company has at least a few negative or less than positive reviews from time to time.
Once you have a shortlist of the best junkyards, contact each of them for a junk car quote. Keep notes including the name and contact details of the junkyard, the quoted price, and details of junk car removal, if required. Some junkyards may have an online quote form, but for most you must call the junkyard to get a quote for your vehicle. Keep in mind that the quote will change if you arrive and the vehicle condition or title status is not as reported.
Factors that should affect junk car appraisals include vehicle year, make, model, condition, and location. Some vehicles are in more demand than others. Whether or not you require junk car removal or will be delivering the car to the junkyard yourself also affects how much cash for cars from junkyards.
3. Examine and compare cash offers for junk cars from shortlisted junkyards.
The third step in selling a car to wreckers is to compare the offers using the notes taken in step two. Keep in mind that the best price is not necessarily the best value. Read all information provided with the junk car quote carefully and look for any hidden junking fees or charges.
Aside from the given junk car price, one must examine all details of the offer, especially junk car removal. Junk car removal can significantly impact the actual costs associated with selling a car to a junkyard. The best junkyards will have their own towing equipment and operators to keep towing costs low and roll them into the junk car quote. These are the best deals.
However, many junkyards contract with outside towing companies or require the vehicle seller to arrange for towing themselves. In either of these cases, the actual costs of junk car removal are far more than those mentioned above. Because of this it can be more profitable to accept a lower cash offer to save on towing fees.
4. Schedule junk car pick up or towing to the junkyard.
Junkyards that handle towing themselves will schedule pick up of the vehicle and provide all details so that you are ready to have the vehicle removed when they arrive. This is true whether they provide the equipment and manpower or contract with another towing service as part of their service.
Make sure you schedule junk car removal for when you will be on site so that you can sign the necessary documents to transfer ownership and receive payment for the junk car. The tow operator will act as an agent of the junkyard to accept these documents and provide cash or check to pay for the junk car when they have been contracted directly by the junkyard.
When the junkyard does not offer towing services and you must arrange these for yourself, contact local towing companies and use the process in steps two and three to choose the best towing service. You must be present when the vehicle is delivered to the junkyard so that you can sign over ownership documents and receive payment. Don't forget to arrange transportation to and from the junkyard, although you may be able to ride there with the tow operator.
5. Finish the sale of the junk car to the junkyard.
The fifth step in selling a car to the junkyard is to complete the sale. When the vehicle is removed from your property, the final sale of the vehicle will take place when the car is picked up. The tow operator will review your ownership documents and the condition of the vehicle to ensure all is as reported for the junk car quote. They will then require you to endorse the title and other necessary documents for transfer before they load and tow the junk car. Payment will be made when the car is removed, usually by check.
The process is similar when you deliver a junk car to a junkyard. The junkyard attendant will review the paperwork, and they will give a junk car quote if you have not already received one. The attendant will then verify the condition of the vehicle. Once the vehicle is accepted the payment is made, usually by cash. Some junkyards pay by check whether the vehicle is delivered or the junkyard removes it.
6. Notify your state of the vehicle sale to the junkyard when required.
Some states require vehicle owners to notify the DMV when they sell a vehicle, regardless of the circumstances. Other states only require this reporting when selling a vehicle to an individual. Check with your local DMV to determine what notification, if any, is required. Most states now require vehicle owners to notify the DMV any time there is a vehicle transfer, even if the junk car buyer is required to report their purchase of the vehicle. These requirements are in place to help states enforce title and registration laws.
7. Consider a private sale or selling the vehicle to a junk car buyer.
If there are not many junkyards near you or you feel the offers you are getting from junkyards are too low, you might want to consider a private sale or selling the vehicle to a junk car buyer. Private sales of junk cars are more common than you might think, and the demand encompasses more than just jalopies and classic cars.
Even newer salvage vehicles are in demand by hobby mechanics making repairs to another vehicle. Used car parts are much cheaper than new parts, and someone needing many parts from the same vehicle can save money by purchasing an old car, salvaging it for parts, and recycling the scrap car shell with a local vehicle dismantler.
Junk car buyers, also called junk car dealers, are another way to sell an unwanted car. Junk car buyers act as middlemen between junk car owners and the junkyards and wrecking yards that salvage them. Junk car buyers can often give more cash for cars because they offer junk car removal services themselves to keep towing costs low. This increases offers from junk car buyers. Junk car buyers are also a great option if there are not any junkyards in your city or surrounding area because they will be able to sell the junk car to a vehicle recycler at auction.\
How Much Do Junkyards Pay For Cars?
The amount of cash that junkyards will pay for cars depends on the location and the vehicle in question. Some make and models will draw more cash than others, as well as the year the vehicle was first sold. Depending on where you're located, you can expect the cash value to fluctuate quite a bit.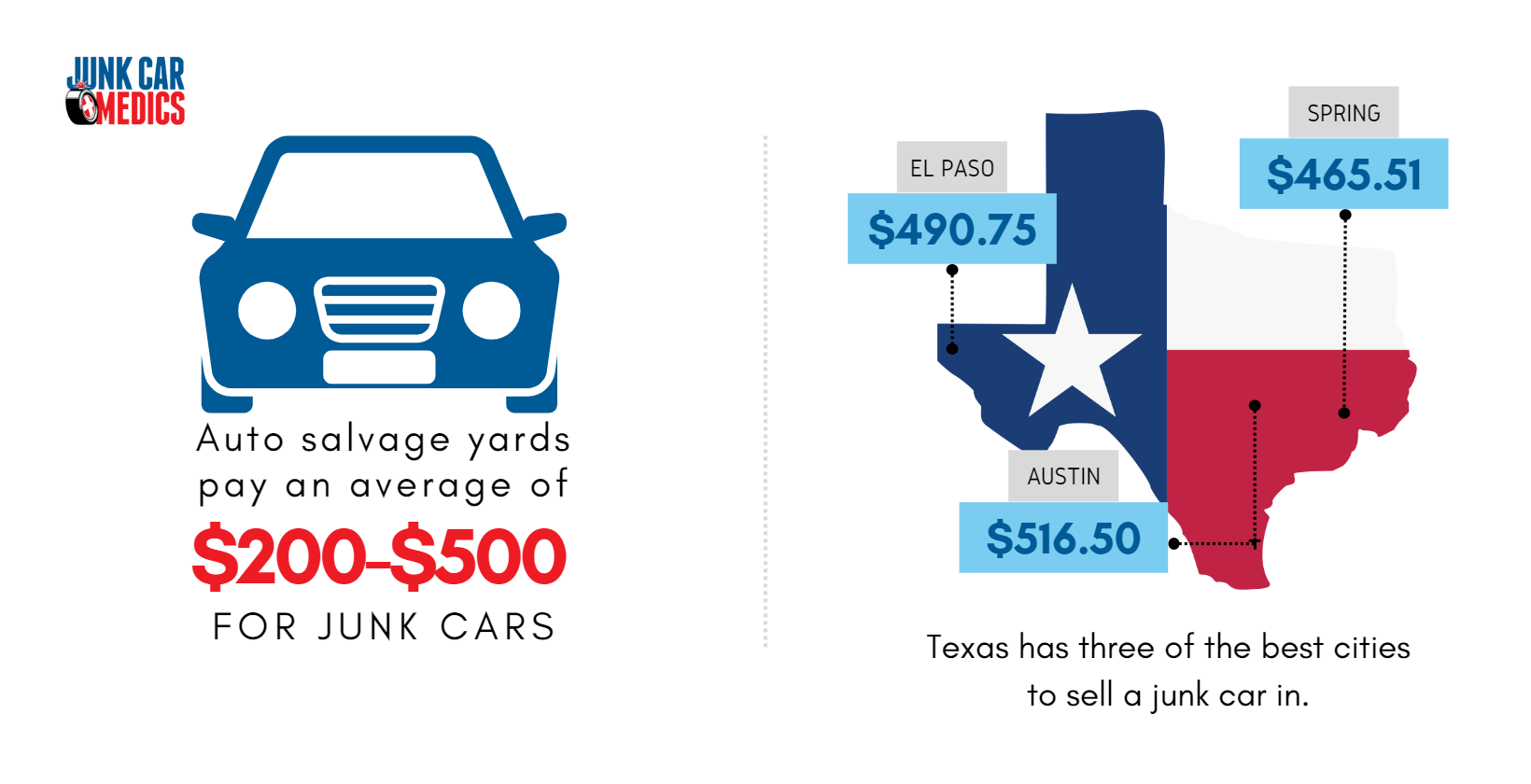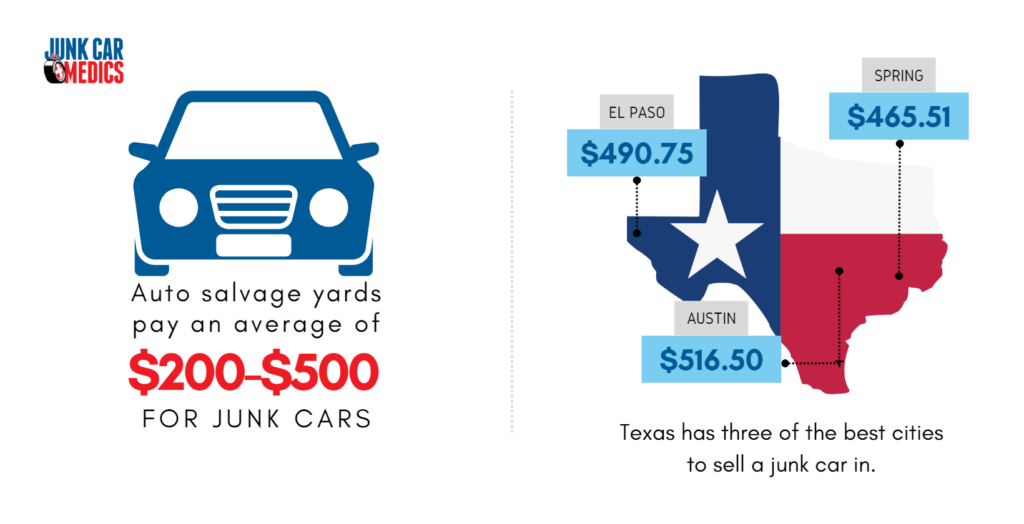 Junk Car Buyers will purchase junk cars all across the country. The top five cities with the highest average price of junk cars originating there are listed below.
Austin, Texas — $516.50
El Paso, Texas — $490.75
Bronx, New York — $473.70
Spring, Texas — $465.51
Miami, Florida — $462.45
Texas cities fall into three of the top five spots, indicating that the Lone Star State is a solid choice for selling a junk car. The best place to sell a salvage car is where you're located. Junk Car Buyers is happy to provide a free, no-commitment quote for your vehicle.
FAQs to sell a car to a junkyard
A junkyard is also known as a scrap yard, auto salvage yard, auto dismantler, vehicle recycler, or used car parts resource. Junkyards store end of life vehicles while they are being salvage of reusable parts. Once all components that can be sold as used car parts have been removed, the junkyard will either recycle themselves or sell the vehicle to an auto recycler for final crushing and recycling. Some junkyards allow patrons to pull their own parts from these stored junk vehicles as a cheaper alternative to used car parts.
Selling a junk car to a junkyard is the easiest and most responsible way to dispose of a vehicle when it is no longer of use. Salvage vehicles and those that have been damaged, wrecked, destroyed, or otherwise totaled are in high demand at junkyards because most of their major mechanical parts could still be usable. A junkyard is the best entity to recycle junk cars because they salvage as many reusable parts as possible, dispose of hazardous automobile waste properly, and recycle the metal for purposes in many industries
In most cases the only document required to sell a junk car to a junkyard is the vehicle title. Junk titles, salvage titles, and nonrepairable titles can also be used to sell a junk car to a junkyard. Any other documentation or forms that must be completed for the junk car transfer will be provided by the junkyard, either when you schedule junk car removal or when you deliver the junk car to the junkyard.
Some states allow an application for duplicate title or transfer of title to allow sale of junk cars to a junkyard without a paper title in hand, but registration will be required to show proof of ownership. You will also need to prove your identity, usually with a valid driver's license.
Selling a junk car in a junkyard does not take very long. When you arrive with the junk car you may have to wait in a queue. You can avoid lines and wait times by checking Google local listings and avoiding peak times. The junkyard will examine the condition of the vehicle, review and help you complete or endorse required documents, and pay cash for the vehicle. The entire process does not take more than about 15 to 20 minutes once you are in front of a junkyard attendant.
Yes, most junkyards buy junk car without titles as long as other requirements are met. Most states offer a process for selling junk cars without a title when the vehicle was previously titled or registered in the owner's name but the paper title is missing, lost, damaged, or destroyed. Whether or not the junkyard can buy junk cars without titles depends on the state and the circumstances surrounding the title status.
Scrap car prices vary based on year, make, model, condition, and whether or not you have the title. Whether the junkyard picks up the vehicle or you deliver the car to the junkyard yourself also affects how much cash for cars. To get the most cash for cars sell your car to a junkyard with all major parts, even if they don't work. The engine, transmission, drive train, and frame have the most recyclable metals.
Selling junk cars in a junkyard is worth it if you have an easy way to deliver the junk car. When paying for towing fees to deliver a car to a junkyard you decrease the profitability of doing so. When local junkyards do not offer their own towing and junk car removal service, selling junk cars to junk car buyers may be a better choice. Junk car buyers can often give higher prices for junk cars than junkyards, even though the vehicles go to a junkyard either way.