The United States is a very large country, with hundreds of millions of vehicles driving around on the roads of the 50 states within it. Here at JunkCarMedics.com, we were wondering which automotive brands were recycyled the most in each of those states. The answers make for very interesting reading!
How did we do it?
We analyzed 30,000 recycled cars that we bought during 2020. We broke them down by brand and the state in which they were sold to us. Cars from the District of Columbia were also included. We then tallied them up to see which brand would claim the title of that state's Most Recycled Brand (MRB). We then looked at this data on a regional basis, to see if there were any trends connecting the different geographical areas of the country. Here's what we found:
How many different brands made the list?
We discovered a total of nine brands that could claim to be the Most Recycled Brand in at least one state. Here's the list:
Most Recycled Brand in # of States
Ford - 19
Nissan - 11
Honda - 7
Chevrolet - 5
Toyota - 4
Hyundai - 2
Jeep - 1
Dodge - 1
Pontiac - 1
Ford was the leading nationwide brand by a wide margin, claiming Most Recycled Brand status in a total of 19 states. In second place behind Ford was Nissan, the MSB in 11 states. Honda came in third, leading in seven states. Next was Chevrolet in fourth place, topping the ranks in five states. Toyota places fifth with four states, and Hyundai follows in sixth place with two states. The final brands on the list are Jeep, Dodge, and Pontiac, all tying for seventh place with one state each.
Which brand is the Most Recycled Brand in each state?
Here's a breakdown of the specific states in which each of these brands was the Most Recycled Brand:
Ford
Alabama
Arkansas
Colorado
Hawaii
Illinois
Indiana
Kentucky
Maine
Michigan
Minnesota
Missouri
Montana
North Dakota
New York
Oregon
Pennsylvania
South Carolina
West Virginia
Wyoming
Nissan
Arizona
Connecticut
Dist. of Columbia
Florida
Mississippi
North Carolina
New Jersey
Nevada
Tennessee
Texas
Virginia
Honda
California
Georgia
Massachusetts
Maryland
Oklahoma
Utah
Washington
Chevrolet
Iowa
Kansas
Nebraska
New Hampshire
Ohio
Toyota
Alaska
Louisiana
New Mexico
Vermont
Hyundai
Jeep
Dodge
Pontiac
---
What are the Most Recycled Brands in each region?
We also looked at each Most Recycled Brand (MRB) on a regional basis, to see if any notable patterns emerged. Here's what we found: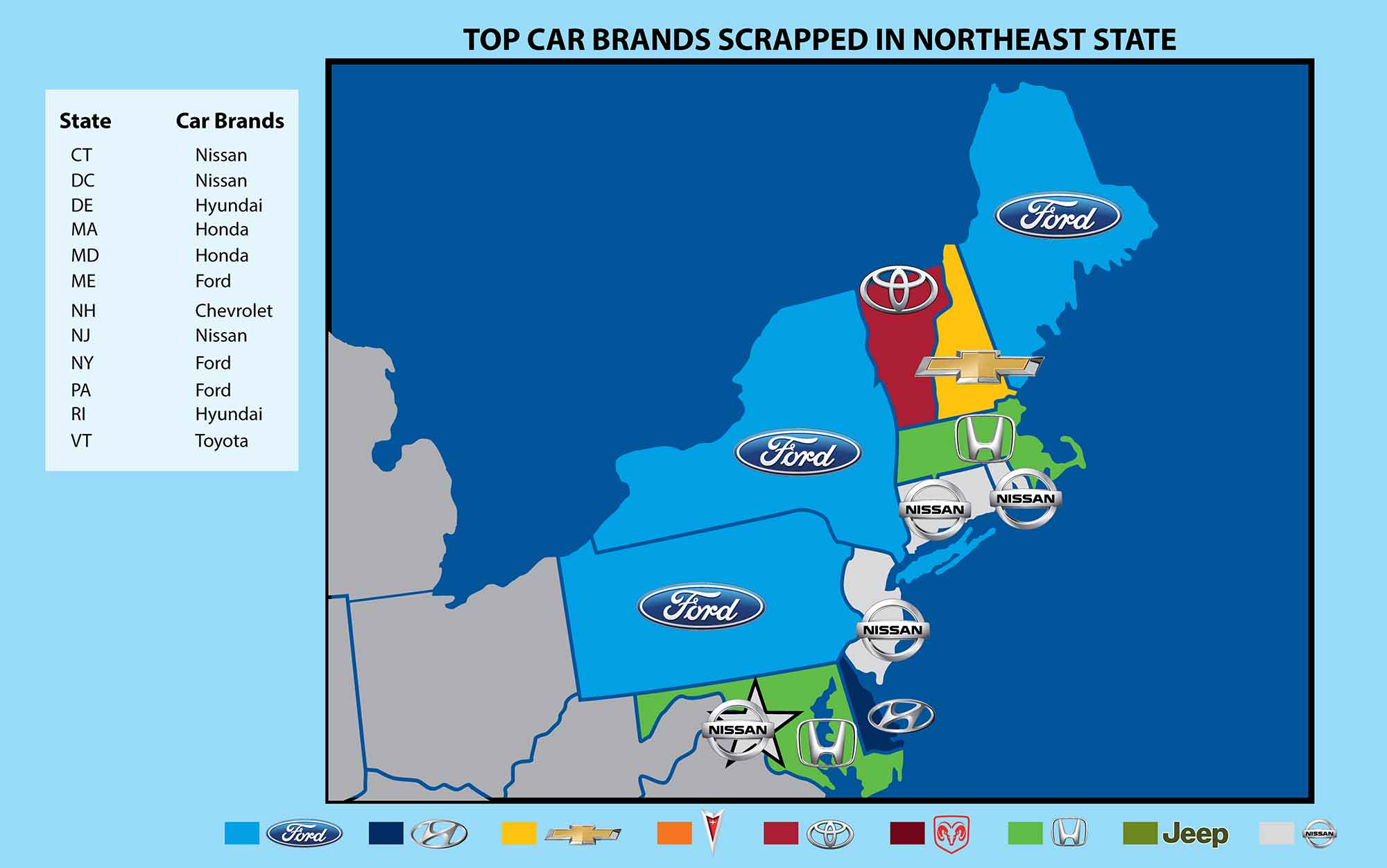 Northeast (11 States & DC)
This region showed no single dominant brand in the running for MRB in the Northeast. Ford and Nissan tied with three states each (Nissan actually had two states plus DC), followed by Honda and Hyundai with two apiece. Chevrolet and Toyota each led in one state.
---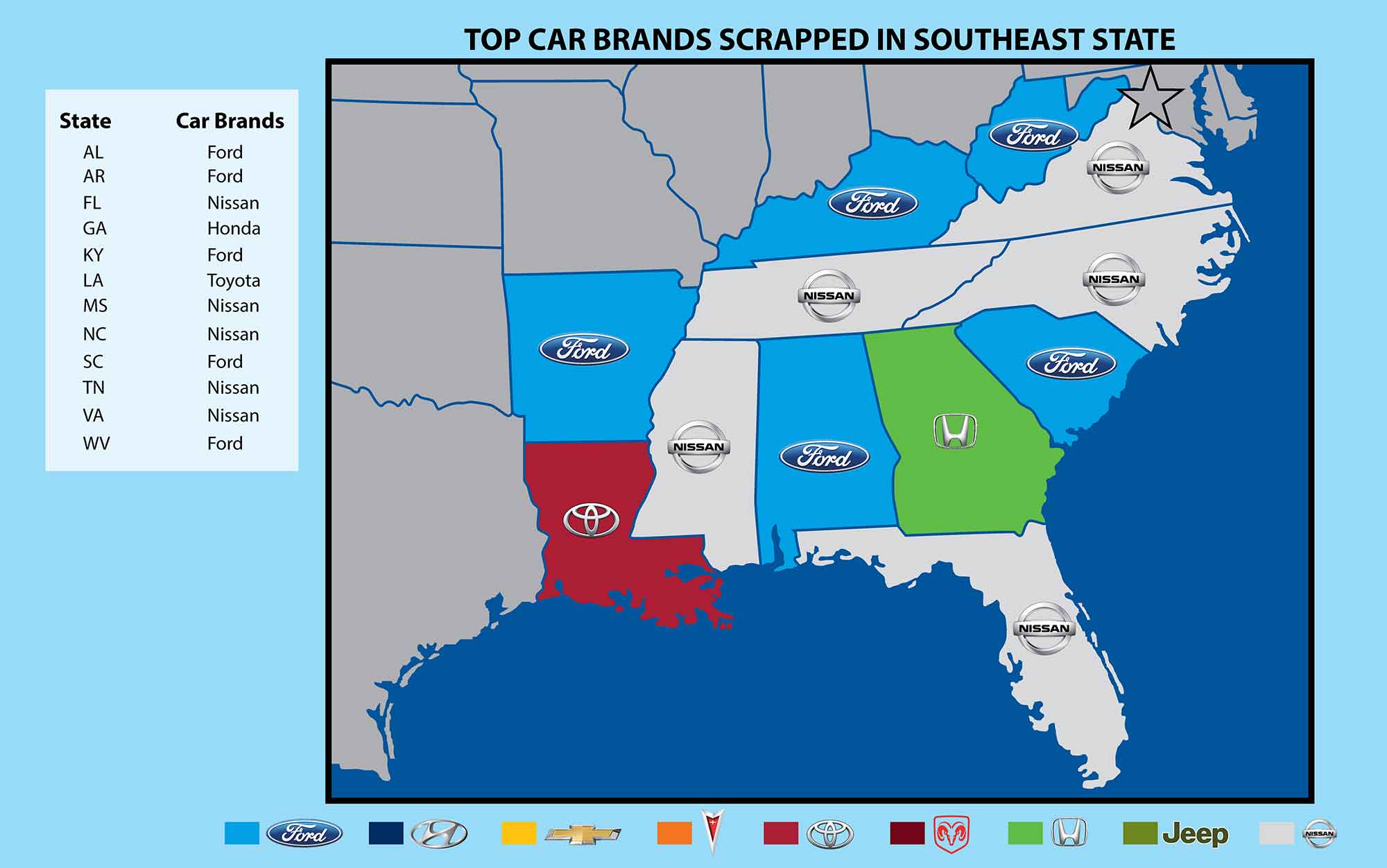 Southeast (12 states)
Ford and Nissan were the clear MRB leaders in the Southeast, with five states apiece. Honda and Toyota each won TSB in one state within the region.
---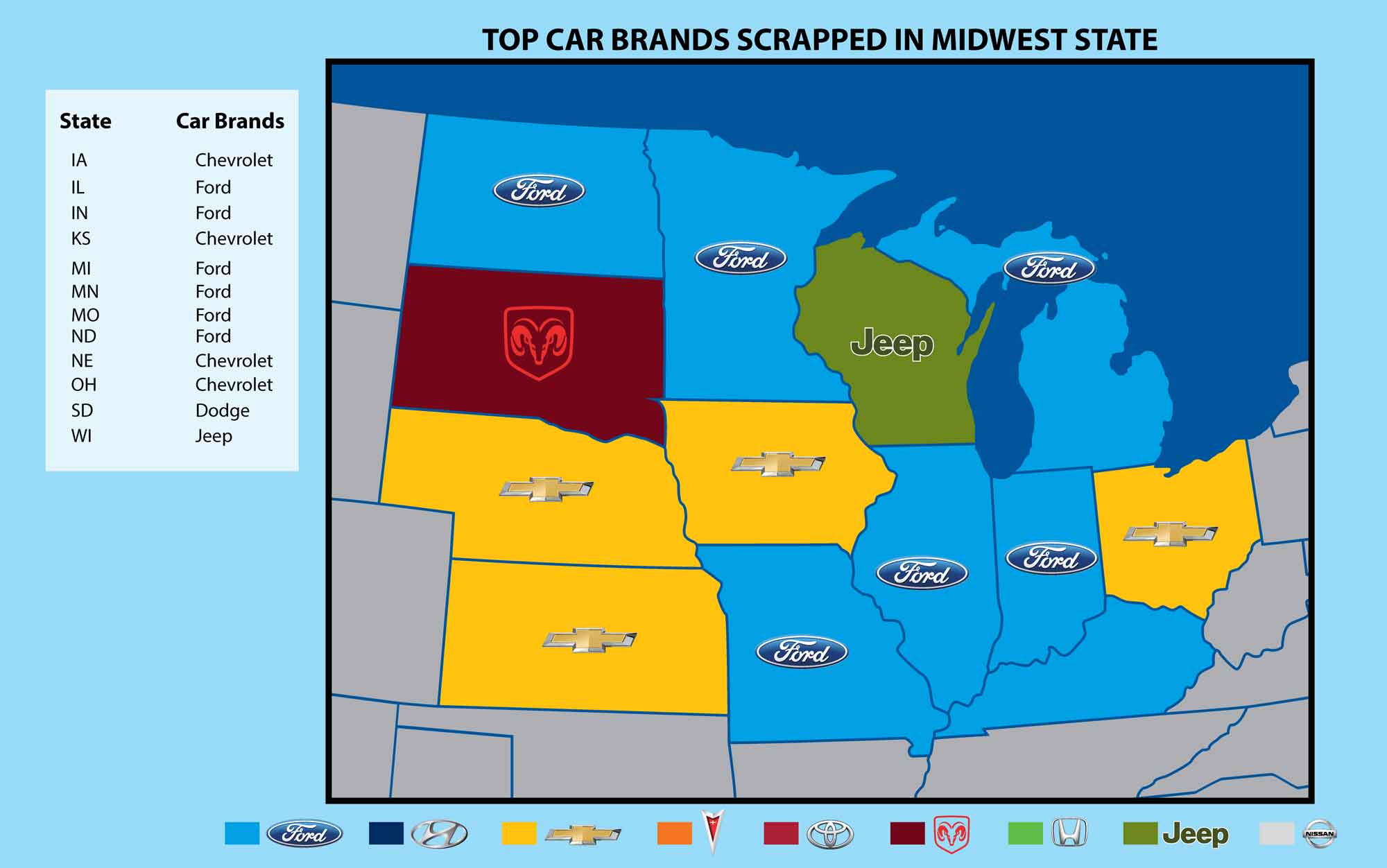 Midwest (12 states)
Ford comes out on top in the Midwest, leading Chevrolet by six states to four. Jeep and Dodge bring up the rear with one state each.
---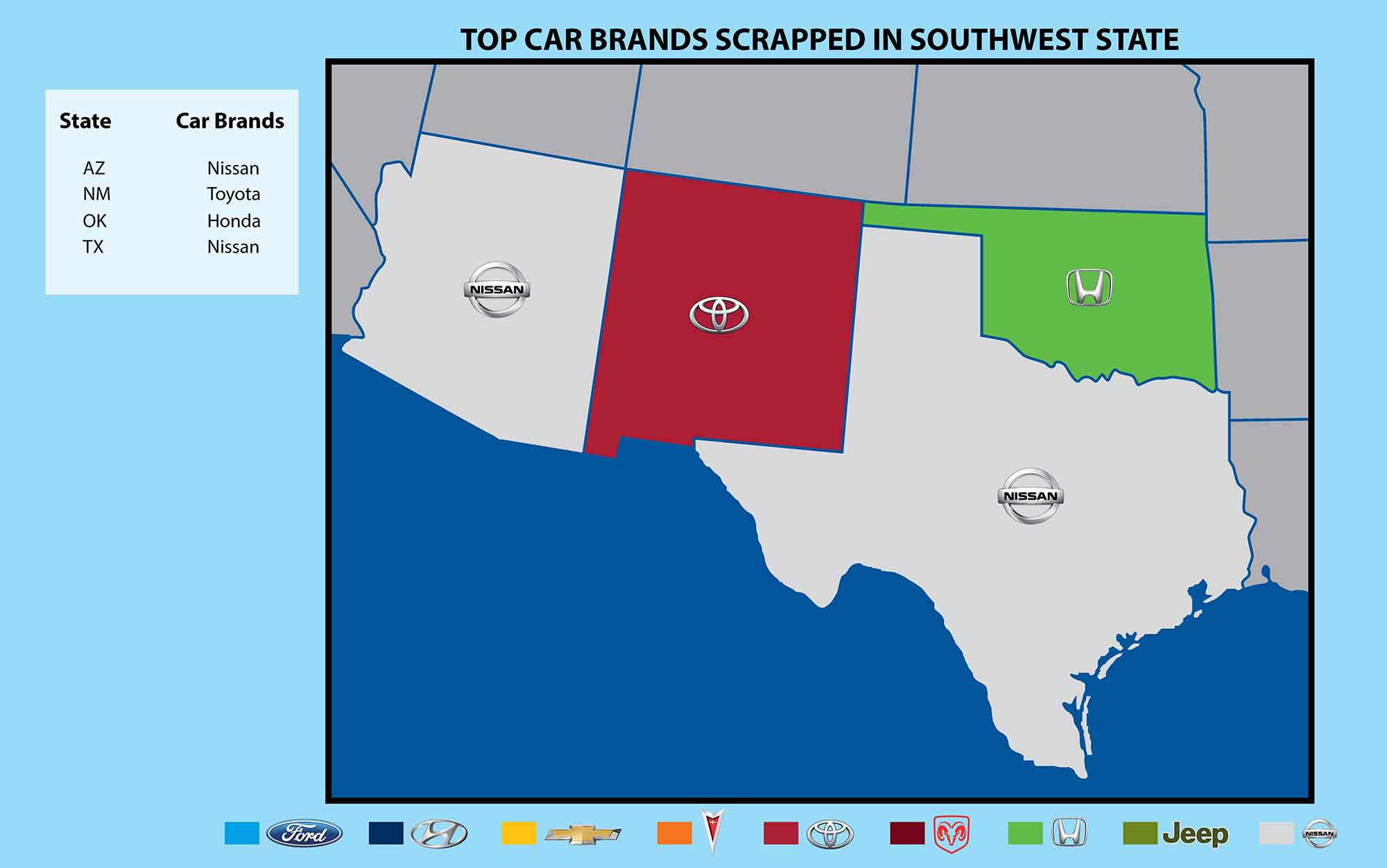 Southwest (4 states)
Here's a part of the country where there is no Ford presence whatsoever. Japanese brands have cornered the Southwest. Nissan leads in two states, with one for Honda and one for Toyota.
---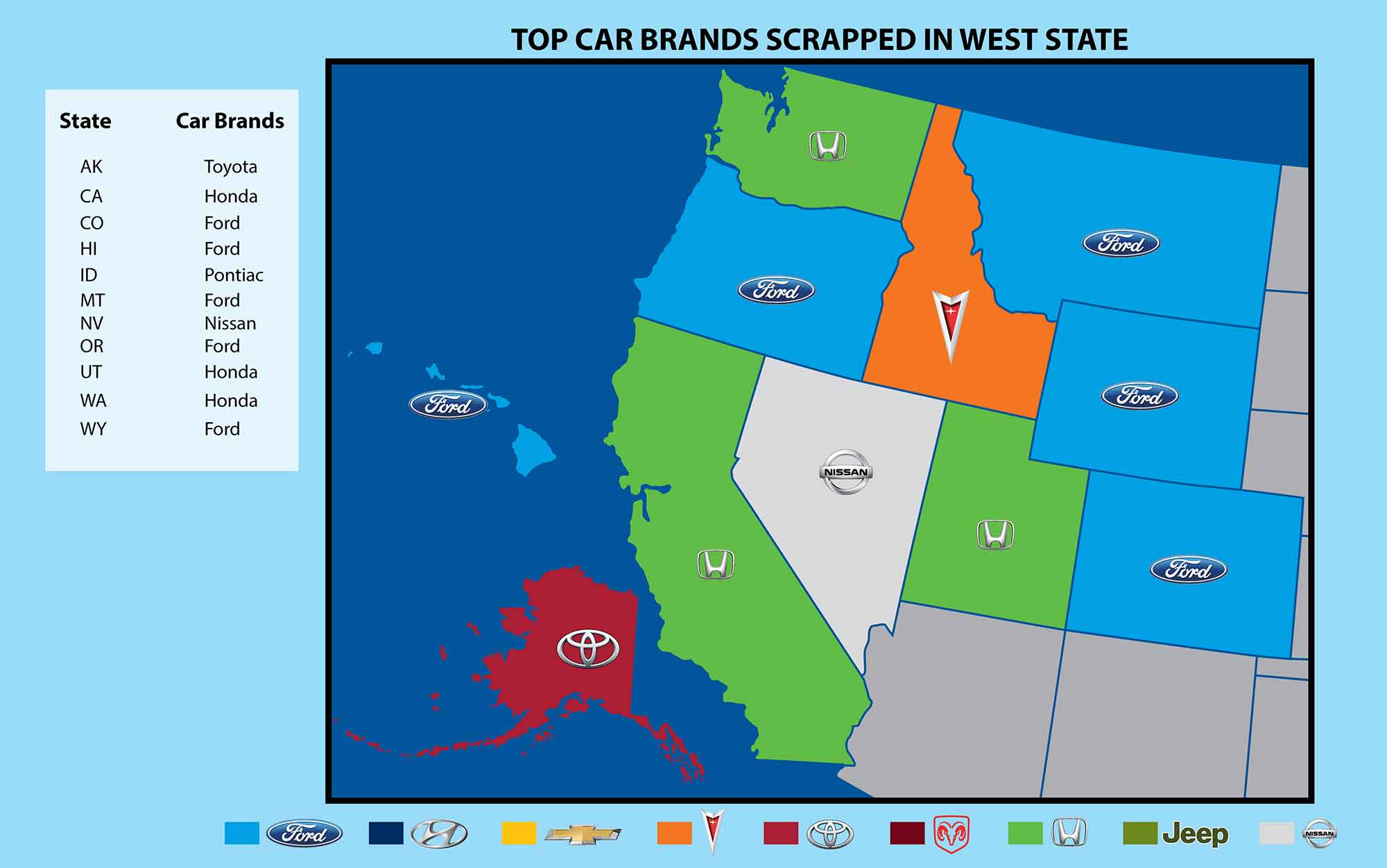 West (11 states)
This is a region where Ford maintains its top position in five states. Honda slips into second with three states, followed by Toyota, Nissan, and Pontiac with one state each.
---
How do the different regions compare to each other?
After comparing the regions to each other, we found some interesting facts:
Ford is one of the top two Most Recycled Brands in every region except the Southwest, where it does not appear at all
Nissan is either number one or two MSB in the Northeast, Southeast, and Southwest
Honda's strongest showing is in the West, where it is the MSB in three states
Four of the five states where Chevy is MSB are in the Midwest
Toyota is MSB in four states, each of which is in a different region from the others
Hyundai's two MSB wins are in two of the smallest states
Pontiac, which won TSB in Idaho, has not produced a car since 2010
Why does a brand become a state's Top Recycled Brand?
There can be many different reasons why a particular brand of vehicle becomes the Top Recycled Brand in a given state. These reasons include:
A large quantity of them were sold in the state, so more of them end up as scrap cars
Many of the older models are coming to the ends of their natural mechanical lives
All of the brands listed are mass market brands, which are typically driven continuously by a series of owners until they wear out
Some brands or models may be less reliable, more expensive to fix, and/or more prone to rust than others, causing more of them to be recycled