Do you have a vehicle that you no longer need or is no longer usable? Do you need to sell a car that has broken down, or have you been involved in an accident? How do you get rid of the car – and still get as much money as you can for it?
There are several options when trying to sell your car:
Putting a personal ad in your local newspaper
Search online sites like Craigslist for individuals or dealers looking for your specific vehicle
Call local auto salvage yards and junkyards to get their offers for buying the car
Check online junk car dealers for estimates of your car's value and their purchase offers
The problem is – you may not get the most for your vehicle pursuing any of these options, which is why you need a reputable source that can deal with these types of buyers for you.
That's where Junk Car Medics can help.
Junk Car Medics: America's #1 Cash for Junk Cars Service
The problem with researching "junkyards near me" and auto salvage yards is that you don't know who you can trust and who to avoid. Sure, you can (and should) check local references and online testimonials; however, they don't always give you the complete picture.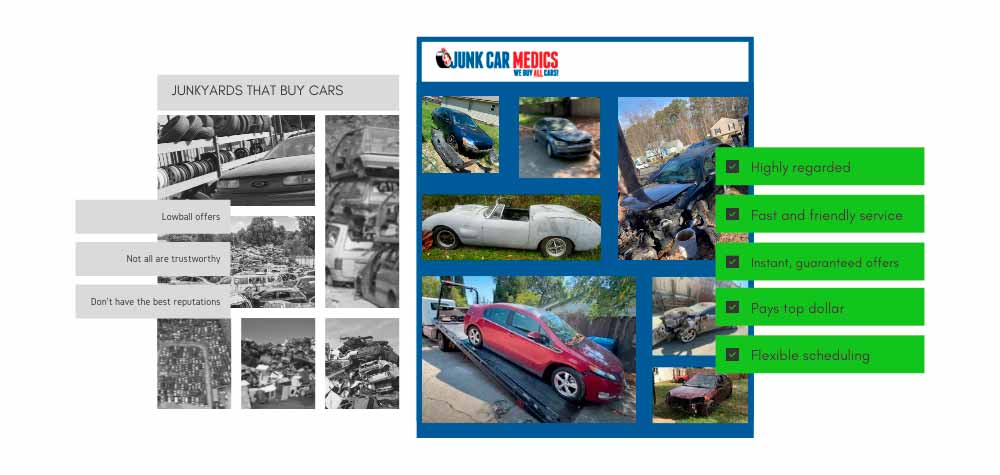 While some of these cash for used car locations may promise you fast and fair services, they may attempt to lowball you with offers that are far below your expectations. Some may even turn out to be less than reputable, making you feel like you're being scammed or tricked into selling for less than a fair value. Selling on seemingly legitimate sites may even expose you to fraud or other schemes to part you from your vehicle with little or no compensation.
To make matters worse, you may have family members or other parties who are pushing you to get the vehicle sold, both to close the financial aspect of the sale and to get the car removed from its current location.
Junk Car Medics addresses each of these problems for you. We not only provide you with a fair quote right away, using our unique algorithm, but we also schedule the pickup of your vehicle for a time that works best for you while placing your check directly in your hands (or in your mailbox should you prefer.)
This streamlines the entire selling process, allowing you to not only sell the car quickly but have it removed promptly as well – all without the drudgery of comparing multiple offers that could take you days – even months.
Junkyards Near You That Buy Cars - Here's Why Junk Car Medics is Your Top Choice
When comparing Junk Car Medics to "junkyards near me" and auto salvage yards, we have several significant advantages over the competition. Here's a quick comparison to give you a clear look at how we compare:
| | | |
| --- | --- | --- |
| | Junk Car Medics | Junkyards or Salvage Yards in Your Area |
| Buys Junk Cars |  Yes | Yes |
| Highly Regarded | Yes | Maybe |
| Fast, Friendly Phone Offers | Yes | Maybe |
| Instant Online Offers | Yes | No |
| Pays Top Dollar | Yes | Unlikely |
| Flexible Scheduling | Yes | Maybe |
| Guaranteed Offers | Yes | Doubtful |
Junk Car Medics offers you top dollar for your vehicle from the start. Junkyards or salvage yards are in the game to haggle the best deal out of you – meaning they will benefit from the sale, not you. These buyers typically give you a lowball price with no intention of negotiating with you. If you attempt to haggle with them, they will try questioning your intelligence, claiming they are the expert in the industry and know what your car is worth no matter what type of research you may have conducted.
Why – because these buyers will assume that you've come to them as a last resort and that you need to sell your car and sell it fast. They also tend to share the mindset that if you are trying to sell your car fast, you'll be willing to take any offer, which is why they lowball most sellers and provide no room for negotiations.
That's why the team at Junk Car Medics starts with our best, most reasonable price.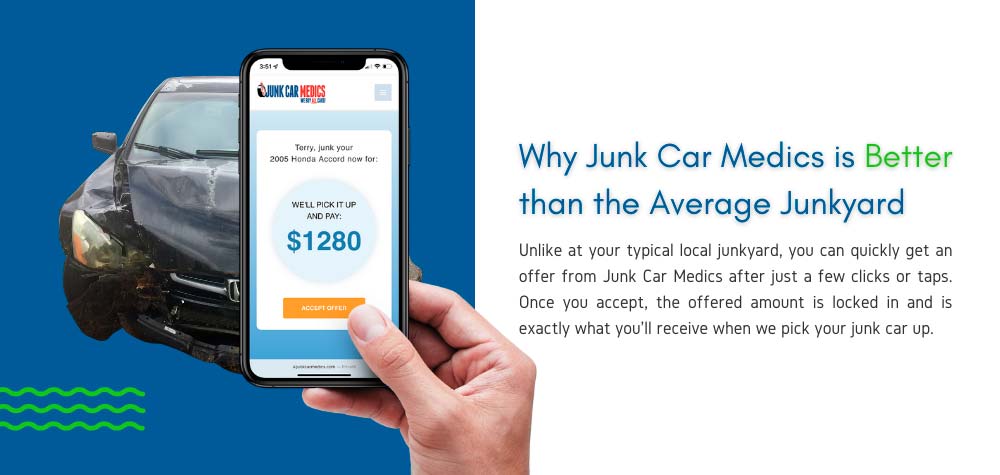 We Base Our Offers on Facts – Not Assumptions
Junk Car Medics works with a country-wide base of salvage yards, junkyards, and online car auctions sites. We not only have more experience than our competitors, but we also have the most up to date data on recent sales as compared to our local competitors.
The data we use when comparing your car to others on the market includes:
Recent transactions for similar models (what they sold for)
Where they were sold
Who the buyer was and more
This gives us – and you – an advantage over competing junkyards and auto salvage yard dealers. We make an offer based on the best price we can expect to receive, and you get the most cash for your vehicle.
Our business plan is to provide you with the best bid for your car, then receive a fee from the actual buyer. By using this quoting structure, our customers get extra value, and we make a profit from our services and through our broad network of buyers.
Our friendly and efficient sales team saves you the time and frustration of calling multiple junkyards and scrap dealers in your area.
Our Reputation Means Everything to Us
We work hard to protect our reputation as an honest and efficient option for selling your car quickly and easily, which is why we take our time to carefully investigate each of our buyers before we decide whether or not to work with them. This ensures that we, and in turn, you, work with only reputable salvage yards, junkyards, and auctions sites.
It would do us no good to partner up with greedy buyers – so we take all necessary steps to weed out the unprofessional, unreliable buyers.
We Prioritize Your Time, So Our Process is Simple, Quick, and Easy
Getting your quote is as simple as following these three easy steps:
Enter your vehicle information online
Receive our offer, then accept it instantly
Arrange the pickup and get paid
In most cases, the entire process takes only a few hours to a couple of days.
If you need to expedite the process even further, call our offices at +1-855-587-0227 and let us know that you are eager to sell and fast.
Once you accept our bid, we will come to pick up your vehicle and present you with a cashier's check that you can immediately turn into cash. We take care of the paperwork and follow up with any questions with a focus on friendly, customer-oriented service.
It's your choice – spend your time canvassing multiple dealers in your area to find the best quote or come straight to Junk Car Medics for courteous service that gets your car sold quickly and for the best price.
Junk Car Medics – the Best Solution for Selling Junk Cars
Junk Car Medics has the automotive knowledge and connections that help you get paid for your scrap or salvage vehicle quickly and for the most money. Our streamlined process completes the deal fast and reliably.
Searching for salvage yards and junkyards near me is one obvious way to start searching for buyers for your vehicle. Sadly, not all these businesses are reputable and honest in dealing with sellers, and some may be downright shady in their practices.
Junk Car Medics offers our customers many advantages not offered by other buyers, including:
Partnering with car buyers across the country
A Highly reputable business
Courteous, fast service
Instant online offers
Top dollar for your vehicle
Flexible scheduling to meet customer needs
With the sheer number of business relationships we have established, our offer is often a higher price for your vehicle, even if you were dealing with the same buyers. That's a secret that most dealers bidding for your car don't want you to know.